Quiz! Can you name England's one-cap wonders since 1999?
Each of these players have made their full England debut and then… that's about it at international level – let's hope Ivan Toney doesn't join the list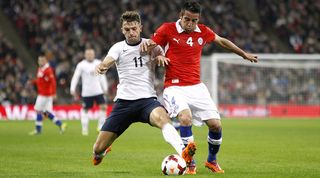 Eight minutes on the clock, 36 players to guess.
Remember to tweet your scores @FourFourTwo (opens in new tab) and share with your mates.
NOW TRY Quiz! Can you name the 60 most expensive English footballers ever?
These chaps fall squarely into two brackets – and before you ask, there's no Marc Guehi, Tyrick Mitchell or Kyle Walker-Peters.
There are the recent debutants, who still have strong hopes of adding to their solo cap total – possibly even in the coming months.
Then there are the men who… well, are more permanently stuck in the one-cap wonder category. After all, for the then-Aston Villa midfielder who made his England debut in November 1998 to get a call-up for this year's World Cup squad, Gareth Southgate will have to have faced an injury crisis of biblical proportions.
Yet we're not here to bury this lot, but to praise them. Sure, they're not quite Peter Shilton, David Beckham, Bobby Moore or even Leon 'two caps' Osman. But each one reached full international status, if only for one game.
MORE QUIZZES
Quiz! Can you name every club to reach a Champions League or European Cup final?
Quiz! Can you name the 25 goalkeepers with the most Premier League appearances?
Thank you for reading 5 articles this month* Join now for unlimited access
Enjoy your first month for just £1 / $1 / €1
*Read 5 free articles per month without a subscription
Join now for unlimited access
Try first month for just £1 / $1 / €1