Ranked! The 10 key contenders to replace Luis Enrique at Barcelona
After the current Blaugrana boss announced his intention to leave at the end of the season, Blair Newman weighs up the candidates to replace him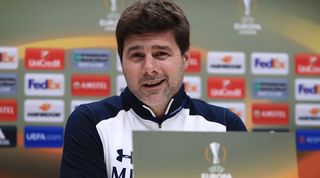 10. Paco Jemez (Cruz Azul)
Tactical suitability, 4/5: Jemez has a well-known proclivity for positional play, dominating and utilising ball possession through triangular shapes, and pressing extremely high defensively.
Strategic fit, 2/5: Having played at the highest level and won caps for Spain, Jemez has often worked on a tight budget as a manager with a number of smaller sides. He remains idealistic, adventurous and isn't afraid to try new experiences.
Results, 1/5: Jemez did well with Rayo Vallecano, leading them to mid-table in La Liga before taking them down to the Segunda last season. However, a short spell with Cordoba aside, he's found success hard to come by elsewhere.
Total: 7/15
9. Maurizio Sarri (Napoli)
Tactical suitability, 4/5: Throughout his coaching career, Sarri has favoured a high line and a high press with an extremely compact shape, usually in a 4-3-1-2 or 4-3-3 formation. His teams dominate possession through well-structured build-up before looking to unhinge opponents via exhilarating one-touch passing and interchanges in the final third.
Strategic fit, 1/5: A former banker turned tracksuit coach, Sarri prefers to work with and develop the players immediately available to him. He's also a demanding – you might say prickly – man-manager who doesn't mince his words, and his post-match comments have landed him into trouble in the past.
Results, 3/5: Sarri worked his way up the Italian leagues before guiding Empoli into Serie A and keeping them there. He then replaced Rafa Benitez at Napoli last season and instantly led them through a title race.
Total: 8/15
8. Arsene Wenger (Arsenal)
Tactical suitability, 3/5: Wenger continues to produce some of the most entertaining football in the Premier League, though his laissez-faire approach to tactics and steadfast allegiance to the 4-2-3-1 have restricted Arsenal's chances of progress in recent times.
Strategic fit, 3/5: Once a revolutionary, Wenger's ideas are on the verge of becoming outdated in a sport filled with meticulous tacticians. Nonetheless he's experienced, economically cautious, puts the club before himself and is respected by his players.
Results, 3/5: It's important to separate Wenger's past from his present when it comes to results. While he had success with Monaco and Arsenal, his last league title win came 13 years ago.
Total: 9/15
7. Mauricio Pochettino (Tottenham)
Tactical suitability, 3/5: One of the more moderate disciples of Marcelo Bielsa, Pochettino opts for aggressive man-to-man defending, high pressing and intense counter-pressing, but in attack he prefers slow build-up play with the occasional direct ball.
Strategic fit, 3/5: Pochettino has a good track record for spotting and nurturing young talent, as he did with Philippe Coutinho at Espanyol, as well as Harry Kane and Dele Alli at Tottenham. He's also a quietly spoken yet firm man-manager. But having played for Espanyol, he isn't really a 'Barcelona man'.
Results, 3/5: He steered both Espanyol and Southampton to safety in Spain and England's top flights respectively, before launching Tottenham into title contention for two successive seasons.
Total: 9/15
6. Eusebio Sacristan (Real Sociedad)
Tactical suitability, 3/5: Eusebio likes his teams to be aggressive defensively, with a high line and collective pressing. He also wants to build possession from the back with passing patterns in wide areas involving attack-minded full-backs, and usually goes with a 4-3-3 shape.
Strategic fit, 4/5: As a key player in Johan Cruyff's Dream Team at Barcelona, Eusebio has admitted his tactics and way of thinking were heavily influenced by the Dutch icon. He also knows the club intimately having worked as an assistant during the Frank Rijkaard and Pep Guardiola years and coached the 'B' team just as Guardiola and Enrique did before him. In this respect, he would be a genuinely traditional choice as the next Barcelona manager.
Results, 2/5: After struggling with Celta and having mixed results with Barcelona B, Eusebio took over from David Moyes at Real Sociedad. Since then he's steered the club into the fight for Champions League qualification.
Total: 9/15
5. Massimiliano Allegri (Juventus)
Tactical suitability, 2/5: Allegri tends to opt for pragmatic possession, with a gradual build-up from the back and occasional interchanges of position by the midfielders and strikers to create space. Defensively, he prefers a passive, position-oriented style based on retention of shape. The Juventus boss is also highly flexible in terms of system, switching between 3-5-2, 4-3-1-2 and 4-2-3-1.
Strategic fit, 3/5: Renowned for his ability to handle difficult transitional periods, the ever-practical Allegri gradually tweaks things rather than completely overhauling the team to fit his own image.
Results, 5/5: After leading Sassuolo to Serie B for the first time in their history, he enjoyed a positive spell with Cagliari before winning league titles with Milan and Juve. In addition, he reached the Champions League final with the latter in 2015.
Total: 10/15
4. Thomas Tuchel (Borussia Dortmund)
Tactical suitability, 4/5: A Guardiola disciple, Tuchel looks to get as many creative players between the opposition lines as possible, while also focusing on quick counter-pressing in defensive transitions. He's a studious tactician who introduced the term 'matchplan' to the German football lexicon, and makes adjustments for every opponent.
Strategic fit, 3/5: Tuchel's ideas undoubtedly fit with Barcelona's playing philosophy, and, with his team focus, he also matches the type of personality they usually go for.
Results, 3/5: Under Tuchel's auspices, Mainz qualified for Europe for the first time in their history. And, after five excellent years there, he left to rejuvenate Dortmund – although he's struggled at times this term.
Total: 10/15
3. Ernesto Valverde (Athletic Club)
Tactical suitability, 2/5: Wedded to a rough 4-2-3-1 system, Valverde tends to implement ball-oriented pressing to cut off the opposition's passing options, with a double pivot in midfield supporting the press. His sides do, however, use a lot of direct play and crosses in attack, which doesn't necessarily suit Barcelona.
Strategic fit, 5/5: Valverde also played for Barcelona during Cruyff's time as manager, so he knows the club first-hand. And, having managed Athletic Bilbao for two separate spells, he understands what it means to be in charge of a team utterly embedded within, and representative of, its community.
Results, 4/5: After leading Espanyol to the UEFA Cup final in 2007, Valverde won titles in Greece with Olympiakos. Most recently, he's made Athletic Bilbao perennial challengers for the European places in La Liga.
Total: 11/15
2. Ronald Koeman (Everton)
Tactical suitability, 2/5: Koeman has gained a reputation for improving defences and has restored some semblance of order and balance to Everton this season. Defensively, his teams are compact and structured, while offensively they play a mixed possession game. The Dutchman has varied between 3-5-2, 3-4-2-1 and 4-2-3-1 configurations.
Strategic fit, 5/5: As a club icon responsible for scoring the winning goal to seal Barcelona's first-ever European Cup victory in 1992, Koeman is highly respected at the Camp Nou. He also fits the bill with his emphasis on youth development, which has been evident throughout his managerial career.
Results, 4/5: A decent spell with Feyenoord in Koeman's homeland followed title victories with both Ajax and PSV. And, after struggling abroad with Benfica and Valencia, he brought improvement to both Southampton and Everton.
Total: 11/15
1. Jorge Sampaoli (Sevilla)
Tactical suitability, 5/5: Sampaoli's sides operate with a high-octane pressing style in the defensive phase, while they also play a fluid possession game focused on penetration of the opposition. The Argentine coach is renowned for his ability to tailor his team's approach to the opposition at hand.
Strategic fit, 3/5: An unconventional and intense touchline persona, Sampaoli is a heavily detail-oriented football obsessive, although he's still in his first year of management in European football.
Results, 5/5: After transforming Universidad de Chile into one of South America's best sides, winning Chilean titles and the Copa Sudamericana en route, Sampaoli led the Chilean national team to a momentous Copa America win in 2015. And, thus far, his time with Sevilla has been a success.
Total: 13/15
Now read these...
Thank you for reading 5 articles this month* Join now for unlimited access
Enjoy your first month for just £1 / $1 / €1
*Read 5 free articles per month without a subscription
Join now for unlimited access
Try first month for just £1 / $1 / €1
Get FourFourTwo Newsletter
The best features, fun and footballing quizzes, straight to your inbox every week.