'A return to England? You can't rule anything out', says reported Arsenal target Kalou
Sulaiman Folarin catches up with the former Chelsea man flying with Lille...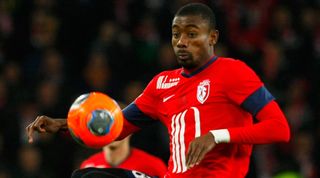 Salomon Kalou is not a new name to English fans, nor is his name unfamiliar with others across the globe. He has gone through ups and downs in Holland, and certainly during his time with Chelsea in the Premier League.
After the Blues released him in 2012 a move to French club Lille a was somewhat surprising, but Kalou is enjoying his time in Ligue 1 and is in no hurry to leave anytime soon.
"A return to England? I have no reason to leave France now, because I love what we are doing here and I'm happy," he tells FFT, responding to rumours tipping him to return to the Premier League - with Arsenal, Tottenham Hotspur and Liverpool - before the January transfer window closes.
Like any smart player, he does not bother himself with what he cannot control, but rather focus on what he can handle on the pitch. "I don't pay attention to the papers," he admits, before conceding that, "you can't rule anything out."
His time with Eredivisie club Feyenoord and Premier League giants Chelsea is well documented. The Ivorian-born 28-year-old, who almost acquired Dutch citizenship through naturalisation, was heavily touted as a great talent by then-Dutch national team coach Marco van Basten and the great Johan Cryuff.
Moving on up
It's easy to forget Kalou rescued Chelsea en-route to Champions League glory two seasons ago, in the Blues' win at the Estadio da Luz in which they defeated Benfica 1-0 in front of over 60,000 fans.
The Stamford Bridge faithful expected nothing but the best in every match, whether it was an FA Cup match, a local derby or the coveted Champions League the Ivorian helped them win in Munich.
"England is different; the fans, football and everything is completely different. In France it's not the same tempo and passion," Kalou admits.
Even with the rumours that Kalou is wanted by the likes of Arsenal, should the Gunners' attempts to lure the likes of Mirko Vucinic and Miroslav Klose fail, the striker is happy where he is. After all, his modest French club are currently third in France's now-competitive Ligue 1.
Kalou, who scored in Lille's recent 1-1 draw at home to Stade Rennes, is keeping his club close to the big boys. But with a 10-point deficit behind big spenders Paris Saint-Germain and Monaco, the 28-year-old is realistic about their chances.
"We don't have the team that they [PSG and Monaco] have," he says. "We don't have the players they have. They have a lot of players that can make the difference.
With seven goals to his name this season, Kalou believes Lille are kept going not by big names, but a strong team spirit and belief that they can mix it up with the big guns. 
"We can only approach it game-by-game and play as a team," he admits. "It's going to be a tough challenge, but we have the team spirit throughout. We have to fight every game."
Gatecrashers
When most football watchers think of France, they look for perennial powerhouses Marseille and Lyon at the top of the table. But that trend has changed. Both clubs are outside of the Champions League and Europa League spots for this season, with Lille currently boasting respective six and seven-point leads over their rivals. 
Kalou believes that shows the strength and growth of the league, with the influx of money and talent from elsewhere.
"The league is getting better," says the Ivorian. "The fact is that Monaco and PSG have big players, while Marseille and Lyon are still great. The level of the league is getting higher. It's a league where every team can beat another team; it's open."
 
Along with Kalou, Lille also have goalkeeper Vincent Enyeama to thank for their current form. The Nigeria international went on a consecutive streak of 11 clean sheets which included shut-outs of Monaco, Lyon and Marseille. 
"Vincent is great," says Kalou. "He deserves to be at the top, he is a great guy and works hard. When you work hard, it pays on the pitch. He is a tremendous player and it showed."
Brazilian summer
Regardless of the Ivory Coast's chances at this summer's World Cup - of course, it all depends who is available, injured or otherwise missing from their squad - every player is saying the right things, including Kalou. They expect a tough group alongside Colombia, Greece and Japan - and so does he. "There are some great teams in our group and we have to respect them," Kalou concedes.
Even with injury to Colombia's Radamel Falcao, Kalou and his fellow Ivorians will not be baited into thinking the group is theirs for the taking. Kalou remembers their previous two World Cup appearances in 2006 and 2010 when they were grouped with the likes of Argentina and Netherlands, while four years later they were battling with Brazil and Portugal.
"Everyone wants to get out of the first round, but we have to take it game by game and see how we move forward."
Quizzes, features and footballing fun
Get the best features, fun and footballing frolics straight to your inbox every week.
Thank you for signing up to Four Four Two. You will receive a verification email shortly.
There was a problem. Please refresh the page and try again.