Ruud van Nistelrooy: The Games That Changed My Life
The former Manchester United and Real Madrid frontman remembers his most significant matches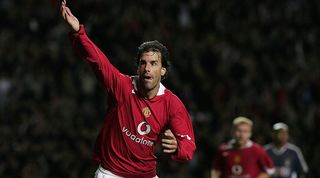 May 1986: v.v. Nooit Gedacht Geffen (2-1 victory)
"I can't remember the exact date or who it was against, but playing for my village team in Geffen in an under-10s cup final was very special. The whole school came to watch and all the kids made banners.
"It was an amazing experience as a 10-year-old. It made me realise how unbelievable it is to be successful. We went 1-0 down and I equalised, before my friend scored the winner."
August 20, 1997: Heerenveen 3-1 NAC Breda
"This was my first game in the Eredivisie and my debut for Heerenveen. It was such a huge moment for me. I'd been playing in the Dutch third division for three years, so to score in my first game at the highest level in Dutch football was amazing.
"Heerenveen is a special club. I only played there for a year, but they gave me the chance to get to the highest level and develop myself. They gave me a great education and I look back on my time there fondly."
November 25, 1998: HJK Helsinki 1-3 PSV Eindhoven
"When I scored a hat-trick for PSV in my first Champions League game, I thought, 'This is a big moment!' It was a moment to breathe and look back at what I'd been through since that youth game – climbing up through the Dutch leagues with Den Bosch, Heerenveen and PSV.
"Scoring this hat-trick gave me hope and belief towards achieving my dream – to be successful on the highest stage."
November 19, 2003: Holland 6-0 Scotland (6-1 on aggregate)
"After losing the first leg of our Euro 2004 qualifying play-off the whole nation was calling it a national disaster. We didn't think we'd survive. There was huge pressure on us. We were all so pumped up for the second leg.
"We all said, 'We have to hammer them at home', and we did – 6-0. There was so much pressure, then a feeling of relief. It was a crazy release of emotion. We ended up reaching the semis in Portugal."
April 27, 2003: Tottenham Hotspur 0-2 Manchester United
"Arsenal looked set to win the league, but we went on this incredible run of form and needed to win our last three games to win the title. We knew if we beat Spurs it would be giant step to winning it. Scholesy and I scored and we won at White Hart Lane.
"We went on to win the title. It was an unbelievable feeling. After all the hard work we'd put in catching Arsenal up it was a great moment. They had an unbelievable team then, so to catch them was an amazing achievement."
June 9, 2007: Real Zaragoza 2-2 Real Madrid
"This was an idiot game! It was the penultimate week of the season and we [Madrid] were level on points with Barcelona. With two minutes to play they were beating Espanyol and we were losing 2-1 at Zaragoza.
"Then I scored a goal and at the same time, Espanyol scored. We were level again. The Madrid fans exploded. It's only during such moments of madness you realise how crazy and beautiful the game can be. To share that emotional moment with so many people was mad. We beat Mallorca in our last game to win the Primera Liga."
This interview originally appeared in the July 2011 issue of FourFourTwo. Subscribe!
Thank you for reading 5 articles this month* Join now for unlimited access
Enjoy your first month for just £1 / $1 / €1
*Read 5 free articles per month without a subscription
Join now for unlimited access
Try first month for just £1 / $1 / €1