Sean Longstaff, Newcastle's accidental hero – but how many more are out there?
The Magpies midfielder only got his break in the first team due to an injury crisis – but his talent is not the exception in Premier League academies, argues Daniel Storey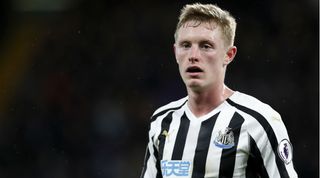 In 2016/17, aged 18 and 19, Sean Longstaff did not play for Newcastle United. He was loaned to Kilmarnock, where he played well but hardly improved his standing at St James' Park.
In 2017/18, aged 19 and 20, Sean Longstaff did not play for Newcastle United. He was loaned to Blackpool in League One and earned high praise for his form, but not enough to force a way through at his parent club.
In 2018/19, aged 20 and 21, Sean Longstaff was not really meant to play for Newcastle. He started against Nottingham Forest in an EFL Cup defeat in August, played in a few Checkatrade Trophy games and was on the bench for three league defeats between August and November without ever being called upon.
Then, in January, Newcastle had a central midfield crisis ahead of a trip to Stamford Bridge. Ki Sung-yueng was at the Asian Cup, Kenedy was ineligible to face his parent club, Mohamed Diame had an injured hip and Jonjo Shelvey a thigh problem. Rafael Benitez had two fit midfielders: Isaac Hayden – who had made no secret of his desire to leave the club in the transfer window – and Longstaff, who had never played a minute in the Premier League.
Roadblock
It is instructive to note that nobody was exactly tingling with excitement at the prospect of seeing Newcastle's academy wonderkid – if you can even justify that term for a 21-year-old. Benitez has recently spoken of watching Longstaff in under-23 training and believing he could be good enough to make an impact, but the language of local news reports gave away the game. 'Might have to', 'forced', 'call upon' and 'bare bones'; this was needs must.
This identifies one of the roadblocks to young players coming through: supporters are increasingly obsessed by transfer culture. That obsession is fuelled by the media's obsession with it, but both are in symbiosis. People click on transfer stories, so transfer stories are produced to be clicked on.
That all sounds a little uncharitable, so let's move on up. Longstaff has been a revelation in Newcastle's central midfield over the last six weeks. The arrival of Miguel Almiron has given the club and its support a timely lift, but Almiron is able to stand on the shoulders of Longstaff's impact. No player in black and white has performed better than him, and Newcastle's league form has improved over the same period. That is not a coincidence.
On Tuesday evening, Longstaff scored his first senior goal against Burnley. Just as with Declan Rice for West Ham against Arsenal, a defensive midfielder should never be judged on their prolificacy or finishing, but it's easy currency; as children we all dreamt of scoring goals. If Longstaff's team ethic has been cherished and cheered by Newcastle supporters, there's nothing wrong with enjoying the moments of individual glory when an entire stadium is in celebratory rapture because of something you did.
In for good
Far more important than Longstaff's goal was his selection in the first place – Newcastle's midfield crisis had cleared up. Ki and Diame were on the bench on Tuesday. Shelvey, now recovered from his thigh injury, didn't even make the matchday squad. Benitez is a manager who shows immense loyalty to those who justify his trust. On Monday, Newcastle's manager tipped Longstaff for an England call-up.
Longstaff has probably got plenty enough on his plate. At 21, he must deal with the hype, talk of bumper new contracts, transfer rumours, creep of agents into his career and rising fame.
One of the drawbacks of such a rapid rise is that everything seems to happen at once. Young footballers are too readily criticised for tripping over the trappings of their celebrity by those who willfully ignore their own faults. If you had been guaranteed millionaire status before you turned 23 and constantly followed by those desperate to see you err, how many hours would you have lasted before stepping out of line?
One of many?
But it's impossible not to extrapolate Longstaff's story to the wider climate of young English players and their pathway to Premier League first teams. His success raises an obvious question with a far less obvious answer: how many more are there?
We've heard plenty of the success around England's youth teams, following the country's unprecedented success at age-group level in 2017. We've heard plenty too about their fight for relevance at club level. But Longstaff has never featured at any age-group level for England. So if he can show the level of ability (and maturity) to thrive in the Premier League, that makes a case that there must be others like him. See too the example of Aaron Wan-Bissaka, who also seized his chance amid an injury crisis.
The alternative is far harder to believe: that the one young English central midfielder who came in furthest from the cold happened to be the one good enough to flourish in the punishing environment of the Premier League. Speak to any top-flight youth coach and listen on while they wax lyrical about the increased technical ability and mental maturity in their academies.
Longstaff didn't ask to be a standard bearer or poster boy; he is happy concentrating on being the best that he can be. But those terms are bestowed, not chosen. If a young man with Scottish Premiership and League One experience can make this leap without even being assisted by the St George's Park conveyor belt, there simply must be others like him. This is no longer an issue of talent, but opportunity.
NOW READ… How misunderstood Granit Xhaka finally found his place at Arsenal
Quizzes, features and footballing fun
Get the best features, fun and footballing frolics straight to your inbox every week.
Thank you for signing up to Four Four Two. You will receive a verification email shortly.
There was a problem. Please refresh the page and try again.