Simeone boots up Atletico 2.0 to ensure Rojiblancos don't get caught at standstill
La Liga sides have been giving Atletico Madrid a rough ride since the tail end of last season, writes Lee Roden, but what has Diego Simeone done to make sure his side live up to their big-gun billing this time?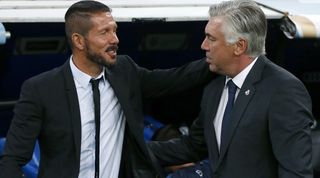 With a Madrid derby on the horizon after only two league games, Atletico Madrid's quest to retain the Spanish title isn't being made easy.
Pulling off back-to-back title wins would almost be a miracle for the Colchoneros; the last time they achieved the feat was in 1951, over half a century ago long before the internet, colour television, and at a time where a return to democracy was still a distant dream for Spain.
Not even the great mid-90s Rojiblancos side featuring Diego Simeone as its midfield powerhouse managed the task. They slid to fifth place at the end of the 1996/97 campaign after lifting the title only a year before. To make matters worse, Real Madrid dethroned them.
Simeone the manager is not a miracle worker, but he does specialise in defying expectations, and this weekend's all-Madrid clash embodies that. The Rojiblancos failed to win a Madrid derby in the league between 1999 and late 2013 until El Cholo changed that. Thanks to his injection of unpredictability into a near-moribund fixture, there are some who now consider it the biggest game in Spain. It's a huge draw.
Getting the better of Los Blancos is no longer a distant dream or even a one-off for Atletico. Along with four points claimed from these games in the league last year, Atleti toppled Madrid in the 2013 Copa del Rey final at the Bernabeu, while more recently they came out 2-1 victors in the Spanish Supercup.
Only two years ago there would have been a near 100% consensus that Real Madrid would win this weekend, but that has completely changed. Simeone has made an art form out of bettering teams with more resources and superstars.
Taking down the underdogs
The Argentine has carefully cultivated Atletico's underdog status, using it as a key tool in deflecting pressure from his squad last season. His "we'll take it game by game" motto became the defining phrase of the 2013/14 La Liga campaign, in part because it morphed into a cliché when the Colchoneros made a habit of confounding Barcelona and Real Madrid.
Once a team starts to regularly make two of the most powerful sides in world football look like fools, it is increasingly difficult for smaller sides to continue thinking of them as 'one of us'.
The bookmakers may be unwilling to consider Atletico favourites for the league, but that mentality has certainly changed among their La Liga rivals. No manager of a Spanish side will ever underestimate the Colchoneros again – at least while Simeone is still in charge – and that shift had already started to show before the summer break.
In the second half of last season, smaller opponents regularly set up to stifle Atletico in a manner they had previously only reserved for Barcelona and Real Madrid. Suddenly, the opportunities to hit teams on the break dried up, with rivals handing them the ball and inviting Atleti to break them down. Atletico were essentially being played at their own game.
Simeone is a perceptive man and knew that would happen eventually – and that's exactly why he was so keen to drag out the notion of his side being 'underdogs' for as long as possible. His push to bring playmaker Diego back to the club in the last winter transfer window was an example of foresight in action.
Finding a quality attacking midfielder capable of picking the lock of an opponent's well-guarded door could well have been the difference between three points and one for Atletico, and by extension, the difference between claiming a historic 10th league title or finishing second.
Diego didn't quite deliver what Simeone had hoped for regularly enough, and a failure to break down rigid teams very nearly cost Atletico the title. Six points against Levante and Malaga in May would have wrapped up the league for Atleti before they visited the Camp Nou on the final day of the season.
Instead, Levante produced a masterclass in how to frustrate Simeone's side, hitting them on the break with ruthless efficiency and winning 2-0, before Malaga managed a similarly valiant display, holding them to a 1-1 draw.
Atletico were perhaps fortunate that their final opponents of the domestic season were Barcelona, one of the few sides who would never even consider sitting deep. Simeone's team were back in their comfort zone, could play on the break, and claimed the solitary point they needed to bring the coveted 10th league title back to the Vicente Calderon.
That little piece of history could quite easily have been thrown away needlessly at the final hurdle, however, and Atleti's end-of-season troubles were a sign of what is now likely to follow.
Onwards and upwards
The opening of the 2014/15 La Liga campaign has only strengthened the notion that the smaller games will be key for Atletico. A 0-0 draw with Rayo Vallecano followed by a narrow 2-1 victory over newly promoted Eibar confirmed suspicions that the champions have to do more to expand their attacking play.
Without Diego Costa's one-man efforts to pin back opposition back-lines, Atleti have lost one of their biggest attacking threats. Instead of trying to replace that, however, Simeone has gone back to the drawing board: the Spanish champions' movement in the summer transfer window reflects a very focused attempt to add more variety to the team beyond the usual formula of last season.
In contrast to Real Madrid's strategy of signing superstars first and then fitting them into the team later, every one of Atletico's attacking signings seem to have a very clear tactical purpose.
Creativity, exceptional pace and strength from set-pieces are three obvious ways to try to break down stubborn opponents, and Atletico have spent big by their standards in an effort to gain more of those qualities.
Mario Mandzukic is a marquee signing for a club of Atleti's resources, and the benefits of his strength in the air are already being reaped. A header from the Croatian produced Atletico's opening goal against Eibar, while fellow forward signing Raul Jimenez should provide a further aerial threat, with the 6ft 3in Mexican an inch taller than his team-mate.
Simeone has brought in Antoine Griezmann and Alessio Cerci in a further effort to bolster his front-line, with the former costing a significant €30 million and the latter a signing the club pursued relentlessly until deadline day. Atleti will hope the duo can provide the quality necessary to make the most of rare opportunities in behind more disciplined back fours.
Last season that capacity to spin and burst away from defenders at pace only really came from main striker Costa, with neither Koke nor Arda Turan (who theoretically played 'wide' in the midfield) counting speed on the ground as one of their strengths.
Simeone now has options to exploit that avenue of attack in areas other than the tip of the forward line. Depending on what the occasion calls for, he could choose to use Cerci or Griezmann behind Mandzukic/Jimenez, in partnership with one of the strikers, or on the flanks.
It could even be possible to play all four in the same team, though that would perhaps only be the most drastic of measures. In any case, opponents will no longer be able to guess Atletico's methods of attack quite as easily as last season, with far more variables to consider now.
The pursuit of creativity that Simeone tried to fulfil with Diego hasn't been abandoned, meanwhile. That search is perhaps most evident in Atletico's first deal of the summer, a move for San Lorenzo forward Angel Correa, to be finalised once the Argentine can prove he has recovered fully from a heart problem.
Correa has a decent record in front of goal, but Simeone is more likely to be interested in his dribbling ability. The exciting 19-year-old possesses the ingenuity to undo an opponent's hard work in defence by leaving him for dead with a piece of skill, and that's a particularly useful option for a team increasingly asked by rivals to create something from nothing.
Atleti only really had that kind of quality in the form of Turan last season, and relying on one player for such a key trait is a dangerous game, particularly as the Turk's fitness can sometimes be a concern.
Bettering the rest
The Madrid derby is undoubtedly a huge fixture for Atletico, and a group of focused winners like this Rojiblancos side would hate to lose the clash, not only because of what it means in points but also momentum.
It isn't likely to be the key battleground where the Colchoneros' title defence is won and lost, however. Atleti have almost perfected the art of bettering powerful opponents, but now need to do the same with the smaller sides who treat them as the oppressors.
Mandzukic, with goals against both Real Madrid in the Supercopa and Eibar in the league, has already proven to be effective against rivals of all statures. The likes of Jimenez, Cerci, Griezmann and, fitness permitting, Correa, will have to try to do the same. Simeone has earned greater financial backing from Atletico than any other manager at the Vicente Calderon in recent memory.
Now El Cholo has to prove it was worth the effort by proving his team is more than just a one–trick pony – albeit one with an exceptional trick.
Thank you for reading 5 articles this month* Join now for unlimited access
Enjoy your first month for just £1 / $1 / €1
*Read 5 free articles per month without a subscription
Join now for unlimited access
Try first month for just £1 / $1 / €1