Is there any point of handing in a transfer request? FourFourTwo investigates
As integral to the game as the net and goalposts, or a wheezing relic that needs putting out its misery? Sam Rowe looks into the transfer request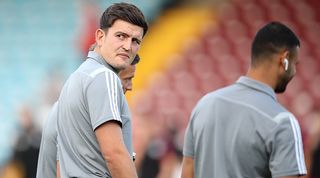 The back page of a newspaper – it's the football fan's Heat magazine during the transfer window. While those obsessed with celebrity have the Daily Mail 'sidebar of shame', football fans will relentlessly refresh their Twitter feed in blind hope of an update on the whereabouts of Neymar, or the identity of the latest club to target Nicolas Pepe. But, among the transfer window's silly season – rife with Chinese whispers, cloak and dagger negotiations and oil-rich oligarchs gazumping teams just for the hell of it – spare a thought for the humble transfer request.
Although this window has been plagued by reports of stars like Harry Maguire and Laurent Koscielny keen to leave their respective clubs, neither have thought to do what some may see as logical, and signal their intent with a transfer request – officially, at least. Maguire has voiced his desire 'privately', while Koscielny simply refused to board Arsenal's plane for their US tour. The question is: why do some drop in a written note and some not?
"Probably the single biggest reason is the impact it has on their relationship they have with the fans and fellow players," says Clifford Bloxham, senior vice president of Octagon sports agency, who has acted for the likes of Frank Lampard, Gareth Southgate and Daniel Sturridge.
"It's a real public statement of intent, and I would say one of the attractions of football is the intrigue. When you categorically say 'I want to leave this club' there's no more speculation, it's purely factual and it definitely damages the relationship with the fans, and also with their colleagues.
"Think about it. If you're in a job and you know that the guy you're working with day in day out doesn't really want to be there, it changes how you feel about them."
Barry Silkman disagrees. Once a midfielder for Manchester City and Leyton Orient, these days the sexegenarian cockney is a no-nonsense agent who has presided over a truckload of moves. His views on the sanctity of transfer requests are a touch more pragmatic.
"It's a waste of time," he tells FFT, bluntly. "Those days have gone, years and years ago, because clubs know when you're not happy. You go and see the manager, you might go and see the chairman, you tell them you're not happy and you want to leave for whatever reason. To hand in a transfer request doesn't put you any closer to leaving – we've moved on from those old-fashioned days."
Given the vast amount of dressing room upheaval every summer, the wasteland that is the official transfer list almost seems an oversight. But, according to PFA chief executive Gordon Taylor, such a sparse list of 'available' players is commonplace nowadays.
"It's because clubs are reluctant to particularly say players are on the transfer list," says Taylor, "as more often than not it can be an indication that if a club comes in for them, they'll be offering less than what they think the real value is." A valid point, as a club explicitly hawking a player to rivals can effectively slice their value in half – transfer list or not.
There's also little mystery to why perennial penny-pincher David Moyes, when in charge of Manchester United, urged Leighton Baines and Marouane Fellaini to submit transfer requests to Everton, in the hope of a sneaking a 'derisory and insulting' bid through the back door. But on the subject of footballers seeing a transfer request as the last port of call, Taylor is surprisingly candid.
ONE-ON-ONE David Moyes: I'd have approached United differently if I knew I only had 10 months
"Sometimes it's because of the structure of the contract being such that a lump sum is paid to players, providing they're not asking to leave the club," he explains. "That's why so many players often leave it as a very last resort, in order to avoid losing that amount of money."
So, despite the claims of loyalty to the club, respect for the fans and forthrightness with the manager, it could be said that the biggest cause of modern footballers' shyness for transfer requests is the lucrative contractual bonuses they forego by submitting one. In short, a loyalty bonus tends to be spread incrementally over a player's contract – i.e. 20% each year on a five-year deal.
The same goes for a signing-on fee, but if a player doesn't directly ask to leave the club, they're usually still in line for the rest – or at least a fair portion of the sign-on fee, which let's just say tends to be a tad more profitable than Jobseeker's Allowance.
On the rare occasions where transfer requests have been administered, they've seemingly been used as a ploy by player and agent to snare a bumper new contract, such as with Wayne Rooney in 2010 and Christian Benteke in 2013. And although in the case of those players such high-stake posturing appeared to pay off, Silkman is adamant that a top player needn't bother being quite so indirect.
"When players sign a contract, they don't sign it with a gun to their head," he says, "so they're happy when they sign it. But if circumstances change and the player feels he's not getting what he should financially, they don't hand in transfer requests. They just go to the club, or their agent will, and say we need a new deal. You do get those situations [like Benteke in 2013], and sometimes it will force the club into giving the player the deal he wants, because they know if they lose him they might struggle to replace him with a player of the same ability. But that becomes secondary – the first thing you do is ask for a new deal."
Amid all the talk of super agents being the puppet-masters of modern football, with the phrase 'player power' wheeled out whenever a football club is adjudged to not be pulling the strings, there are examples of unprecedented stubbornness by clubs.
Admittedly, though, the power dynamic usually hinges on how long the player has on their contract. Arsenal don't generally keep players to the very end of their deals, instead electing to sell them for decent money a year early – unless their name is 'Aaron Ramsey', that is. So when top players are hamstrung by long-term, multi-million pound deals and want to break free, what's the answer?
"There are so many tactics," says former Tottenham midfielder, Rohan Ricketts. "You don't turn up for training, or you turn up late a few times and don't look interested. If you want to leave, you have to go in and drag your feet. You can't affect the group directly, but you have to be seen as miserable and not happy around the place – that's the harsh reality."
On Arsenal's books as a youth player, Ricketts then signed for Spurs, making 63 appearances before a spate of domestic loans and eventually leaving for Barnsley. A successful stint in MLS with Toronto FC followed, as did spells in India, Moldova, Hungary, Ecuador and beyond. Yet, despite his wide repertoire of clubs, insight into football culture around the globe and an awful lot of air miles, it was in his early days at Arsenal that Ricketts himself aggravated for a move – taking matters into his own hands rather than submit a transfer request.
"A guy who was a friend of the vice chairman of Tottenham saw me play and said, 'You could play for Spurs in the morning, I'd put my mortgage on it'. I'll never forget it," Ricketts recalls. "But I couldn't get out of Arsenal as I was on a contract. What I had to do – something happened at the training ground and a player's phone went missing. I said that I was the one that done it, but the phone was at the club. They didn't actually believe me, so I had to say I did it, to the point that they said 'We have to release you'. It had a slight negative effect, but Spurs signed me straight after."
If players would sooner be sacked than hand in a transfer request, perhaps the system is crying out for a reboot. But does it need it? It's clear that footballers can still navigate their way out of clubs. And though it's frowned upon and technically 'illegal' under football law, the wheels of any transfer deal are invariably set in motion by, whisper it, tapping up.
"It happens every day," concedes Ricketts. "Say I'm playing for Spurs; if Manchester United want to buy me, how are they going to let me know that? They're going to tap me up indirectly through my agent – that's what he's there for. It's simple. I don't know why they brought out some of these rules, they make no sense."
In terms of reform, it's unlikely a Bosman-esque overhaul is imminent: even if transfer requests are seldom used and somewhat irrelevant, they're not really causing any harm. Now the window closes on the eve of the new season, however – a decision applauded by the PFA's Gordon Taylor.
"I do see problems with the transfer window being open when a season's started," he says. "Managers aren't certain whether they're going to get players, keep players or even replace players."
It's not necessarily a popular viewpoint among managers, who can have an entire pre-season thrown off kilter by an ill-timed transfer offer.
Mind you, the stance is far from universal, and player-turned-agent Barry Silkman believes it could cause far more problems than solve.
"Why make the transfer window shorter? It only goes on for about eight weeks now," he says. "It used to be you could do a transfer before the first Saturday in March, and I don't understand why it ever changed. Whoever invented these transfer windows wants hanging, it's the most ridiculous thing I have ever heard of in my life."
Taylor disagrees, and the intense media interest around the transfer window might back up his case – as does the amount of money it generates.
"They said the death of the game when the maximum wage was removed," says Taylor, "same with the right to move, same with Bosman. But transfer fees have continued to increase, particularly with the very best players. To some extent it reflects the interest in the game and the fact that, against all the odds, it continues to do extremely well commercially."
The transfer request is dead. Long live transfers.
While you're here, why not take advantage of our brilliant subscribers' offer? Get 5 issues of the world's greatest football magazine for £5 – the game's greatest stories and finest journalism direct to your door for less than a pint in London. Cheers!
NOW READ
TRANSFERS 5 centre-backs not called 'Harry Maguire' who Manchester United could sign instead
ACTION REPLAY Jurgen Klinsmann at Tottenham, 25 years on: dives, Maradona – and nearly dying
Thank you for reading 5 articles this month* Join now for unlimited access
Enjoy your first month for just £1 / $1 / €1
*Read 5 free articles per month without a subscription
Join now for unlimited access
Try first month for just £1 / $1 / €1
Get FourFourTwo Newsletter
The best features, fun and footballing quizzes, straight to your inbox every week.