Tony Adams: Perfect XI
"He's an amazing player, technically excellent and with a beautiful wife..."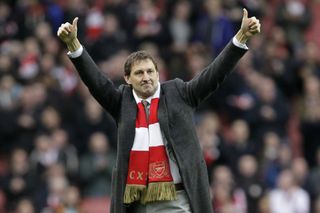 Goalkeeper
David Seaman
I played with Pat Jennings and he was brilliant, but I played with David for a good many years and he made it all look so easy. I loved his style of playing. I think there's an art to making things look easy – that's why I pick him. He brought calmness and assured authority to Arsenal and England and you need that. 'Safe Hands' he calls himself, doesn't he? He's technically outstanding. He went through eras where balls changed, they became quicker and he adapted quickly.
Right-back
Viv Anderson
He was really determined and one of the most difficult and strongest players I've had to play with and against. Viv showed me how to be professional. And he's got two European Cup winner's medals too – enough said.
Centre-back
Franco Baresi
Baresi wasn't as physically strong as you might expect a central defender to be – he would generally play as sweeper – but he was so good you would just watch him dictate the pace of the game. He read the game better than any defender I've ever seen, and I think that's what makes him stand out as one of the best central defenders of all time. His medal collection's not too bad either!
Centre-back
Paolo Maldini
An amazing player, technically excellent and with a beautiful wife! I think he learnt an awful lot from Franco Baresi. I love the Italian defenders and the zonal defence system, and Paolo was very good at it. When I was at Arsenal with George Graham in charge, we watched hours and hours of tapes of Maldini.
Left-back
Kenny Sansom
Kenny played over 80 times for his country and for good reason. He had a low centre of gravity, very quick feet and his one-on-one defending was brilliant: he was going to mark Diego Maradona at the '86 World Cup! He could get forward too – he was like a midfield player at left-back, before you had midfield players playing at full-back. Kenny could play.
Right midfield
Patrick Vieira
Not only is Patrick a big, strong player, he's very intelligent and a great reader of the game. An amazing athlete with enormous energy – he covers huge distances over 90 minutes – and, in my opinion, a far superior player to Roy Keane. Don't get me wrong, Roy did a fantastic job for United, and they're similar, but Patrick is miles apart.
Centre midfield
Dunga
He played so many games at World Cup level, for a start. Brazil has a history of having these physical 'screen' type of players. And he was always up and back, up and back. He can play in any position – that's how good he was. He dropped to centre-back when he needed to.
Left midfield
Robert Pires
Simply one of the best players I've ever played with. He's two-footed and runs quicker with the ball than I ever could without it. He can literally break open a defence. He's possibly one of the most underestimated players the Premiership has seen. And he's got both a World Cup and a European Championship winner medal – that says it all.
In the hole
Dennis Bergkamp
I don't just want a player who will score 150 goals, but someone who will make 150 goals, and that's what you get with Dennis – he's on the team sheet straight away. An enormously talented footballer: intelligent, always drifting between the lines and with fantastic distribution. He really opens up doors.
Striker
Thierry Henry
I'm always asked by Arsenal fans if I think Thierry is the greatest ever Arsenal player. It's impossible to answer, but he is the greatest player on the planet at present. You can see that he scares defences and players like that come round once in a blue moon.
Striker
Marco Van Basten
He's the quickest 6ft 3in centre-forward I've ever seen! Just awesome. He was as quick as Ian Wright, as good in the air as Joe Jordan and he held the ball up better than Alan Smith. I put him in front of Maradona. Technically, Maradona was brilliant and he had amazing feet, but Van Basten could head, volley – he had power and strength.
SUBSTITUTES
Ruud Gullit
Taller than me and Van Basten at 6ft 4in and caused me a few problems. He comes from deep and can play anywhere. He's enormously powerful.
Marcel Desailly
I thought he was better in midfield at AC Milan – he was like Patrick Vieira – but he won a World Cup winner's medal playing as a central defender and his versatility would be great for this team.
MANAGER
Easy – no one. Arsene Wenger always said that the secret to a being great manager is having great players. You've got that here.
From the September 2006 issue of FourFourTwo.
Quizzes, features and footballing fun
Get the best features, fun and footballing frolics straight to your inbox every week.
Thank you for signing up to Four Four Two. You will receive a verification email shortly.
There was a problem. Please refresh the page and try again.