Watford plunged into crisis after falling level on points with Manchester United
Freefalling Hornets forced to admit they're no better than Jose Mourinho's Reds, Back of the Net report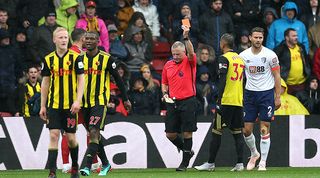 Watford have tumbled out of the title race into mid-table after a calamitous few weeks, and now find themselves rubbing shoulders with the likes of Leicester and Manchester United.
The Hornets were tipped for great things after winning their first four games of the season, with expert statisticians arguing that if they continued in the same vein, they would win the title with a 100% record.
But the world will never know if the boffins were right after Javi Gracia's men stumbled to a 4-0 home defeat against Bournemouth, their fourth game in a row without a win which leaves them humiliatingly level on points with Manchester United.
Watford captain Troy Deeney admitted to FourFourTwo that it stung to be on the same level as the Reds, but said that he hoped that it would serve as a wake-up call to his team-mates.
"Unfortunately we started to believe the hype, but the table doesn't lie," said Deeney. "We're in ninth now, which if the so-called experts are to be believed, is eight places below first.
"We're obviously streets ahead of Man United on paper, but in the real world we're at the same level, as much as it pains me to admit it.
"That's embarrassing for everyone at this football club, but we have to turn that humiliation into something positive or our rivals are going to start mockingly referring to us as the Man United of the South."
On the up
Meanwhile, Manchester United boss Jose Mourinho declared his team's crisis over after hauling his team up the table to sit level on points with Watford.
"If you looked at us and Watford, you wouldn't be able to say which team was which," he told journalists proudly. "It's taken me three years but finally we're ready to compete with the eighth-biggest club in London."
Mourinho added that given another three years and a £500 million transfer budget, he might at last be able to overhaul Bournemouth.
Please note: Just in case you hadn't clocked it after all of the above, this story is satirical and not real. Sigh.
Quizzes, features and footballing fun
Get the best features, fun and footballing frolics straight to your inbox every week.