"Embarrassing…a joke": Pundits fume as Iran keeper continues after head clash
The decision to allow Iran goalkeeper Alireza Beiranvand to continue after a serious head clash angered pundits.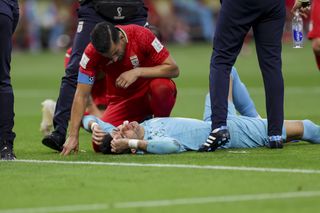 (Image credit: Getty Images)
The decision to allow Iran goalkeeper Alireza Beiranvand to return to the pitch after a serious head clash was blasted as "embarrassing" and "a joke" by pundits.
Beiranvand came to punch a cross and collided heavily with one of his team-mates in the first half of Iran's opening World Cup 2022 (opens in new tab) game against England on Monday.
The collision left the keeper sprawled on the ground with what looked like a broken nose, and Iran's replacement goalkeeper Hossein Hosseini began to warm up.
But, to the astonishment of everyone, Beiranvand returned to the pitch after a lengthy stoppage, despite looking dazed and unsteady.
He then asked to be replaced minutes after play restarted, but the fact that the officials allowed him to continue in the first place sparked outrage.
"Football's concussion procedures are an embarrassment," Chris Sutton wrote on Twitter.
"Where is the if in doubt sit it out procedures…I'll say it again, the football authorities do not care about their players…"
BBC co-commentator Jermaine Jenas called it "a joke" and was amazed by what he was seeing.
"If Beiranvand has to miss 10 days for his health and his safety, then so be it. That's why these protocols are in place," he said.
"I don't see how him carrying on is right. This is ridiculous. It's almost as if he's been forced to carry on here.
"It's 2022 and we are having so many discussions about concussion protocols and how it can lead to dementia. This is not ok."
Jonas Baer-Hoffman, the general secretary at FIFPro, the global football players' union, was also furious.
He tweeted: "Second match of World Cup, further proof concussion protocols are not up to task. Alireza Beiranvand should have been immediately taken to dressing room and properly assessed.
"That's why we have been pushing for temporary concussion substitutes with IFAB for years!"
Thank you for reading 5 articles this month* Join now for unlimited access
Enjoy your first month for just £1 / $1 / €1
*Read 5 free articles per month without a subscription
Join now for unlimited access
Try first month for just £1 / $1 / €1