Gerrard reveals retirement plan
Liverpool captain Steven Gerrard says he may retire from football at the end of his current contract, which expires in 2013.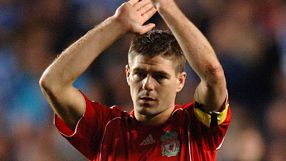 The England international has made more than 300 league appearances for the Anfield outfit - netting 71 goals - since breaking on to the first-team scene in 1998.

He will be 33-years-old when his current Reds deal ends, and Gerrard says that may be the right time for him to hang up his boots for good.

"I will be 33 at the end of my contract in 2013 and I don't know if I will go any further," he told France Football.

"If I do retire, then I will know that from the start to the end of my career I only had one club. And I don't want to think about wearing any other shirt in the future.
"I was close to leaving in the past, maybe twice, most notably in 2005. That year we were a long way off the Premier League title and Chelsea's interest turned my head.

"It was a difficult moment for me. However, now when I look back I am very happy that I chose to stay here. It has given me real pride."

NEWS: Torres tells Rafa: Go get David Villa!

LIVERPOOL FANS! Check FourFourTwo.com's ever-expandinginterviewsarchive for more stuff to read:
Web Exclusives Ian Rush, Craig Johnston
Q&A Steven Gerrard, Fernando Torres
One on One Michael Owen, Nicolas Anelka, Kevin Keegan
Boy's A Bit Special Danny Guthrie
Ask A Silly Question John Barnes, Peter Crouch, Luis Garcia, John Aldridge
Perfect XI Jamie Carragher
What Happened Next? Julian Dicks
And Another Thing Being a Big Four fan
Plus! Rate Liverpool players (and others) on Talentspotter
Thank you for reading 5 articles this month* Join now for unlimited access
Enjoy your first month for just £1 / $1 / €1
*Read 5 free articles per month without a subscription
Join now for unlimited access
Try first month for just £1 / $1 / €1