It's official: Manchester United have the most skilful front three in the Premier League
Manchester United are struggling this season – but they have the most skilful possible frontline of all English club, according to EA Sports FC 24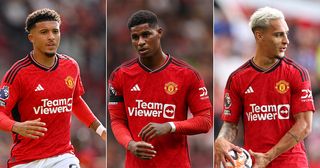 (Image credit: Getty Images)
Manchester United have had a bumpy start to the season – but their front three is the most skilful in the Premier League.
Yes, more so than Manchester City's impressive attacking trio of Erling Haaland, Jack Grealish and Phil Foden, or Arsenal's Bukayo Saka, Gabriel Martinelli and Gabriel Jesus. The Red Devils have struggled to set the world alight so far this season but is the triumvirate of Jadon Sancho, Marcus Rashford and Antony more skilful on paper than anyone else in the division?
Now, we know you shouldn't judge football stars on video game stats… but forgive us, because EA Sports FC 24's newly-released ratings are fascinating.
According to FC 24's comprehensive list of world football, there are just 47 players capable of 5* skills in the world – and three of them are at Manchester United, in Rashford, Sancho and Antony.
Arsenal have just one in Martin Odegaard, Liverpool have one in Thiago and City have, ahem, none. Paris Saint-Germain come closest to boasting a 5*-skilled frontline with both Kylian Mbappe and Ousmane Dembele given the stat, though Randal Kolo Muani only has 4* skill moves. With all three PSG stars handed a 90-rating for speed, however, the French champions have the fastest frontline in the game.
VIDEO: Why Man United's Problems Are EVEN WORSE Than You Think
The irony, of course, is that United currently aren't actually fielding that attack, meaning that the closest Erik ten Hag can get to playing with those three stars is with the rest of us on a games console.
Jadon Sancho's saga at Old Trafford is ongoing following his omission from the squad that lost to Arsenal, with Ten Hag reportedly refusing to back down over his stance. Sancho has actually been spotted playing FC 24 online during his absence from the team – one wonders whether he's been playing as United or has rage-quit from the side altogether.
Antony, meanwhile, has just returned to the UK ahead of potentially linking up with United once more following allegations from assault.
EA Sports FC 24 is available to preorder now.
More Manchester United stories
Manchester United face competition from Newcastle in the race to sign a young La Liga starlet, reports say.
The takeover saga at Old Trafford continues to drag on - here's one factor that could be decisive in determining the outcome.
And Erik ten Hag has opened up on the club's decision to re-sign Jonny Evans on a free transfer.
Thank you for reading 5 articles this month* Join now for unlimited access
Enjoy your first month for just £1 / $1 / €1
*Read 5 free articles per month without a subscription
Join now for unlimited access
Try first month for just £1 / $1 / €1