Iran coach appeals for better refereeing
By app
BEIJING - Iran coach Afshin Ghotbi has called on Chinese officials to be impartial in their next 2010 World Cup qualifier, saying poor officiating led to a 1-0 upset loss to hosts China on Monday.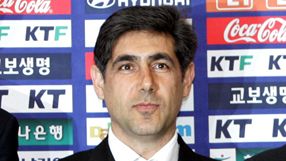 Iran, warming up for this Saturday's vital qualifier against North Korea with a full-strength squad, were upset by Gao Lin's 47-minute goal at the Qinhuangdao Olympic Stadium, the first loss to China in 15 years.
"The 1-0 result was unfair for us," Ghotbi told reporters. "I hope the referees from China will treat us better in our next match in North Korea, not like today."
Chinese officials are scheduled to oversee the North Korea-Iran match in Pyongyang, which the visitors have to win to prevent elimination.