Liverpool fan group in SCATHING takedown of referees amid Tottenham fallout
Liverpool suffered a dramatic defeat away to Spurs on Saturday, in an encounter riddled with officiating controversy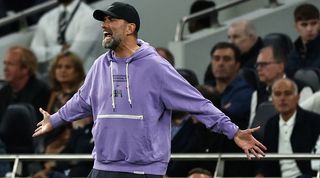 (Image credit: Getty Images)
Liverpool supporters' union Spirit of Shankly have called for major changes to the way football is refereed after the Reds' controversial 2-1 defeat to Tottenham.
Joel Matip's 96th-minute own goal saw Spurs clinch victory in dramatic fashion at the Tottenham Hotspur Stadium on Saturday, at the end of a game during which Liverpool were on the wrong end of some contentious decisions.
One of those – the ruling out of Luis Diaz's first-half goal for offside – was even admitted to have been incorrect by PGMOL, the refereeing body, who said there had been a "significant human error" on the part of the VAR officials.
Reds Jurgen Klopp and numerous pundits have had their say – and now Spirit of Shankly have issued a response of their own. In a statement titled 'You're not fit to referee', they wrote:
"Officials make mistakes – every one of us makes those – but to limit them on the football field, we have VAR. The introduction of technology as a back-up to erase in-the-moment human error, yet we get decisions like that made on Saturday at the Tottenham Hotspur Stadium."
Liverpool WILL win trophies this season
The statement went on to express a lack of faith in VAR and PGMOL. It continued:
"VAR thought the goal had been given on the pitch, so for them, 'check complete' affirmed it. But it was the opposite and the referee assumed his original decision of no goal was correct. VAR and the PGMOL are blatantly not fit for purpose.
"There's to be an investigation [by PGMOL] but to what end? This isn't about individuals; it's about the process. And it is not the first time an apology has been given this season – Wolves non-penalty at Manchester United – a season not yet two months old. Any trust in the process has gone."
More Liverpool stories
Why was Luis Diaz's goal disallowed? FFT has taken a closer look at what went wrong.
Meanwhile, Liverpool could face a fine after receiving six cards during Saturday's loss to Spurs.
And Gary Neville has had his say on the VAR controversy at the Tottenham Hotspur Stadium.
Thank you for reading 5 articles this month* Join now for unlimited access
Enjoy your first month for just £1 / $1 / €1
*Read 5 free articles per month without a subscription
Join now for unlimited access
Try first month for just £1 / $1 / €1