Manchester City legend claims Erik ten Hag has 'demonstrated he is extremely capable' despite poor results
Manchester City and Manchester United are notorious rivals - but that hasn't stopped one club legend defending the under-fire Erik ten Hag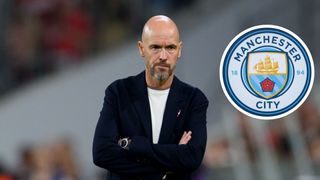 (Image credit: Getty Images)
Manchester City legend and Burnley boss Vincent Kompany believes that Erik ten Hag doesn't deserve the criticism he is currently facing, after Manchester United lost 4-3 to Bayern Munich in the Champions League on Wednesday night.
Kompany is busy preparing his side to face Manchester United on Saturday night in the Premier League, with Burnley looking to pick up their first win of the 2023/24 season.
Speaking during his pre-match press conference, Kompany acknowledged that while Manchester United have struggled in recent games - they're currently on a three-game losing streak - Ten Hag has shown in the past his quality as a manager and that he shouldn't be doubted.
Manchester City legend Kompany defends Erik ten Hag
"One thing this man has demonstrated is that he is extremely capable," Kompany said. "There is no doubting that. All the rest that is happening in the outside world, he can't control that."
Kompany, who played 360 times for Manchester City and won four Premier League titles during his time at the club, clearly recognises the task at hand for his team on Saturday.
Returning to the top flight with losses against Manchester City, Tottenham Hotspur and Aston Villa, Burnley finally earned their first point away at Nottingham Forest on Monday night. Regardless of the results, the 37-year-old claims he is keeping his squad confident that they're heading in the right direction.
"I have to manage the results and performance of my team," Kompany added. "We are a calm camp. We are in a place where we feel that something is really exciting ahead of us.
"We have to build on that momentum, what is happening elsewhere is not our concern. I have to prepare our team to play the best possible Manchester United team, playing the way we know they can play.
"If they turn up in any other way, we will see. But I will prepare my team to face United when they are playing at their best."
More Premier League stories, including Burnley and Manchester United
An Opta supercomputer believes that Burnley will comfortably survive in the Premier League this season - though their shaky start suggests it won't all be plain sailing.
Bruno Fernandes has shifted the blame away from Andre Onana after United's defeat to Bayern.
Make sure you know how to watch every Premier League game this weekend.
Thank you for reading 5 articles this month* Join now for unlimited access
Enjoy your first month for just £1 / $1 / €1
*Read 5 free articles per month without a subscription
Join now for unlimited access
Try first month for just £1 / $1 / €1