Manchester United captain Bruno Fernandes shifts Bayern Munich blame away from Andre Onana
Manchester United lost 4-3 to Bayern Munich on Wednesday night, and Bruno Fernandes spoke up after the game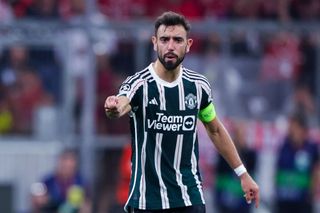 (Image credit: Getty Images)
Manchester United captain Bruno Fernandes has shown his support for his team-mate and goalkeeper Andre Onana, following their 4-3 loss to Bayern Munich in the Champions League on Wednesday night.
Blaming himself for Bayern Munich's first goal in the game, in which Leroy Sane's low shoot trickled under his arm, Onana took responsibility for the defeat after the game
The Manchester United goalkeeper told TNT Sports: "It's difficult to lose this way as we started very good but after my mistake we lost control of the game. It's a difficult situation for us, and me, as I let the team down. The team was really good but it was because of me we didn't win this game.
"I'm happy for the work of the team but we have to move on - that is the life of a goalkeeper. We didn't win today because of me."
Bruno Fernandes, however, believes that the Cameroonian doesn't need to take the blame for his mistake, suggesting things will balance out across the course of the season.
"It's not about Andre," The Manchester United skipper said. "Andre is a great goalkeeper, he will keep giving us a lot of points, a lot of saves. He hasn't to take any blame for nothing.
"We have to take the blame as a team, that we're going to go through this moment together because we are strong as a team. I think what everyone has to do is to do their own job and look at themselves first.
"That's what I do as a player, not as a captain – as a person and first point. I think everyone does that and I think today it wasn't the case that not everyone was doing the best for the team or trying to fight for getting the result. I think everyone did that."
Manchester United next face Burnley in the Premier League on Saturday night, looking to overcome three straight defeats in all competitions and provide some positivity around the club.
More Manchester United stories
Barcelona are reportedly weighing up a January loan move for Manchester United outcast Jadon Sancho.
Meanwhile, United could make a big attacking signing of their own: the 'new Maradona' has been linked with a switch to Old Trafford.
And £72m summer arrival Rasmus Hojlund has been compared to former Arsenal striker Nicklas Bendtner...
Thank you for reading 5 articles this month* Join now for unlimited access
Enjoy your first month for just £1 / $1 / €1
*Read 5 free articles per month without a subscription
Join now for unlimited access
Try first month for just £1 / $1 / €1