Ronaldo too sissy for Paris Hilton
American socialite Paris Hilton has reportedly dumped Cristiano Ronaldo for being a 'real sissy'.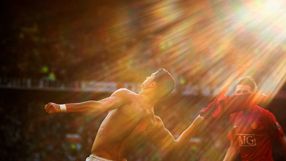 According to a report in the National Enquirer, Hilton ended their budding romance after deciding that Ronaldo was "too in touch with his feminine side."
"She likes her guys to be macho - and as far as she's concerned Ronaldo turned out to be a real sissy," a source told the magazine.
"She likes her men rugged, it's as simple as that. She thought her friends would laugh at her if she dated a guy who walks around with flowers in his hair.
"He was just too uptight for her to find attractive. In the end, Paris realised their relationship simply wasn't clicking. Paris got to know him and realised he's not nearly hot enough."
However, the Real Madrid-bound FIFA World Player of the Year was quick to deny claims that their relationship ended due to his overt meterosexuality.
"She was a really cool girl and we had a great time talking," he retorted in the report.
"She lives thousands of miles away and is busy, and I am busy in Madrid so I am not sure if we will be able to see each other.
"I am just making the most of the short summer I get."
REAL MADRID FANS! Check FourFourTwo.com's ever-expandinginterviewssection for more stuff to read:
Q&A Ruud Van Nistelrooy, Raul, Robinho, Fabio Cannavaro, Fabio Capello, Samuel Eto'o
One on One Michael Owen, Ronaldo, Nicolas Anelka, David Beckham
Web Exclusives Guus Hiddink
And Another Thing Best league in the world?
Sing When You're Winning Rafael Nadal
My Secret Vice Michel Salgado
Perfect XI Gheorghe Hagi
Plus! Rate Real players (and others) on Talentspotter
Thank you for reading 5 articles this month* Join now for unlimited access
Enjoy your first month for just £1 / $1 / €1
*Read 5 free articles per month without a subscription
Join now for unlimited access
Try first month for just £1 / $1 / €1