What will Sandro Tonali's squad number be? The Newcastle United arrival could see Eddie Howe go into full 'Football Manager mode'
Sandro Tonali's squad number is up in the air – and the imminent arrival at Newcastle United could prompt a squad overhaul, of sorts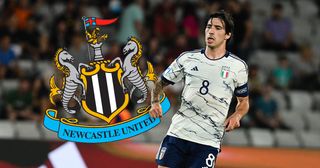 (Image credit: Getty)
With various sources in England and Italy now indicating that Sandro Tonali's Newcastle United medical is set for this weekend, all the i's could be dotted before he returns to action in the U21 Euros in Romania on Sunday.
Newcastle United medical staff are reported to be in Romania where the U21 European Championships recently started and speculation now turns to what squad number the club's potential record signing could pick.
Tonali is a box-to-box midfielder who can play as a No.6, or No.8. Eight was his number at AC Milan, he wore four at his first club Brescia but has only worn No.6 a handful of times, and that has been exclusively at international level for Italy.
But the squad number picture at Newcastle is... crowded. No.6 is occupied by long-serving club captain, Jamaal Lascelles, Anthony Gordon took No.8 when he arrived at the end of the January transfer window and Sven Botman wears No.4. Matt Ritchie wears 11 and has recently had his contract extended by a year.
The next lowest numbers are 15, 16 and 20. Newcastle United YouTuber Adam Pearson has taken an early, confident, gamble that a) Tonali would be arriving on Tyneside, and b) that he would take the No.20 shirt. Pearson canvassed his Twitter followers for their opinions and plumped for club's new Castore shirt, complete with brand new sponsor Sela, printed with Tonali 20.
However, signs up at Newcastle United's club shop remind fans that squad numbers haven't been finalised yet, and if a player changes numbers, the club won't replace the shirt without charge.
One option could be for Eddie Howe to go full 'Football Manager' and overhaul their squad numbers to satisfy football fans' OCD, but also appease new star, Tonali.
Fringe players Dubravka, Dummett, Lascelles, and Ritchie all hold 1, 3, 6, and 11 respectively. A reshuffle could at least free up the No.6 for Tonali. Nick Pope could be given the No.1, No.3 could be offered to the new right back Newcastle covet, 6 would be free for Tonali with 11 left for the wide forward Eddie Howe craves.
The twist however is that Tonali has a No.8 tattooed on the middle finger of his left hand. So, perhaps there will be a conversation between the Italian and Newcastle's current No.8 who is also in Romania playing for England U21s.
More Newcastle United stories
Newcastle United could just have signed the new Thierry Henry – with a little help from Arsenal
Premier League fixtures: Newcastle have the most difficult start and Chelsea have the easiest
Champions League 2023/24 group stage seedings confirmed: Manchester United, Arsenal and Real Madrid all left out of Pot 1
Thank you for reading 5 articles this month* Join now for unlimited access
Enjoy your first month for just £1 / $1 / €1
*Read 5 free articles per month without a subscription
Join now for unlimited access
Try first month for just £1 / $1 / €1