Premier League fixtures: Newcastle have the most difficult start and Chelsea have the easiest
The Premier League fixtures are out – Newcastle have a tough start, while Chelsea are eased into the Mauricio Pochettino era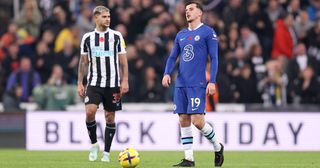 (Image credit: George Wood/Getty Images)
The Premier League fixtures are out – and it's Newcastle United who have the toughest start, with Chelsea handed a more favourable set of games.
By looking at where teams finished last season and giving them points based on their placing, we can determine a rough guide of which fixtures will pose the most problems. Manchester City receive a score of 20, Arsenal 19, all the way down to Burnley on three points, Sheffield United on two and Luton Town with one as the playoff winners.
It's not an exact science – but it does give us a good idea of who has it stacked against them in the early weeks of the season.
Who has the most difficult Premier League fixtures?
With a score of 77/100, Newcastle United undoubtedly have their work cut out in the first few weeks of the season. They've got Aston Villa on opening weekend before City and Liverpool – and things don't get much easier when they face Brighton and then Brentford.
Chelsea arguably have a more difficult opener: they take on Liverpool first up. But that's followed by West Ham, Luton, Nottingham Forest and Bournemouth, who all receive lower scores for their placings last term.
Manchester United's run is difficult, as they face Tottenham, Arsenal and Brighton in the early weeks of the season, while Liverpool have a couple of banana skins in Chelsea, Newcastle and Villa. Wolves' run looks tricky, too, with Manchester United, Brighton and Liverpool all within the first five games. Yikes.
Swipe to scroll horizontally
Premier League clubs ranked by fixture difficulty:

| Club | Fixture difficulty | Header Cell - Column 2 |
| --- | --- | --- |
| Newcastle United | 77 | Aston Villa (H), Manchester City (A), Liverpool (H), Brighton (A), Brentford (H) |
| Wolverhampton Wanderers | 63 | Manchester United (A), Brighton (H), Everton (A), Crystal Palace (A), Liverpool (H) |
| Manchester United | 60 | Wolves (H), Tottenham (A), Forest (H), Arsenal (A), Brighton (H) |
| Bournemouth | 57 | West Ham (H), Liverpool (A), Tottenham (H), Brentford (A), Chelsea (H) |
| Brentford | 57 | Tottenham (H), Fulham (A), Crystal Palace (H), Bournemouth (H), Newcastle (A) |
| Fulham | 56 | Everton (A), Brentford (H), Arsenal (A), Manchester City (A), Luton (H) |
| Crystal Palace | 55 | Sheffield United (A), Arsneal (H), Brentford (A), Wolves (H), Villa (A) |
| Everton | 54 | Fulham (H), Villa (A), Wolves (H), Sheffield United (A), Arsenal (H) |
| Liverpool | 54 | Chelsea (A), Bournemouth (H), Newcastle (A), Villa (H), Wolves (A) |
| Burnley | 53 | Manchester City (H), Luton (A), Aston Villa (H), Tottenham (H), Forest (A) |
| Sheffield United | 52 | Crystal Palace (H), Forest (A), Manchester City (H), Everton (H), Tottenham (A) |
| Nottingham Forest | 51 | Arsenal (A), Sheffield United (H), Manchester United (A), Chelsea (A), Burnley (H) |
| West Ham United | 51 | Bournemouth (A), Chelsea (H), Brighton (A), Luton (A), Manchester City (H) |
| Brighton & Hove Albion | 51 | Luton (H), Wolves (A), West Ham (H), Newcastle (H), Manchester United (A) |
| Aston Villa | 50 | Newcastle (A), Everton (H), Burnley (A), Liverpool (A), Crystal Palace (H) |
| Arsenal | 48 | Forest (H), Crystal Palace (A), Fulham (H), Manchester United (H), Everton (A) |
| Luton Town | 45 | Brighton (A), Burnley (H), Chelsea (A), West Ham (H), Fulham (A) |
| Tottenham Hotspur | 41 | Brentford (A), Manchester United (H), Bournemouth (A), Burnley (A), Sheffield United (H) |
| Manchester City | 40 | Burnley (A), Newcastle (H), Sheffield United (A), Fulham (H), West Ham (A) |
| Chelsea | 35 | Liverpool (H), West Ham (A), Luton (H), Forest (H), Bournemouth (A) |
Thank you for reading 5 articles this month* Join now for unlimited access
Enjoy your first month for just £1 / $1 / €1
*Read 5 free articles per month without a subscription
Join now for unlimited access
Try first month for just £1 / $1 / €1