'The lads I felt out with were idiots' - Roy Keane says he has no managerial regrets
Roy Keane reflected on his choices as a manager as pundits looked at Erik ten Hag's stand-off with Jadon Sancho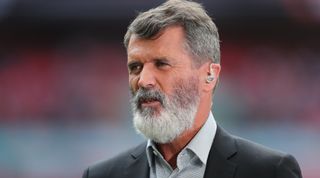 (Image credit: Getty Images)
Roy Keane says the only players he fell out with as a manager "were idiots who never did anything with their lives."
The former Sunderland and Ipswich boss, who also had spells as an assistant with the Republic of Ireland, Aston Villa and Nottingham Forest, looked back on his experiences during a discussion about Jadon Sancho's situation at Manchester United.
The Red Devils winger has been frozen out of the first-team squad at Old Trafford by manager Erik ten Hag.
Speaking on the Stick to Football podcast, former United midfielder Keane insisted he had no regrets about his own choices while managing.
"I fell out with a few. I didn't banish them, but I fell out with lads when I was manager of Sunderland, Ipswich, when I was working with Martin [O'Neill] at Ireland," Keane said.
"I look back and I analyse it, and I was convinced – and I still am – that I was right.
"The lads that I fell out with were idiots who never did anything with their lives of their careers afterwards, so that gives me a bit of comfort.
"No one's ever proved me wrong on that side of it. I have pulled players in, and you would have discussions and arguments, but players can be wrong obviously."
For Keane, the most important thing a player can do is put the work in to prove that they deserve a chance in the team.
"Action [is leadership] – what you do on the training pitch, how you lead yourself around the training ground, how you speak to staff, how you speak to your teammates," said the Irishman.
"Leadership is about action. Training is key for me. It's about how you train. I find it hard to have a conversation about a player who doesn't train properly. I just cannot understand it, I'm not even up for that type of debate."
For Keane's former United team-mate Neville, the situation is a difficult one to digest.
"I'm torn – I think it's really important to have discipline and control if you're a manager in the dressing room," he said.
"Also, what is niggling me a little bit is that only six months ago [Sancho] was allowed to have two or three months off with mental health issues, and now he's had this very public spat where the manager [Erik ten Hag] has come out and said he's not training well.
"Sancho has come back and now Erik ten Hag is demanding an apology, and Sancho is not forgiving."
Former Liverpool defender Jamie Carragher is on the side of Ten Hag.
The manager has been forthright on the matter by leaving Sancho out of his squad after saying he didn't put enough effort into training, something the winger denied by saying he had become a "scapegoat."
"I'm with the manager on this one," Carragher said.
"Normally in these situations we don't know anything that's gone on behind the scenes, but I'm normally with the manager.
"You think of Ten Hag and where he's got to get to, and we rave about Jürgen Klopp in these situations, or Pep Guardiola only a few months ago with [Joao] Cancelo, who was a great player for them, but he was gone – sold. They deal with those situations, and we say they are strong managers and very ruthless.
"Ten Hag almost can't afford to lose this fight. He's come out and I don't think it's massive what he said in the press conference after the game. He's been asked a question why Sancho isn't in the squad, and the answer is he hasn't trained right.
"Because Erik ten Tag is going through a really difficult spell – Man United haven't started the season well – we say: 'he's losing the dressing room' but if he was winning, we'd be saying 'he's ruthless, he's dealt with the situation and sent a message to the dressing room'.
"I'm always with the manager on this. It's not even heavy criticism – has he been training right? He's been awful – he's been really poor considering how much he cost Manchester United and his reputation."
Roy Keane, Gary Neville and Jamie Carragher were speaking on the Stick to Football podcast, brought to you by Sky Bet.
More Manchester United stories
Manchester United face competition from Newcastle in the race to sign a young La Liga starlet, reports say.
The takeover saga at Old Trafford continues to drag on - here's one factor that could be decisive in determining the outcome.
And Erik ten Hag has opened up on the club's decision to re-sign Jonny Evans on a free transfer.
Thank you for reading 5 articles this month* Join now for unlimited access
Enjoy your first month for just £1 / $1 / €1
*Read 5 free articles per month without a subscription
Join now for unlimited access
Try first month for just £1 / $1 / €1