WATCH: Liverpool's Curtis Jones sees red after controversial VAR call vs Tottenham
The midfielder was sent off after catching Spurs' Yves Bissouma in a challenge which originally saw him shown a yellow card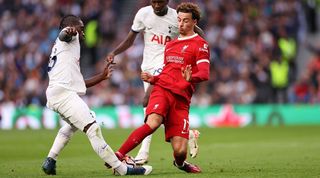 (Image credit: Getty Images)
Liverpool midfielder Curtis Jones was controversially sent off following a VAR check in the first half of the Reds' Premier League clash at Tottenham on Saturday.
Jones was initially shown a yellow card for catching Tottenham's Yves Bissouma in the shin, but match official Simon Hooper changed his mind and sent off the 22-year-old after reviewing the challenge pitchside.
Although it looked nasty, Jones' foot appeared to slide off the top of the ball before he caught Bissouma and on Sky Sports' commentary, Gary Neville said he thought a yellow card was sufficient.
"No, I know when you're doing someone on purpose, I've done myself in the past, and he's not doing that," the former Manchester United defender said.
"He's [the VAR] showing him [the referee] the end motion and that's not how it actually is - his foot slips over the top of the ball. It's never a red card and he's going to get one.
CURTIS JONES IS SENT OFF! 🟥.@GNev2 disagrees... pic.twitter.com/D7Z21OorvkSeptember 30, 2023
"I think generally, he's gone in genuinely but his foot slips on top of the ball. I'm not sure, I never am nowadays, I'm less sure about football than I ever have been but I don't think he's gone in with any malice."
And he added: "If you see the end part of it in slow motion, you'll come to the conclusion that it's a red card. You have to look at the full motion at full speed, the speed of these players going into the tackles.
"Bissouma is flying in and so is Curtis Jones. But look, I felt a yellow would've been fine with the ambiguity that exists on something like that."
During the interval, former Liverpool and Spurs midfielder Jamie Redknapp was asked about the decision and said: "I think it's extremely harsh. He doesn't mean to hurt him."
Tottenham took the lead 10 minutes after the red card through Son Heung-min, but the teams went in on level terms after Cody Gakpo levelled deep in added time at the end of the opening period.
Liverpool also saw a goal ruled out for a marginal offside with the scores at 0-0.
More Liverpool stories
A report in Germany has revealed the manager who is likely to succeed Jurgen Klopp as Liverpool manager.
Klopp has hailed Darwin Nunez's impact this season after the striker scored in Sunday's defeat of West Ham.
And former Liverpool striker Emile Heskey believes Klopp does not know what his best front three is.
Thank you for reading 5 articles this month* Join now for unlimited access
Enjoy your first month for just £1 / $1 / €1
*Read 5 free articles per month without a subscription
Join now for unlimited access
Try first month for just £1 / $1 / €1