Will LeBron James remain minority shareholder after Liverpool owner puts club up for sale?
Basketball player LeBron James bought a two per cent stake in Liverpool in 2011, but will he keep that once FSG sell the club?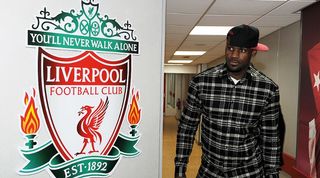 (Image credit: Getty Images)
Basketball star LeBron James is set to relinquish his minority shareholding in Liverpool.
It was revealed yesterday that the club has been put up for sale by owners Fenway Sports Group (FSG), with a full sales presentation created to entice potential buyers. Back in 2010, when FSG initially bought Liverpool, the group was also looking to represent James during his basketball career and beyond. In order to seal the deal, FSG offered James a two per cent stake in Liverpool Football Club in 2011 for $6.5million (£4.7m), which he duly accepted with his business partner Maverick Carter.
However, in March 2022, James converted his stake in Liverpool into a one per cent shareholding of FSG's overall empire. The group currently owns the Boston Red Sox, the Pittsburgh Penguins, half of Roush Fenway Racing and 80 per cent of the New England Sports Network, as well as Liverpool.
Consequently, the value of his shares rocketed once he had converted them into FSG rather than solely in Liverpool, and he is set to make nearly ten-fold his initial investment.
Indeed, Forbes has valued Liverpool at $4.45 billion, meaning LeBron James' one per cent stake is now worth $44.5 million (£38.8m).
While the 37-year-old will therefore no longer be a part-Liverpool owner when FSG fully sell the club, he will continue working with the group as it continues investing in American sport.
In March 2022, when James and Carter's stake in Liverpool was exchanged for ownership in FSG, Carter said: "Working with Fenway Sports Group for the past decade has taught LeBron and me so much about the business on a global scale, and we've always believed it would lead to something bigger.
"We are proud to be part of this iconic ownership group and are excited about the opportunities that come with that to continue creating change and empowering people of every race, gender and background to be part of the process."
Thank you for reading 5 articles this month* Join now for unlimited access
Enjoy your first month for just £1 / $1 / €1
*Read 5 free articles per month without a subscription
Join now for unlimited access
Try first month for just £1 / $1 / €1