Marek Hamsik: How to play the attacking midfield role
Napoli captain Marek Hamsik gives you advice on using both feet, the importance of positioning and the beauty of simplicity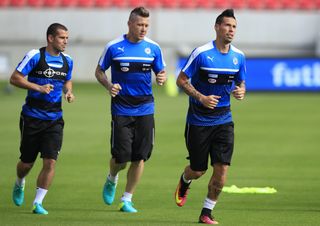 KEEP YOUR MIND SHARP

As an offensive midfielder, you play in the strategic part of the pitch and you are under constant pressure from the opposing defence, so your decision-making needs to be very quick. Keep your composure and don´t panic during the game and make sure you already know what your next step is in and out of possession.
USE BOTH FEET

In Italy, the midfield area is constantly overcrowded and the defensive backlines are well marshalled, which means there is hardly any time to favour your preferred foot. You need to learn to be as two-footed as possible and really work on this in training if you want to be a top playmaker. To put it simple, when your first touch is not good, your advantage is gone in a second and you want to be a dominant midfield maestro!
PICK UP THE RIGHT POSITIONS

You always need to be looking around in search of the ideal position. During the match I´m constantly trying to find open spaces from where I can orchestrate our pre-final phase and create chances for my team-mates. I think good positioning is my strong point, to be honest. So just be sure that you are in the right space at the right time. It can make your life much easier for you and your team-mates during matches.
PLAY IT SIMPLE

Simplicity is key. Don´t overthink situations. Touch, pass and if needed, sprint upfront to help your colleagues outnumber the opposition. It is best to start with easier things and if all goes well, you can add more advanced skills and bits of play to your game as you improve and gain confidence.
GET IN A ROUTINE

Gradually you find out what daily routine works the best for you. This is particularly important on matchdays - it is good to do the things which helps you and on which you are accustomed. Stick with what works well for you. Some players prefer to sleep longer when there is an evening kick-off, while others eat the same healthy food before the game.
Recommended stories
Andrew Iniesta: How to boss the midfield

Yaya Toure: Dominate the middle of the park

Mario Gotze: Be a creative spark

Michael Ballack: How to be the complete midfielder

Thank you for reading 5 articles this month* Join now for unlimited access
Enjoy your first month for just £1 / $1 / €1
*Read 5 free articles per month without a subscription
Join now for unlimited access
Try first month for just £1 / $1 / €1