6 urgent things Gareth Southgate needs to see before the end of the season
By Declan Warrington published
The England manager doesn't have a settled side only months before Russia 2018 – but the following outcomes to the club season would make his life far easier, says Declan Warrington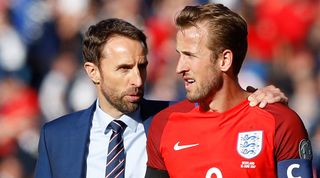 Rarely has an England manager approached a major tournament with the uncertainty that Gareth Southgate is confronted with. Before Euro 2012, Roy Hodgson succeeded Fabio Capello with so little notice that he had only two friendly fixtures to prepare. However, he was at least working with established and experienced international players whose selection was near-certain.
Two years earlier, Capello's lack of faith in his limited options contributed to Jamie Carragher ending his international retirement, while the Italian attempted to persuade Paul Scholes to do the same. At the 2010 World Cup in South Africa, Capello's team struggled amid that relative chaos.
England, perhaps justifying perceptions of mental fragility, have long been at their most confident when much of their starting XI have been predictable. Nearing Russia 2018, Southgate doesn't even have a settled goalkeeper to call upon, and the reality is that's only where his problems begin...
1. A keeper to make his mark
At both the 2014 World Cup and heading into Euro 2016, England had uncharacteristic strength in depth at a time when there was little question over Joe Hart's first-choice status. Fraser Forster and Ben Foster, then Jack Butland and Tom Heaton, provided further options.
Not now. The consequence of Hart's inability to recover from the mistakes he made two summers ago, Forster being dropped by Southampton, Heaton suffering injury, plus Foster, Butland and Jordan Pickford struggling to consistently convince has scuppered that. Nick Pope, a second-choice goalkeeper for Burnley at the start of this season, has now come into contention.
What was once a strength in depth has become, simply, numerous uninspiring – or perhaps more fairly, inexperienced – options. It matters little whether Hart can somehow re-establish himself before the season's end or if Butland or Pickford prove themselves his long-term successor. One of them needs to discover the authority and conviction that will make him a strength behind an uncertain defence.
2. Harry Kane to regain his fitness
Hodgson was once blessed with options in the final third, particularly when Daniel Sturridge, Wayne Rooney and Danny Welbeck vied for selection, while Harry Kane, Jamie Vardy and Marcus Rashford emerged as further contenders.
Kane has since become, without question, England's most proven, convincing and consistent goalscorer. Of the rest, only Vardy and Rashford have not since significantly declined.
The Tottenham striker struggled at Euro 2016 when he was exhausted after two years without a break, so his injured ankle ligaments could yet prove a blessing in disguise if he returns to score before the season's end and without any disruption to his tournament preparations. In his potential absence, Vardy and Rashford – the latter so far at least – represent considerably less rounded options.
3. Jack Wilshere to stay fit and in form
If Arsenal's season doesn't end with victory in the Europa League, Wilshere's re-emergence will be the success story of his club's season. He's played his finest football since first establishing himself as a hugely exciting English prospect when becoming a regular in 2010. For all the promise of Lewis Cook, Ruben Loftus-Cheek and Harry Winks, Wilshere is – while fit – the footballer most suited to setting England's tempo as Southgate's playmaker from midfield.
That he was also given a greater appreciation of a midfielder's defensive responsibilities while on loan at Bournemouth (and while England experimented with him at the base of a midfield three) could also prove crucial. Jordan Henderson is similarly not a natural holding midfielder, but a Henderson-Wilshere partnership in front of Eric Dier could provide balance, energy and discipline.
4. A settled defence to emerge
Whether Southgate prefers a back four or a back three – he may yet use both at different times – the manager has been given little reason to have confidence in those competing to start in a position he knows so well: central defence.
In either system, Kyle Walker will start wide on the right, with Danny Rose and Ryan Bertrand competing on the left. Eric Dier will be either the defensive midfielder or in the middle of three central defenders and stepping forward into midfield.
Of the other players to have previously played for England and in contention to start in central defence, only Leicester's Harry Maguire has enhanced his reputation this season. John Stones's form has declined, Phil Jones has been absent through injury, Joe Gomez has been playing at full-back, while Gary Cahill's struggles have been surpassed only by those of Michael Keane.
Not since Euro 2012, when the decorated John Terry was partnered with Joleon Lescott – who that season was a league title winner with Manchester City – have England had a convincing and settled central defence. It has shown in the performances since.
5. Man City win Champions League, Tottenham win FA Cup
Should Manchester City imminently secure the Premier League title, Walker, Stones, Fabian Delph and Raheem Sterling can be rested domestically but retain their competitive edge while striving to win the Champions League. The potential benefits would also be significant: three of Southgate's likely starting XI growing with the confidence that comes with being a domestic and European champion, while nurturing a winning mentality.
If Spurs can complement a top-four finish with winning the FA Cup, Dier, Rose, Winks, Kane, Dele Alli and Kieran Trippier – each potentially heading to Russia – can benefit similarly.
6. An impact substitute to prosper
Heading into Euro 2016, the prospect of Rashford appearing from the substitutes' bench to provide England with a lift was a cause for confidence as much as a tactical advantage.
His present aura is not quite as it once was, largely owing to Jose Mourinho's pragmatic management which means the player's season may already have peaked.
There's little question Rashford retains his abilities, but the finest impact substitutes – essential to a manager on a stage where he may only get one chance – make an impression because of irrepressible confidence. Rashford possessed that two years ago but it may have been difficult for him to keep.
As with the identity of their goalkeeper, who that substitute is actually matters little, so long as someone emerges. One or more of Rashford (assuming he doesn't start), Winks, Loftus-Cheek, a fit Sturridge, Ross Barkley, Adam Lallana or Alex Oxlade-Chamberlain will be needed at their best from the bench if England are to succeed.
Thank you for reading 5 articles this month* Join now for unlimited access
Enjoy your first month for just £1 / $1 / €1
*Read 5 free articles per month without a subscription
Join now for unlimited access
Try first month for just £1 / $1 / €1
Quizzes, features and footballing fun
Get the best features, fun and footballing frolics straight to your inbox every week.
Thank you for signing up to Four Four Two. You will receive a verification email shortly.
There was a problem. Please refresh the page and try again.