Booed, subbed, wanted elsewhere: where Bale's Madrid dream has gone wrong
For all the trophies he's won, injuries and fickle fan support mean the Welshman's future at Real Madrid has never been more uncertain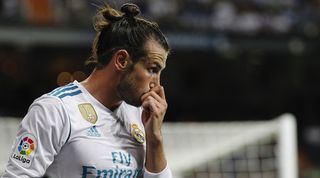 It's a rule any fan knows: when you're chasing a late winner, you want your most dangerous players on the pitch. Got a decent striker on the bench? Throw him on. Got a goalscoring midfielder out there? Keep him on. Got an £85m attacker playing? Definitely keep him on.
Yet as Real Madrid pushed back Valencia at the Santiago Bernabeu on Sunday, Zinedine Zidane decided to remove Gareth Bale with 16 minutes left. It seemed to violate the rule – but did it? The fans backed Zidane. As for Bale, boos rang out.
At 28, an age where Bale should be at his peak, his stock in Madrid has never been lower. The wasteful Karim Benzema actually deserved more blame on Sunday, but it's Bale who has been hammered in the Madrid press all week. Critics say he doesn't deserve to start, and that Madrid should do what long seemed unthinkable: to get rid of him.
Such pundits have overplayed his flaws before. This time, though, they are entirely right.
Missing man
How has it come to this? Bale has been seen as a future Ballon d'Or winner, heir to Cristiano Ronaldo's throne. He has been supported by coaches, favoured by president Florentino Perez and was at one stage made the centrepiece of the team. Now he's not even good enough to start.
The critics sniping at him have never been fed as much ammunition as in the last 12 months. Bale started last season well, only to get struck down by an ankle injury in November. Since returning three months later, he hasn't looked the same: after a goal in February, he got a petulant red card against Las Palmas, then picked up another injury. He didn't score for Madrid again that season.
Neither this campaign has started well. Bale scored one and created another in the league opener at Deportivo La Coruna, but did little in the Super Cup clashes against Manchester United and Barcelona. On Sunday, with Ronaldo absent, he went missing when Madrid needed him the most, as Valencia escaped with a 2-2 draw. He has only scored three league goals this calendar year.
Faltering form
Clearly Bale would have played better if he was consistently fit, but that is part of the problem. He has become sidelined too often to be considered reliable. He's nearing 20 different injuries since arriving from Tottenham four years ago, and averaging 25 league games per season.
A symbolic moment came in Madrid's Clasico defeat to Barça in April, when he started half fit and then had to hobble off after 39 minutes.
Critics also attack his effort to integrate. Bale is still grappling with the language, which some feel reflects his failure to adapt to Madrid and Spanish football. Jorge Valdano, the former Madrid coach and sporting director, said this week that Bale is isolated in the dressing room and on the pitch. The language may seem a trivial thing, but it's not helping Bale.
Still, the Welshman might have been shown more patience had Madrid not had better alternatives up front. That used to be the case – but not any more.
The future is here
One popular alternative is Isco, who has long rivalled him for a first-team spot. When Bale got injured late last season, Zidane switched to a 4-4-2 diamond with Isco behind Ronaldo and Benzema, a slick system that helped Madrid win the final decisive games to seal a Liga and Champions League double.
Then there's Marco Asensio, a prospective bargain of the decade. Snapped up in front of Barcelona for just £4m in 2014, the ex-Mallorca forward has scored on his Madrid debut in five competitions: La Liga, Copa del Rey, the Champions League, the European Super Cup and the Spanish Super Cup. At 21, he seems to be hitting wonder goals as easily as others score penalties.
Nobody seems able to stop him. In the Super Cup at the Camp Nou, Asensio hammered the ball into the corner while on the run; in the return leg, he rifled one in from 30 yards. Goalkeeper Marc-Andre ter Stegen stood frozen. On Sunday, Asensio scored another two from outside the box. At this rate, even Ronaldo is being left in the shade.
Madrid know they have a diamond destined to grace the top level for the next decade; a player who can succeed Ronaldo and win the Ballon d'Or. Compared to Bale, Asensio is younger, more industrious, more technical and in better form. Even regardless of age, Asensio merits a place next to Benzema and Ronaldo. Playing him over Bale would not only improve Madrid's future, but their present as well.
Jose is waiting
As such, should Zidane restore Bale to the team once Ronaldo returns from suspension, and thus keep faith in his 'BBC' forward trio, the call would be as unjust as it would be unpopular. One alternative is to bench Bale and let Asensio loose. Another is to sell Bale before the transfer window shuts.
The thought must surely tempt Madrid. Bale can still fetch a big sum, probably higher than their initial £85m outlay given how transfer fees are rocketing. Manchester United have money and need a winger, while Jose Mourinho expressed an interest three weeks ago.
"If he's not in the club's plans and it's true that a player like Bale is at the departure gate, I will try to be there waiting for him at the other side," Mourinho said.
Madrid have a track record of cashing in on prolific players they don't need, such as Angel Di Maria, Mesut Ozil, Gonzalo Higuain and Alvaro Morata. James Rodriguez also got shipped out on loan to Bayern Munich this summer.
Though Bale is apparently reluctant to leave, since he sees a return to England as a step down, the wishes of players have not deterred Madrid in the past. Never has a sale looked more likely.
Quizzes, features and footballing fun
Get the best features, fun and footballing frolics straight to your inbox every week.
Thank you for signing up to Four Four Two. You will receive a verification email shortly.
There was a problem. Please refresh the page and try again.