FFT's wry season review pt.3: Liverpool fail at fashion, Man United win a cup by accident, Pep's turtleneck causes rage
Back of the Net's alternative Premier League season review reaches three big guns who've had their ups and downs – plus Middlesbrough, who've mainly focused on the downs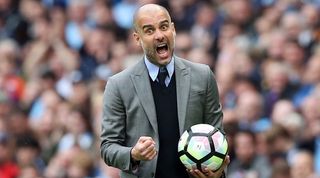 Liverpool (4th)
Previously unpublished Back of the Net pre-season prediction: 4th
The lowdown: After a dramatic final day, Liverpool are back in the Champions League for the first time since 2014/15 - but a season of Champions League football neat year could stymie Jurgen Klopp's attempts to qualify for the Champions League.
The best: Liverpool famously look after their supporters, and by winning just one game in seven at the start of 2017, the Reds generously ensured that no fan would have to cope with the stress of a title challenge.
The worst: The fluorescent lime third kit, which tried and failed to introduce the concept of a training bib onesie.
Need to do for next season: Crack the code of Roberto Firmino's tattoos, which feature a treasure map, a licence plate and an inscription in an ancient language. If club officials can piece together the clues to help him work out his true identity, and his mission, Firmino has promised to sign a new long-term contract.
Manchester City (3rd)
Previously unpublished Back of the Net pre-season prediction: 3rd
The lowdown: Having all the money in the world doesn't guarantee you trophies, except it does really, so Guardiola's first season in Manchester must be considered a failure on the pitch. Off it, his skinny-fit cashmere turtlenecks enraged the pundit class, who demanded to know what was wrong with an old-fashioned nylon pullover.
The best: Man City's slick passing made them look unbeatable at times, until the ball reached John Stones, or Gael Clichy, or Bacary Sagna, or Nicolas Otamendi, or any of their goalkeepers.
The worst: 10 wins in a row at the start of the season made Guardiola look like a genius, but the subsequent tailing off in City's form made everyone realise that his 22 previous trophies were all flukes.
Need to do for next season: Guardiola should embrace his instincts and play a 3-4-2-1, with three creative midfielders lined up behind four attacking midfielders and two wide midfielders, spearheaded by a lone advanced playmaker.
Manchester United (6th)
Previously unpublished Back of the Net pre-season prediction: 6th
The lowdown: Jose Mourinho assembled one of the most expensive squads in history and spent all year complaining about it, as United missed out on the top four. The team's unbeaten run from October to May might not have been the longest in league history, but it certainly felt like it for anyone watching them.
The best: Wayne Rooney continues to be an inspiration for anyone who has developed a stitch while attempting to trap a football.
The worst: A hard-fought win over Southampton in February looked to have secured three precious points, but joy turned to anguish when someone noticed that they had in fact won the League Cup by mistake.
Need to do for next season: Mourinho must respect Manchester United's traditions by falling out with racehorse owners, spending even larger sums of money and picking yet more fights with referees.
Middlesbrough (19th)
Previously unpublished Back of the Net pre-season prediction: 19th
The lowdown: Middlesbrough's return to the Premier League did not go according to plan, as Aitor Karanka gradually alienated the players, the fans, the chairman, and finally himself, until he quit the club in March to write an existentialist novella.
The best: If the league was decided on goals conceded, Middlesbrough would have finished 10th. But that would be a deeply odd way to decide a league.
The worst: Boro scored just four goals in 12 games between December 26 and April 2, in a sequence that went 0, 1, 0, 0, 1, 1, 0, 0, 0, 0, 1, 0. One small comfort was that if translated to binary code, it spells out the word 'boobies'.
Need to do for next season: With a lot of work on the training pitch and some shrewd summer recruitment, Middlesbrough's squad may just have it in them to outscore Harry Kane.
Part 1 of this review stars Arsenal, Bournemouth, Chelsea, Burnley and Dyche disrespect. Part 2 covers Crystal Palace, Everton, Leicester, Hull and Steve Bruce in a timewarp.
Quizzes, features and footballing fun
Get the best features, fun and footballing frolics straight to your inbox every week.
Thank you for signing up to Four Four Two. You will receive a verification email shortly.
There was a problem. Please refresh the page and try again.