The Player: How to survive when you're a foreigner in England
Vive la foreign revolution, says our insider. As long as he can take some stick, and play a bit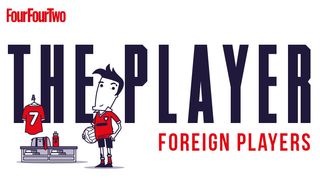 The Player has spent 15 years across all four divisions. He's played in the Premier League and for his country. (Illustration by Spencer Wilson.)
Each week we'll bring you a column from our mole... 
I've played football for a long time and seen the revolution of foreign players in England. It's something I welcome – and not only because they've helped to almost eradicate the drinking culture and raised standards on the pitch.
I wouldn't have ever come into contact with the type of people I've met in football dressing rooms over the years, such as African lads with fascinating backgrounds – not that they're always keen to talk about some of the things that happened earlier in their lives.
And I used to think that some British players had tough upbringings. There's one lad I played with who arrived in England as a virtual refugee, grew up in care and turned into a fine Premier League player.
Rabbit in headlights
I can remember the first foreign player at a club I was at. He stood out a mile. He couldn't speak English other than to say 'hello' and his name, while his dress sense and haircut were 20 years behind the times. We'd normally slate youngsters for being too showy with their brand names; young players who wanted to announce that they could afford Dolce & Gabbana with a big 'D&G' on their jumper.
I did the same cringeworthy things. Crap cars are another reason for abuse. But with our first foreign player it would have been too cruel. He seemed so lost and homesick that I wondered how the move had come about and whether it would work out.
He turned up to training in a jumper that I'm sure his nan had knitted, and a pair of red trousers. His car was the type usually seen in inner-city taxi firms – and it was a club car. They stitched him up because he didn't know the score. He looked like a scruffy taxi driver, not a Premier League footballer.
You'd have to have a heart of stone to give him stick, because he seemed so fragile and daunted by life in England. So we left him alone and cut him a lot of slack.
Well, normally. He was religious, and so uncomfortable with a (relatively mild) sex scene in a film we watched on the team coach that he put his hands across his eyes. So we pressed rewind and turned the volume up for a second viewing.
He had a terrible first couple of games; foreign arrivals often do while they adjust to the pace. Managers will go easy on them, and that can cause resentment among those who think he should pick his best team, but I'm with the manager. How can a player be expected to settle immediately? And how can his family?
Lost in translation
I once played with a Portuguese trialist who went down injured in the second half of a reserve friendly. We were losing and it was freezing. He probably thought: 'What on earth am I doing here?' But he still asked the physio to rub Deep Heat between his toes because they were cold. The physio declined. That player didn't last.
Foreigners are encouraged to get involved with pranks, but some things can be lost in translation. We told one lad that the word for 'waiter' was 'tosser'. So he kept shouting 'tosser' in a pre-match meal and wondered why the waiter wouldn't come.
Another one lost in translation was an English team-mate telling an Argentine: "I've got your boots, here you go. But don't think you're getting the Falklands back." I don't think the Argentine understood. Or he pretended not to. 
I've seen British and German lads become good friends, or players from supposedly rival African countries become best mates. That said, one player from the Balkans didn't take too kindly to a joke about Serbia and Kosovo. He was holding a football and threw it at the perpetrator. That sore point wasn't mentioned again.
Joke's on.... us
The foreign lads can play their own games. One told us that he felt sorry for us boys who'd grown up in England surrounded by so many ugly women. Another said he planned to impregnate as many English women as possible in a one-man bid to raise the quality of the gene pool.
If they make the effort to learn English, if they're polite, friendly and can cut it on the pitch, then they'll usually settle. If they're an arrogant mercenary they won't. But I'd honestly say that if I heard about a new signing, the last thing I'd worry about would be his nationality – and I wouldn't have said that years ago.
The man with the red jeans and the crap car? I watched how he gradually picked up English, began to smile more and settle. He'd occasionally say 'son of a bitch' in Spanish. We picked that up and it became used among the British lads.
Amazingly, he survived, made England his home and is still in English football, doing very well at a Premier League club. If you're good enough, it doesn't matter where you were born.
Quizzes, features and footballing fun
Get the best features, fun and footballing frolics straight to your inbox every week.
Thank you for signing up to Four Four Two. You will receive a verification email shortly.
There was a problem. Please refresh the page and try again.