Red Bulls' thrashing of New York City FC might just be what this rivalry needed
By Graham Parker published
The two clubs from the United States' most famous city need time to truly become rivals, but Graham Parker writes for FourFourTwo USA that last weekend's 7-0 encounter will be hard for both sets of fans to forget...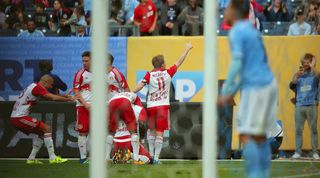 On Saturday morning I went to a memorial service in New York, for my friend Harry Feitelson.
There's no reason you'd have known Harry, though if you've ever driven in New York, he may have cut you up once or twice. But among many other things, Harry was a quintessential New York sports fan - fiercely and vocally partisan about his chosen Jets-Mets axis and deeply suspicious of the moral qualities of anyone who elected to follow the Yankees or the Giants. Not to say such people didn't figure prominently and intimately in his life, but the price of friendship would mean enduring Harry calling up towards the end of a big defeat and drawling with deep mock concern inflecting his Queens rasp: "Are you OK?"
Harry never quite got around to picking up an interest in football, though I do remember a beautifully unhinged diatribe about the Yankees when I mentioned they were part owners of New York City FC (opens in new tab). Had such an interest taken, and had it been followed by him inevitably rooting against the Yankees interest, Harry might have spent Saturday night calling the Blue half of the city to offer his deepest condolences.
Time required
He might have. But what struck me on Saturday morning, listening to old friends eulogise one of their own, was how much the coded rivalries of baseball and American football are embedded into the culture of the city, to the point where they become a ready shorthand to characterise both a man and the fault lines and attitudes of a city that shaped him. Even those who spoke who had no interest in sports were able to play off that fact and allow the rest of us to fill in the blanks about the type of New Yorker he was and they were.
Sitting there, crying and laughing, knowing I was due at Yankee Stadium later to watch what was anticipated as perhaps the first truly competitive New York derby, I couldn't help wondering how far we still have to go for the New York football rivalry to resonate quite so fundamentally.
There's no quick way to get there. Only time can add that kind of resonance: allegiances passed through generations; neighbourhoods hardening into territories; friends delighting in taunting friends for decades; and, of course, games to give it all shape and coherence (or better yet, incoherence). Lots of games. The ritual anticipation of games; the ritual playing of games; the ritual post-mortem of games.
Emphatic defeat
The trick, perhaps, is to keep the whole collection of rituals viable enough over time, for that kind of cultural weight to accrue naturally - maintaining a core constituency of fans whose disputed memories and interpretations of those games end up defining not just the contours of a rivalry, but its place in local culture.
Well, everyone who was at Yankee Stadium on Saturday will have formed an indelible memory of what happened, though so emphatic was the massacre in the Bronx that the nature of that memory will never really be open to contest.
New York City were not robbed. No refereeing decision tilted a tight game. From being marginal favourites going into the game, and riding on the back of a club-record five-game unbeaten streak, NYCFC were left embarrassed in front of the fans who bothered to stay until the end, thrashed 7-0 by their neighbours.
It was certainly one way to move the needle on wider interest in the rivalry. Both the New York Post and NY Daily News ran splashy spreads on Sunday, with the former hailing the "New Bronx Bombers" and the latter leading with: "Rivalry? That's bull! - NYCFC mauled in pathetic 7-0 stadium rout."
New Bronx Bombers ... Headline says it all in today's May 22, 2016
Still time for a turnaround
So while Patrick Vieira could fairly claim that it's better to lose one game 7-0 than seven games 1-0, this was not the one to lose 7-0. Losing the 5ft 8in Dax McCarty twice for headed goals amid general set-piece ineptitude; repeatedly coughing up possession in a game where the Red Bulls (opens in new tab) were made to look like a home team; NYCFC's 39,000 shell-shocked fans being outsung by a few hundred fans on the other side of the city divide; Frank Lampard booed onto the field. This game was an all-around disaster at a moment when NYCFC had a real opportunity - and a real need - to impress.
The Red Bulls' Sacha Kljestan probably had it about right when he described the game afterwards as one in which a kind of domino effect took hold when things started to go wrong for the hosts. By that reckoning, every domino that could have fallen did.
To maintain a degree of perspective, the teams will play each other twice in the next couple of months, and it's entirely possible that on a different day, with a different configuration of dominos, New York City could draw with or even beat the Red Bulls. NYCFC could maintain play-off form and finish higher than the Red Bulls. The dream scenario would even pit the teams together and allow NYCFC to eliminate the Red Bulls from the playoffs. It's MLS. That's possible.
But it's equally possible that we see another couple of results that cement the early dynamic of this rivalry as something it was never expected to be - a hapless team of underdogs playing in Yankee Stadium, trying futilely to dislodge a bridge-and-tunnel team as kings of New York. And that's not what the City Football Group has been selling beneath banners of Andrea Pirlo, Lampard and David Villa.
Move away from superstars?
It won't be much consolation to the NYCFC fans that they're getting a hefty down payment on the type of miserable experience longstanding fans of their rivals sum up in the phrase "that's so Metro". But this is what they've signed up for and, right now, those who run the team need to give them some compelling reason to stick around.
The nearest they got to it on Saturday was a determined cameo from debutant Jack Harrison, buzzing around with intent despite the lost cause. He won't sell as many tickets and shirts as Pirlo but, then again, neither will results like this produced with superstars in the team. Villa, so often New York's one consistent bright spot, had an utterly anonymous game on Saturday and for as long as he plays for New York, will have to deal with photoshopped riffs on his No.7 shirt from gleeful Red Bulls fans.
For this writer it was a surreal afternoon on top of an intense morning, and the two events will forever be conflated in my memory. By Saturday night, wanting to make some sense of that and feeling that it might have been what Harry would have wanted, I texted my friend Steve. He's a charter NYCFC season-ticket holder who'd also been at Harry's memorial before the game. I knew he'd be fuming. I typed "Are you OK?"
He knew what I was talking about, and it wasn't Harry.
RIP Harry Feitelson 1950-2016
Thank you for reading 5 articles this month* Join now for unlimited access
Enjoy your first month for just £1 / $1 / €1
*Read 5 free articles per month without a subscription
Join now for unlimited access
Try first month for just £1 / $1 / €1
Quizzes, features and footballing fun
Get the best features, fun and footballing frolics straight to your inbox every week.
Thank you for signing up to Four Four Two. You will receive a verification email shortly.
There was a problem. Please refresh the page and try again.