10 World Cup scandals that shocked Planet Football
From fixing to failed drug tests, bloodthirsty battles to player revolts, Jon O'Brien looks at the events which have dragged the game's biggest tournament into dispute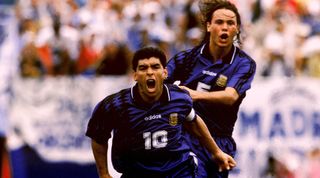 10. The jobsworth referee
Nicknamed 'The Book' for his jobsworth approach to refereeing, Welsh official Clive Thomas took pedantry to new heights during Brazil and Sweden's opening World Cup game in 1978. With the score 1-1 at the end of normal time, the South Americans looked to have netted a 91st-minute winner when Zico connected with Nelinho's corner.
However, while Thomas had allowed Brazil to take the corner, he'd actually blown his whistle when the ball was in mid-air, having determined that exactly 15 seconds of stoppage time was more than adequate. Despite being sent home by FIFA for his ridiculously precise sense of timekeeping, Thomas remained unrepentant, later insisting that Zico was "possibly only four-tenths of a second too late, but too late nevertheless".
9. Maradona's failed dope test
Maradona's fall from World Cup grace in 1994 didn't exactly come as a shock to anyone who'd witnessed his celebration against Greece. The pumped-up Argentine's wild eyes almost popped out of his head as he stared intensely down the camera during his side's 4-0 Group A victory.
Following their subsequent victory over Nigeria, Maradona – who'd already served a 15-month ban for failing a drug test for cocaine – once again found himself at the centre of a drug scandal. This time around he'd tested positive for ephedrine, a substance which the playmaker claimed he'd unknowingly ingested when his trainer unwittingly gave him the wrong energy drink. FIFA didn't buy it, and sent him home with his reputation in tatters once again.
8. The French revolt
You can usually rely on the French to bring some drama, but South Africa 2010 was something else. Their summer of discontent began the night before their opening game when Florent Malouda nearly came to blows with boss Raymond Domenech. Things got worse after an uninspiring 45 minutes against Mexico when Nicolas Anelka told Domenech to: "Go f*** yourself you son of a w****" at half-time.
The striker was subsequently sent home by the French Football Federation, much to the dismay of his team-mates who staged a highly public protest the next day. Led by captain Patrice Evra, the mutiny led to every single player abandoning an open training session and head for the team bus, where they hastily prepared a statement declaring their opposition to Anelka's expulsion.
The FFF's decision stood and, after losing their final game to hosts South Africa, all 23 squad members received a one-match suspension.
FEATURE High farce and high treason in the Highveld: France at World Cup 2010
7. The Ronaldo mystery
Having scored four goals and created three assists during his journey tothe 1998final, Ronaldo was poised to become Brazil's greatest World Cup hero since Pele. But only 72 minutes before the biggest match of his career, the striker's name was removed from the starting line-up.
Just as the news began to ripple around the world, Ronaldo was suddenly reinstated. The visibly dazed striker spent the following 90 minutes a shadow of his former glorious self, with hosts France taking full advantage to win 3-0.
It was later revealed that Ronaldo had suffered a seizure just hours before kick-off, but had reportedly pleaded with coach Mario Zagallo to let him play at the last minute. That didn't stop the conspiracy theories, though, with a nervous breakdown, FIFA fix and a botched injection just some of the more enduring tales bandied about.
WATCH FourFourTwo Films: Ronaldo's Redemption
6. The alleged fix
Argentina's 1978 World Cup campaign on home soil also spawned a wave of conspiracy theories, largely thanks to their second-round 6-0 thrashing of Peru. Many believe the Argentine government interfered to ensure that the hosts achieved the four-goal victory they needed to progress.
Peru had conceded only six goals across their previous five games, which made their sudden collapse all the more suspicious. A significant shipment of grain to the country, the unfreezing of a bank account, release of 13 exiled dissidents and a plain old-fashioned financial bribe have all been cited as a major influence on the result. But 40 years on, there hasn't been a shred of hard evidence to back up a single one.
5. Kuwait's protest
Kuwaiti FA president Fahad Al-Ahmed Al-Jaber Al-Sabah didn't need VAR to get a goal disallowed during the 1982 World Cup, simply his powers of persuasion. Already trailing 3-1 to France in their second group game, Kuwait then let in a fourth when their whole team suddenly stopped playing, claiming they'd heard the Soviet referee blow his whistle.
The piercing noise had actually come from the stands, but nevertheless, a furious Al-Sabah stormed from the stands to argue his case and drag his players off the pitch. Incredibly, much to France's dismay, the tactic worked and the goal was disallowed. Not that it mattered much – just moments later, Les Bleus scored a fourth and final goal which even a powerful Sheikh couldn't dispute.
4. The disgrace of Gijon
The highly suspicious antics of 1982's Group 2 final round is so infamous it even has its own nickname. As long-time rivals, West Germany vs Austria would have typically been a fiercely contested battle, and not something which resembled a leisurely kickabout in the park. But thanks to FIFA's astonishing lack of foresight in coinciding final group games, both sides knew that a 1-0 West Germany win would see them both progress to the second round at the expense of Algeria.
You can imagine what happened next. Once the Germans got their early goal, the remaining 80 minutes became a mix of wildly inaccurate shots, tedious backpasses and aimless long balls. Algeria understandably cried fix, while local newspaper El Comercio even printed the match report in its crime section.
The eventual outcome was that, from Euro '84 and the 1986 World Cup onwards, final matches within the same group had the same kick-off time.
3. Harald Schumacher's GBH
After the events in Gijon, West Germany didn't exactly endear themselves to the general public during the knockout stages in 1982. In fact, Harald Schumacher's actions during their semi-final against Les Bleus saw a French newspaper poll place him ahead of Adolf Hitler as the nation's most unpopular man.
It's little wonder that he inspired so much hatred. The goalkeeper charged off his line, ignored the ball and ploughed into unfortunate opponent Patrick Battiston so forcefully that the Frenchman was knocked out cold. Battiston suffered cracked vertebrae, lost two teeth and briefly slipped into a coma following the one-on-one clash which denied France a potential winner.
Incredibly, Schumacher didn't even receive a booking for his brutality (the referee awarded a goal-kick) and remained unrepentant after Germany's eventual penalty shootout victory, sneering: "If that's all that's wrong, tell him I'll pay for the crowns." In his 1987 autobiography, he claimed that he was only ever aiming for the ball.
2. The battle of Santiago
The 1954's Battle of Berne (Hungary vs Brazil) and 2006's Battle of Nuremberg (Holland vs Portugal) look like harmless play-fights compared to the daddy of World Cup bloodbaths; 1962's Battle of Santiago. Riled up by inflammatory tabloid reports, Chile and Italy treated their group clash like an Ultimate Fighting duel as poor referee Ken Aston helplessly failed to keep things under control.
In the end, only two players received their marching orders, and Chile's Leonel Sanchez somehow managed to punch Mario David in the face and break Humberto Maschio's nose without any consequences. His team-mate Honorino Landa also got away with using his fists in retaliation to an attack, while police had to intervene on four separate occasions, including dragging dismissed Italian Giorgio Ferrini off the field.
Commentator David Coleman described the encounter – which Chile won 2-0 – as "the most stupid, appalling, disgusting and disgraceful exhibition of football, possibly in the history of the game".
1. Italy's fascist salute
Italy became the first nation to win back-to-back World Cups in 1938, but the achievement was forever tarnished by their conduct in a quarter-final against France. Having drawn lots to determine who could play in their traditional blue colours, Vittorio Pozzo's men should have walked onto the field in their alternate white.
Instead, reportedly on the orders of their fascist dictator Mussolini, they sported an all-black kit – complete with Fascio Littorio emblem – which blatantly represented support for his totalitarian regime. As they had done in their previous encounter with Norway, the Italians also performed the fascist salute as they lined up before kick-off.
"The German referee and Norwegian players looked at us worriedly," recalled coach Pozzo. "At a certain point, the hullabaloo began to die down and then ceased. We had just put our hands down and the violent demonstration started again. Straight away: 'Team be ready. Salute.' And we raised our hands again, to confirm we had no fear. Having won the battle of intimidation, we played."
Appearing to thrive off the inevitably hostile home crowd reaction, the visitors ran out comfortable 3-1 winners on their way to the most provocative tournament win in history.
Quizzes, features and footballing fun
Get the best features, fun and footballing frolics straight to your inbox every week.
Thank you for signing up to Four Four Two. You will receive a verification email shortly.
There was a problem. Please refresh the page and try again.