1966 documentary accidentally reveals England were knocked out in semis
A documentary into England's greatest football triumph has uncovered disturbing new evidence, Back of the Net reports....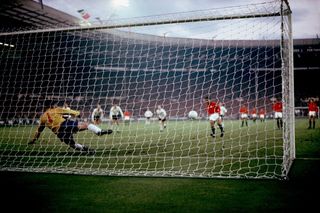 The makers of a feature-length documentary into England's 1966 World Cup victory have inadvertently unearthed incontrovertible evidence that the Three Lions were eliminated in the semi-finals.
A prestigious London production company had set out to tell the forgotten stories of England's '66 success to mark the 50th anniversary, but as they delved deeper into the archive footage it became clear that all was not what it seemed.
Shocking discovery
"There was some classic stuff in the archive and it was heart-warming to revisit those famous scenes from Argentina's Antonio Rattin being escorted off the pitch by the entire British military to games at Wembley being stopped every 15 minutes for greyhound races," a source told FFT.
"We were drawing out the unheard stories of the heroes of England's World Cup winning side and it was looking great, but something in the semi-final footage kept nagging at us.
"When we re-ran it several times, it started to look like Bobby Charlton may have been offside for England's second goal. Oh, and also Portugal actually scored four goals and England only scored two."
New result
Senior editors were called in to check the footage and downgraded the result further to 6-2 to Portugal. They then located footage that appeared to show the Portuguese team being handed a huge briefcase before both sets of players shook hands and the fans started to cheer.
"It was a shock to the system for sure, but actually when we thought about it - it was pretty odd that everyone believes England could win a World Cup against players like Eusebio when we had a guy called Nobby in the team and our best striker was 'unavailable' for the entire competition. It's a bit of a leap, even if the final was clearly rigged.
"Oh, yes there's that too."
Eusebio makes no mistake from the spot
No action taken
However, producers have decided that the documentary won't mention England's defeat to Portugal, their subsequent defeat to West Germany or explicit shots of Jimmy Greaves belching the entire national anthem.
"There are certain things that are just too dangerous for the public to know," our source insisted. "Without the myth of '66 there would be no delusional hope for English fans before every major competition, bookies would lose millions and the great works of Baddiel, Skinner and the Lightning Seeds would be obsolete.
"It's better to let people believe the lie and hope that in time they come to realise on their own that England were no more capable of winning a World Cup in 1966 than the Americans were of putting a man on the Moon in 1969."
Please note: This news story isn't real. But you knew that, obviously.
Quizzes, features and footballing fun
Get the best features, fun and footballing frolics straight to your inbox every week.
Thank you for signing up to Four Four Two. You will receive a verification email shortly.
There was a problem. Please refresh the page and try again.