8 of the costliest penalty misses: Bergkamp, Knockaert, Van Nistelrooy and more...
Inter Milan ended up paying for Mauro Icardi's botched spot-kick in the Milan derby on Sunday. Robert O'Connor's unearthed some more…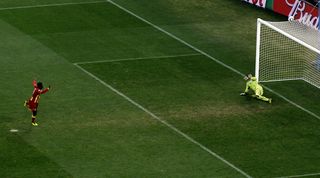 1. Dennis Bergkamp (Arsenal vs Man United, 1999)
There are two reasons why Manchester United's 1998/99 Treble will probably never be repeated. One is that teams of that spirit come together so very rarely, regardless of how many millions investors chuck at their clubs.  
The second reason, and perhaps the more significant of the two, is that sheer dumb luck dictates otherwise more often than not.
If Peter Schmeichel had dived to his right in the final minute of the FA Cup semi-final replay against Arsenal at Villa Park then that history would have died that night in April. He didn't, and United's class of '99 are now the most celebrated team in English football history as a result.
2. Asamoah Gyan (Uruguay vs Ghana, 2010)
Although most famous for being the moment that announced the brilliant, beautiful and flawed Luis Suarez to the world in a frantic prophecy of things to come, the goal-line handball which toppled Ghana as they tried to clamber atop the pedestal of World Cup history threw up an ethical mind-bender.
Suarez's red card excluded him from the semi-final, a match he would have been banned from anyway had Ghana knocked out Uruguay. So what was Suarez's punishment? Presumably the rancorous disdain that came his way from the four corners of the globe for denying Africa's World Cup the fairytale they craved.
3. Marcello Trotta (Brentford vs Doncaster, 2013)
At a little before 4:50pm on April 27, 2013, Doncaster were sneaking out of League One and into the Championship courtesy of a goalless draw at promotion rivals Brentford. But then Rovers defender Dean Furman did the unthinkable and fouled Toumani Diagouraga inside the penalty area.
Doncaster's world was at standstill; nine months of attrition and slog teetering on the outcome of one spot-kick that could see the Bees leapfrog them in the table and steal their promotion berth. Marcelo Trotta, on loan from Fulham, stepped up and promptly whacked the ball against the underside of the bar, and with the entire Brentford side inside the opposition half prematurely ready to celebrate promotion, Doncaster raced away to seal a 1-0 win through James Coppinger's tap-in – the final kick of the season.
What's more, Doncaster were crowned champions to boot. Brentford dropped from second to third in less time than it took Trotta to slump to his knees, and promptly lost in the play-off final to Yeovil.
4. Anthony Knockaert (Watford vs Leicester, 2013)
Leicester might be flying high in the Premier League right now, but they endured some serious heartache along the way when they were denied promotion to the top flight in 2013. It's part of football's DNA that when last-minute drama strikes, it usually makes the agonising difference between true success and failure.
So for a side to transform victory to defeat in an instant requires a rare feat of mechanics, the kind that occurred when Anthony Knockaert turned away from his 97th-minute penalty miss in the Championship play-off semi-final just in time to see Watford's Troy Deeney thump in the winner at the other end – this, just two weeks after Trotta had done similar in front of the very same referee, Michael Oliver. 
Amid such carnage, time is rarely taken to acknowledge the minutia that made the magic happen: Ikechi Anya's deft control to pull the ball out of the air in the aftermath of Knockaert's miss, and then drive past three men to set up Deeney's winner, showed almost super-human composure in unique circumstances.
RECOMMENDED 10 of the most insane injury-times: Bergkamp brilliance, heart attacks and own goals
5. Kanu (Fiorentina vs Arsenal, 1999)
Sometimes the die is cast early. 1999 was the last time that Arsenal failed to emerge from the group stages of the Champions League, and the seeds were sown on Matchday One on a frustrating night in Florence.
Arsenal had pulled Fiorentina all over the pitch on a night which suggested the kinks had been ironed out from their fumbled debut season in the competition, but could only manage a 0-0 draw.
What should have been the winning penalty was the flipside of Kanu; languid and ultimately ineffective, as though he'd hardly noticed the blinding form Francesco Toldo had been in all night. The Italian's save made the difference in the final reckonings, as la Viola pipped Arsenal to qualification by a point.
RECOMMENDED Keep the faith, Arsenal: The greatest Champions League group stage escapes
6. Stuart Lovell (Reading vs Bolton, 1995)
Australian Lovell will never forget the moment Keith Branagan saved his penalty in the 1995 First Division Play-off Final, although at the time he could never have foreseen how costly it would be.
Reading were 2-0 up and cruising to the Premier League when Lovell stepped up on 34 minutes to try to finish Bolton Wanderers off in an astonishing first half. Whatever doubts had seeped in from the miss spread quickly through the team, though; by the time Bolton equalised on 85 minutes Reading were shredded mentally, leaving them sitting ducks for Wanderers to finish off the job in extra time.
7. Ruud van Nistelrooy (Man United vs Arsenal, 2003)
Arsenal's achievement of going unbeaten between 2003 and 2005 was even more fragile than Manchester United's Treble. One slip and it would have been all over. And there were slips too; Clinton Morrison was just millimetres away from connecting with a low cross at Highbury which would have brought Birmingham City victory over the newly crowned champions in April, and Yakubu raced away from Kolo Toure in the dying minutes at Fratton Park in May before being denied by goalkeeper Jens Lehmann.
But it was at Old Trafford in September that Van Nistelrooy held Arsenal's embryonic unbeaten run in his hands before clumsily fumbling it back to the Gunners with a wild penalty miss. Cue the melee.  
RECOMMENDED Top 10 Arsenal-Man United games: buffets, brawling and the Busby Babes' last hurrah
8. Riyad Mahrez (Leicester vs Bournemouth, Aston Villa vs Leicester, 2016)... maybe
By what margins are league titles won and lost? Whatever happens over the next 14 games in order to render the 2015/16 Premier League table complete, it seems a fair shout that there will be slender daylight between the title protagonists. Leicester's lead currently stands at three points, but for two moments of forgivable failing from Mahrez it could have been seven. For all that he has given on this immortal streak, it could yet be that Artur Boruc and Mark Bunn have already had a huge say in Leicester's aspirations.
On January 2, Claudio Ranieri's side were drawing 0-0 with Bournemouth when the Cherries were reduced to 10 men on 57 minutes. Mahrez saw his resulting spot-kick saved by Boruc, and the Foxes couldn't find a goal. Then, two weeks later he had the chance to double Leicester's advantage at Aston Villa in the first half. He missed, and Rudy Gestede equalised for the bottom club. How much will it hurt them?
RECOMMENDED
Quizzes, features and footballing fun
Get the best features, fun and footballing frolics straight to your inbox every week.
Thank you for signing up to Four Four Two. You will receive a verification email shortly.
There was a problem. Please refresh the page and try again.