Bayern, bobsleighs and the Bundesliga: Meet SpVgg Unterhaching, Munich's third team
They've affected the course of Bundesliga history, count household names in their squad and are managed by Christian Ziege. Pete Hall finds out more about SpVgg Unterhaching...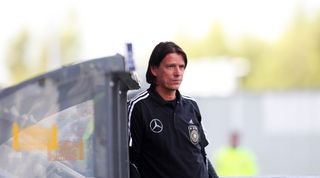 Being the most-watched sport on the planet, football demands attention. The very thought of a football club in England playing second-fiddle to another sport within the same organisation is utterly absurd to the ardent football fanatic.
Yet in Germany, a footballing nation with a traditionalist ethos similar to that of the beautiful game's inventors, it is not so uncommon. Until 1999 Bayer Leverkusen had athletics, gymnastics, basketball and hockey departments before becoming a separate entity, but in the quiet suburbs of the bustling BMW manufacturing metropolis of Munich, a sporting heritage has been built on an entirely grander scale.
In 1975, under the Spielvereinigung Unterhaching name, a local entrepreneur set up the unthinkable and twinned a bobsleigh team with the football outfit, and the glory followed. However, despite being able to call Winter Olympic champion Christoph Langen one of their own, the football club from Munich's second-largest municipality refused to be overshadowed.
A two-year Bundesliga adventure between 1999 and 2001 finally put the spotlight on them. They helped decide two titles on the final day, doing the double over Bundesliga giants Borussia Dortmund, and most important of all, defeated arch-rivals Bayern Munich, proving even the quiet suburbanites have their day.
"SpVgg we have a bobsleigh team"
In the aftermath of Die Roten's Champions League victory over Manchester United, FourFourTwo paid the sleepy region a visit – and former Liverpool and Tottenham defender Christian Ziege, now manager of SpVgg Unterhaching. The story of Munich's third team is a fascinating one; life in rural Bavaria was once integral to two of the closest Bundesliga title races in recent memory – and was achieved while the club simultaneously dominated winter sport.
Strolling through the Altstadt after a short train journey from the chatter of the beer halls of central Munich, the leafy surroundings of Unterhaching seemed like a world away from the Champions League furore. More importantly, the tranquil feel left FFT wondering if this sporting heritage was all a hoax.
Upon arriving at the very modest Sportpark Unterhaching, surrounded by ploughed fields, the feeling was still there. But, as with the design of BMW's headquarters in the city, everything ran like clockwork as we met Haching's new boss.
"There are only three people left in bobsleigh," Ziege proclaims. "They had a great history with Christoph Langen. But unfortunately there is no recent activities."
Amusing to enunciate it may be, but Spielvereinigung Unterhaching, more commonly referred to as Haching, take their sport very seriously – whether bobsleigh or football.
The corridors are littered with memorabilia and photographs depicting the glory years of the 1999/00 and 2000/01 seasons, as well as images of winter success. It's an odd combination.
Glory years
Back in 1999, a year of heartbreak for rivals Bayern after agonising late defeat to United in the Champions League final denied them an unprecedented treble, Bayern's little-known rivals made Bundesliga history by becoming the third team from one city to play in the top flight. And, after spending the majority of their history in and out of the amateur leagues, the suburbanites certainly made the most of their moment in the sun.
A hugely successful maiden campaign, in which they lost only twice at home all season, brought Haching to attention. 
Leverkusen only needed a point from their final-day visit to secure their first Bundesliga title, after finishing runners-up in two of the previous three seasons. Bayern were lurking with intent. However, a Michael Ballack own goal set Leverkusen on their way to a 2-0 defeat as Haching caused a major upset, consolidating their top-half finish and paving the way for bitter rivals Bayern to snatch the title.
"The defeat of Leverkusen is a big story here, because it made Bayern Munich champions, and Unterhaching and Bayern celebrated together," Ziege revealed. "Not something you would see in England!"
While they consider Bayern as their main foes, there is a respect for them: Haching know they will always be in their shadow.
They almost did Bayern another favour the following season, having played their part of one of the most dramatic scenes Bavaria has ever seen. Two-nil up and then 3-2 to the good against Schalke on the final day, Haching eventually lost 5-3 in Gelsenkirchen, and with Bayern losing to Hamburg in the 90th minute, Schalke fans began scenes of wild celebration.
However, Bayern's late, late equaliser turned joy to tears all around the ground as the Royal Blues missed out, and Haching's departure from the German top flight went unnoticed. A second successive relegation followed, and obscurity seemed likely, but a period of transition followed and the club now sit in the German third tier. With three games left Haching occupy the final relegation berth, a point from safety.  
"They have been in difficulties over a bigger period and they asked me if I would help them," Ziege explains. "My son is playing here and I played at Bayern Munich with the chairman Manfred Schwabl.
"It is not a big club so we don't have massive support, but the supporters here are outstanding. At the moment there is no sign of the Bundesliga days coming back, but we will see."
Hummels, Gotze and Sammer
As the bobsleigh side of the club has depleted, focus has turned to football. Ziege's son is not the only famous name at the club, however. Haching are captained by Mats Hummels' brother Jonas, who at 23 is the team's young leader. Mario Gotze's brother Fabian, and Matthias Sammer's son Marvin are on the books, and the three famous relatives are regular attendees when they can. Bastian Schweinsteiger's older brother Tobias, meanwhile, played for the club between 2008 and 2010, before rejoining on loan last season. 
"For me they just have famous names but they all have their own qualities and will manage to find their own ways," says Ziege, shifting focus back to the club. 
There is one final tale which tickles FFT's fancy, though. Savio (remember him?), once labelled 'talent of the century' in German footballing circles, arrived at West Ham from Brescia after then-boss Gianfranco Zola shelled out just under £9 million for the striker's services. But with no goals in 10 appearances coupled with several off-field problems, the enigmatic hitman was allowed to join Fiorentina for a fraction of his transfer fee.
The Ugandan never settled there either, and made his way back to Germany with former club 1860 Munich on loan (one of five temporary spells away from the Viola), only to be released by Haching's rivals after going AWOL.
Haching handed Savio one last chance in September 2012, with the striker stating he was pleased to be moving back to Munich, and would change his ways. But they say a leopard never changes his spots and, predictably, the striker was released after three months. Sadly for FFT, Ziege admits he is in the dark over the colourful striker's time at the club. "I am too short at this club to know all the stories," admits the former left-back. 
As FFT discovers, though, there are plenty of other tales to tell about this seemingly modest outfit. But a meander through the monastic town makes it easy to understand why, in the shadow of a giant like Bayern, Haching's stories rarely come to the fore. For now, though, the club are happy to remain in the shadows. After all, on ice and the football pitch, they have had their day.
Quizzes, features and footballing fun
Get the best features, fun and footballing frolics straight to your inbox every week.
Thank you for signing up to Four Four Two. You will receive a verification email shortly.
There was a problem. Please refresh the page and try again.