Do pre-season friendlies mean anything at all? Community Shield (and more) analysed
It's a time for untempered expectations and knee-jerk reactions, but hold your horses says Olly Ricketts - pre-season results don't really mean a thing...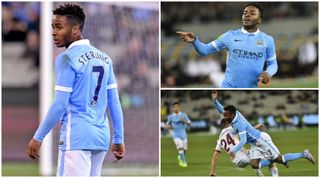 Raheem Sterling's debut for Manchester City in last week's friendly against Roma was always likely to set tongues wagging. But less than a minute into the game, he received the ball in a dangerous position on the left flank... his first touch as a City player.
We've all done it, though possibly not while raking in upwards of £100,000 a week. Twitter did as Twitter does, and the next minute meant seemingly every other tweet was a Vine of Sterling's misfortune, replete with "£49m?!?!?!?!?! LOLOLOLOL" taglines.
A minute later, the ex-Liverpool youngster did this:
Cue gloats from Manchester City fans crowning a new hero. Sterling – a major talking point of this summer – managed to single-handedly encapsulate the typical rush to judgement that has become football during pre-season, and more impressively he managed it in under two minutes.
Of course, Twitter is rarely described as a reliable barometer for rational thought. But snap judgements from supporters (and indeed the media) pre-dates the birth of social media, and extends to whole teams as well as players.
Community clubs
Before Arsenal and Chelsea meet in this week's Community Shield, expect countless quotes from both sides highlighting the importance of 'laying down an early marker', given that both have designs on winning the league. However, how much can actually be read into the result of a one-off friendly?
Examining the seasons which followed each of the last 25 Community (or Charity) Shields shows that:
Only nine times (out of 25) have the winners ended the subsequent season enjoying greater success (in terms of trophies won) than the side they defeated
These include three years (2007, 2008 and 2009) in which the Shield was won on penalties rather than in normal time
During the same time frame the losers of nine Shields have had more successful seasons than the side which beat them
These results make it difficult to maintain talk of 'laying down markers'.
Nowhere is this more emphatically illustrated than the 1998 Charity Shield, in which league and FA Cup double winners Arsenal comfortably beat Manchester United 3-0. Admittedly United had the potential distraction of a Champions League qualifier just a few days later but the result, coming just months after Arsenal's extraordinary come-from-behind victory in the title race, seemed to suggest a permanent changing of the natural order.
Fast-forward to May and Arsenal finished the season empty handed, primarily because United won almost everything in sight as they completed an unprecedented treble of league, FA Cup and Champions League.
Four years previously United (having won the double in 1994) beat the league runners-up Blackburn Rovers 2-0. If ever a Charity Shield result could have been seen as 'laying down a marker' it was this one, with United seemingly showing the Jack Walker-funded Blackburn that you can't simply buy success. It would have worked too, except that nine months later Rovers were celebrating their first league title in over 80 years while United finished the season trophyless.
Pre-season prancing
Man Utd's pre-season in 1998
Birmingham City 4-3 (loss)
Valerenga 2-2 (draw)
Brondby 6-0 (win)
Brann 4-0 (win)
Eric Cantona European XI 8-4 (win)
Aberdeen 1-1 (loss on pens)
Arsenal 3-0 (loss)
Of course, the Community Shield is but one game in a pre-season schedule which typically lasts approximately six weeks. But do results during pre-season as a whole genuinely affect a side's chance of success in the season which follows?
Since 1990, the 18 league-winning teams began the campaign by winning over half their pre-season matches, which suggests that a strong pre-season can provide momentum to be taken into the new season.
There are some interesting anomalies, however. Returning to 1998, Manchester United won just three of their seven pre-season matches, losing the aforementioned Charity Shield drubbing against Arsenal yet subsequently enjoyed the most successful season in English football history.
More recently, Manchester City's pre-season results in 2013 were particularly poor as they lost four of their seven matches - including the defeat to Arsenal below - as the squad attempted to adjust to a new manager and several new signings. This obviously had little long-term effect: City were crowned champions in thrilling style over a Liverpool side that won six of their seven pre-season matches.
However, though these examples suggest that it's certainly possible to recover from a poor pre-season, it's worth noting that both sides did indeed suffer slow starts to the league season. Manchester United picked up eight points from their first five matches (including another 3-0 reverse to Arsenal) while Manchester City lost two of their first three away matches.
So a case can be made for a poor pre-season having an effect on the early weeks of the season, yet little on the season as a whole.
Moyes malaise
Occasionally, though, the negative effects of a sluggish start can prove more permanent. After a pre-season in which they won just two of their seven friendlies (one of which was the Community Shield against Wigan), David Moyes's ill-fated spell in charge of Manchester United continued on a similar path with just seven points gained from the first six matches.
Had pre-season been smoother and results more positive, could his tenure have turned out differently? Would squad morale have been improved, and the players more receptive to the new manager's methods, leading to better results in the long-term?
Not necessarily, if you ask Tottenham supporters. In summer 2008, Juande Ramos's side had a positive goal difference of 28 over the course of seven pre-season games, including demolitions of Roma (5-0) and Borussia Dortmund (3-0). Hopes were high for a successful season to come. Hopes remained high right until they lost to Middlesbrough on the opening day of the season and were bottom of the table when Ramos was sacked in October.
The Cheyrou effect
To finish, a cautionary tale for those convinced that Kelechi Iheanacho (of Man City) or Jeff Rene-Adelaide (Arsenal) are set to light up the league following their recent friendly performances. Liverpool supporters still speak in hushed tones of Bruno Cheyrou's debut in the 2002 pre-season game against Lazio at Anfield. Hushed tones because they are worried people might hear them admit that Cheyrou convinced them that the club had bought a special talent; a player to potentially live up to Gerard Houllier's comparisons with a certain Zinedine Zidane.
And in fairness there were certain similarities. Zidane was a man, for example, as was Bruno. He was French too. But that's about it.
Pre-season football is great. A big-money signing or positive performance can provide even the most negative supporter with a glimmer of hope to take into the new season. But it doesn't really mean anything, apart from an opportunity for squads to build fitness and clubs to build yet more wealth. As such it shouldn't be taken too seriously, no matter how many markers are laid. Perhaps it was a stray one of these that Raheem tripped over.
Thank you for reading 5 articles this month* Join now for unlimited access
Enjoy your first month for just £1 / $1 / €1
*Read 5 free articles per month without a subscription
Join now for unlimited access
Try first month for just £1 / $1 / €1
Quizzes, features and footballing fun
Get daily World Cup 2022 news, updates and other football frolics to your inbox
Quizzes, features and footballing fun
Get daily World Cup 2022 news, updates and other football frolics to your inbox
Thank you for signing up to Four Four Two. You will receive a verification email shortly.
There was a problem. Please refresh the page and try again.