Football Manager 2023 easter egg: FM23 features subtle reference to the Frank Lampard meme
Football Manager 2023 has made a great call-back to Frank Lampard's interviewing technique! No but really, it's a top easter egg…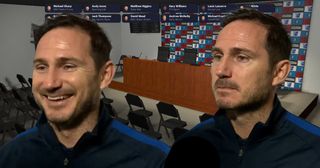 (Image credit: Future)
We love the subtle Football Manager 2023 references and easter eggs, here at FourFourTwo. It makes the world more real.
Take last season: the dressing room screen of the game featured a 'BELIEVE' sign on the wall, just like in Apple TV+ (opens in new tab) hit, Ted Lasso. Obviously, that wasn't going to remain on the game forever… but we were sorry to see it go.
Well, now the team at Football Manager have included what surely has to be a reference to the Frank Lampard meme that's been going around Twitter over the last couple of years! No, but seriously, that's great work, lads…
Football Manager 2023: The Frank Lampard meme is included in the press conference section
In 2014, Adam Hurrey (opens in new tab) noticed something that would change football. Frank Lampard, then just a humble Manchester City player (yes, that happened) was incredibly consistent with his interview technique.
Lampard will often make a light-hearted point, smile and then immediately and stoney-faced, return to the business at hand.
Lampard is absurdly consistent. Even his interviews are always the same:Serious point, light-hearted point [chuckle] but, no, serious pointNovember 30, 2014
Ever since, the observation has become a meme that's done the rounds on social media. Plenty of official accounts have even made the reference, including the FA Cup – surely Frank's seen it?
Well, now FM23 has joined in. In one potential press conference, after a player who doesn't score often nets a goal, you'll be asked as manager for your thoughts on it. One of the "positive" responses that you can give is to tell reporters, "I'm surprised, he's not often on the scoresheet! No but seriously, it's nice to see him get a goal."
There are plenty of fun answers throughout the Football Manager game, including the opportunity to goad your opposition managers with your answer. This year, the word "omnishambles" – as coined by foul-mouthed Thick of It spin doctor Malcolm Tucker – is an option to label a performance.
Football Manager 2023 is available to preorder from Amazon (opens in new tab).
Thank you for reading 5 articles this month* Join now for unlimited access
Enjoy your first month for just £1 / $1 / €1
*Read 5 free articles per month without a subscription
Join now for unlimited access
Try first month for just £1 / $1 / €1