FourFourTwo's 100 Greatest Footballers EVER: No.9, Ferenc Puskas
With a left foot that could be either a cannon or a magician's wand, Hungary's Galloping Major ruled the football pitch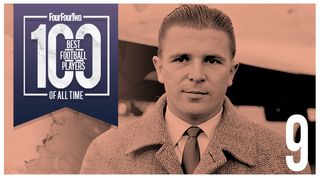 Puskas's career was special because he was fortunate to play for one of the greatest ever national teams and one of the all-time great club sides.
He starred for the Mighty Magyars, the phenomenal Hungary side that played majestic football at the beginning of the 1950s, won gold at the 1952 Olympics, stunned the world when beating England 6-3 at Wembley and deserved to win the World Cup in 1954.
He was also an integral part of a legendary Real Madrid team, winning the European Cup three times and the Spanish title five times in a row.
Known as the Galloping Major, Puskas was a special player. He was never the greatest of athletes – stocky and under 5ft 8in tall – yet he possessed remarkable speed and an incredibly powerful shot. Puskas was able to build attacks and finish them himself, while his leadership qualities were undisputed.
Nurtured at Honved by his father, a former player himself and a brilliant coach, he immediately stood out thanks to his intelligence. Such was his potential that he made his first-team debut at the age of 16, and thrived from there on.
Hungary for goals
He started playing for the national team aged 18, and found the net on his debut. Naturally: Puskas always scored. He averaged more than a goal per game throughout his illustrious career, including 87 goals in 85 caps for Hungary.
Four of them came at the 1954 World Cup, when Puskas proudly wore the captain's armband and opened the scoring in the final against West Germany after only six minutes. But sadly he wasn't fully fit for that match, after sustaining a hairline fracture against the same opponents in the group stage. Hungary lost the final 3-2 in a notable upset.
The political situation in his homeland caused Puskas even more trouble, however. After the revolution of 1956, he chose not to stay in Hungary and sought to continue his career abroad.
Real deal
Unfortunately for him, a subsequent UEFA ban meant it was a further two years before he was able to represent Real Madrid. He finally joined at the age of 31 in 1958, but still became one of their most prolific scorers in history with 242 goals in 262 appearances. His partnership with Alfredo Di Stefano was truly breathtaking, but he outlasted the great Argentine, staying until 1966.
Spain became his second country, and Puskas even represented them at the 1962 World Cup, albeit without success. His legacy is cherished in both Budapest and Madrid, and his unique style, scoring record and longevity confirm his place as one of the greatest players in history.
Career highlight
Puskas scored four goals – all in the second half – in his only European Cup final appearance, as Real Madrid thrashed Eintracht Frankfurt 7-3 at Hampden Park in 1960. He'd missed the previous final in 1959 through injury, and didn't make the starting line-up as Madrid won the last trophy of his career in 1966.
The list
100 to 91 • 90 to 81 • 80 to 71 • 70 to 61 • 60 to 51 • 50 to 41 • 40 to 31 • 30 to 21
20 • 19 • 18 • 17 • 16 • 15 • 14 • 13 • 12 • 11 • 10 • 9 • 8 • 7 • 6 • 5 • 4 • 3 • 2 • 1
Thank you for reading 5 articles this month* Join now for unlimited access
Enjoy your first month for just £1 / $1 / €1
*Read 5 free articles per month without a subscription
Join now for unlimited access
Try first month for just £1 / $1 / €1