FourFourTwo's 100 Greatest Footballers EVER: No.2, Lionel Messi
Aged 30, he's broken all-time records while lifting a host of personal and club awards – yet it's only in watching Messi you can appreciate a one-off genius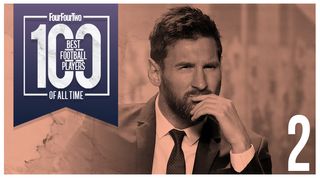 One way to try to express the greatness of Lionel Messi is to list his records and awards: the unrivalled five Ballon d'Ors, the 30 club trophies, the 91 goals in one calendar year, his status as top scorer of Argentina, Barcelona and La Liga.
And then conclude that this method is entirely unsatisfactory.
The history books will laud Messi, and yet their limitations will do him a disservice. In 20 years, young football fans will read about a messianic figure whose brilliance stunned the world, shattered a litany of records and started an era of dominance – but not until they watch the videos will they get an idea of what they have missed.
Beauty and the best
The quantity of his goals pale in comparison with their beauty. The goal of the month may not even make his top 20, be it a solo run, a bending free-kick, a cheeky lob, a golf putt finish or a thunderous missile.
Messi has the most recorded assists in La Liga's history, but that fact is less impressive than how they were made: the deft lay-offs, the ingenious killer passes, the deliveries that bend around defenders as if controlled by a remote. In addition, a large portion of his finest passes were squandered, and so have never been quantified at all.
By now most know his story: how expensive medicine for a growth hormone deficiency led him from his home town Rosario to Barcelona, where his 2004 debut started an era of brilliance. He has been voted into the world's top three players for 10 years, and in the top two for nine. It's one thing to reach the top, quite another to stay there. There are fans well into their teens who have never known a world in which Messi is not spellbinding us on a weekly basis.
Only by evolution has Messi managed to maintain his level. The livewire dribbler has become a mature playmaker who now dictates play while still proving decisive in the final third. Never has Messi, now 30, better balanced playmaking, dribbling and goalscoring. As Javier Mascherano has said, he is three players in one. You could argue that one of the greatest goalscorers of all time is also the best passer, and you would not lack evidence to support your claim.
A decade of Messi
The last decade will go down as the Barça of Messi era. As coaches have come and gone, he has been the one constant; four of their five Champions League titles have come in his time. So good has he been that some consider that trophy haul an underachievement.
Yet Messi is not finished. A World Cup next year presents another shot at glory with Argentina, and he should still be around for 2022, his legs slower but his mind still sharp.
In the meantime, pundits, fans and writers will try to express his greatness with words and metaphors. They will all fail, as will the article you are reading now. The best we can do is listen to Pep Guardiola, who said: "Don't write about him, don't try to describe him. Just watch him."
Career highlight
Days after criticism of his aerial game, Messi steered a looping header over Edwin van der Sar that sealed Barcelona's 2-0 win over Manchester United in the 2009 Champions League Final. It's one of his personal favourites, he told FFT recently.
Messi: The header to beat Manchester United in 2009 is still one of my favourite goals
The list
100 to 91 • 90 to 81 • 80 to 71 • 70 to 61 • 60 to 51 • 50 to 41 • 40 to 31 • 30 to 21
20 • 19 • 18 • 17 • 16 • 15 • 14 • 13 • 12 • 11 • 10 • 9 • 8 • 7 • 6 • 5 • 4 • 3 • 2 • 1
Thank you for reading 5 articles this month* Join now for unlimited access
Enjoy your first month for just £1 / $1 / €1
*Read 5 free articles per month without a subscription
Join now for unlimited access
Try first month for just £1 / $1 / €1
Get FourFourTwo Newsletter
The best features, fun and footballing quizzes, straight to your inbox every week.