FourFourTwo's 100 Greatest Footballers EVER: No.5, Cristiano Ronaldo
By Thore Haugstad published
Dazzling talent, unrelenting dedication, a big-game match-winner – and he isn't finished yet...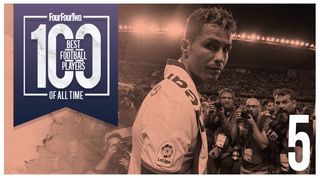 The greatest goalscorer Europe has produced, Cristiano Ronaldo will go down as one of the most consistent and relentless footballers of all time. Four Ballon d'Ors reflect his ability as well as his longevity, coming eight years apart. A fifth might soon arrive.
A book could be dedicated to his records: he is the top scorer for Real Madrid and Portugal, top scorer in the Champions League, top scorer at the Euros (qualifiers included) and top scorer across the big five European leagues, having surpassed Jimmy Greaves with his 368th strike back in May. He has scored 406 goals in 394 games for Madrid. It shouldn't really be possible.
Some have accused Ronaldo of valuing individual awards above collective ones, but goals help teams. He starred in one of the greatest sides of the Premier League era, inspiring Manchester United to a hat-trick of Premier League titles from 2007-2009. He has led Madrid into their most successful spell since the 1950s, winning the Champions League three times in four years. He captained Portugal to their first major trophy at Euro 2016.
The perfect athlete
We all know his attributes: instinctive finishing, sharp movement, unrivalled focus. He has the explosiveness of a sprinter, the musculature of a cage fighter, the leap of an NBA player. His repertoire includes dizzying solo runs, gravity-defying free-kicks, headers in which he appears to hang in the air. As a goalscorer, he is as close to complete as imaginable.
Sir Alex Ferguson said he never managed a more talented player, and yet talent is only part of what makes Ronaldo impressive. Even more formidable is his mental fortitude. If some have been better, very few – if any – have been as professional, disciplined and dedicated.
A fervent desire to be the world's best elevated him from poverty on Madeira to the celebrated Sporting academy, which is where Manchester United signed him from in 2003. The teenage Ronaldo hired his own chef, got a private swimming pool to aid muscle recovery and lived in the club gym. As his team-mates hit the showers, he strapped weighs to his ankles and practiced stepovers.
Changing man
Already a United great at 24, Ronaldo moved on to Madrid, proving a snip at £80m. As trophies have been lifted and records shattered, he has evolved from tricky winger to a herculean goalscorer, prolonging his stay at the top.
At 32, an age when most forwards are past it, his ascetic lifestyle has enabled him to score crucial goals as Madrid won a Liga and Champions League double in 2017. Time may get every footballer in the end, but Ronaldo looks well prepared to put up a fight.
In retrospect, history may deem him unlucky to have shared the same era as Lionel Messi, but many will be inspired by his achievements. Few footballers have taken their pursuit of greatness to such extremes. For those who cannot rely on innate talent, Ronaldo's records will stand as a monument to determination, persistence and willpower.
Career highlight
In 2008, a towering Ronaldo header helped Manchester United to the Champions League title, leading him to his life-long goal of being voted the best player in the world. He had reached the pinnacle at 23 - and yet it was just the start.
The list
100 to 91 • 90 to 81 • 80 to 71 • 70 to 61 • 60 to 51 • 50 to 41 • 40 to 31 • 30 to 21
20 • 19 • 18 • 17 • 16 • 15 • 14 • 13 • 12 • 11 • 10 • 9 • 8 • 7 • 6 • 5 • 4 • 3 • 2 • 1
Thank you for reading 5 articles this month* Join now for unlimited access
Enjoy your first month for just £1 / $1 / €1
*Read 5 free articles per month without a subscription
Join now for unlimited access
Try first month for just £1 / $1 / €1
Quizzes, features and footballing fun
Get the best features, fun and footballing frolics straight to your inbox every week.
Thank you for signing up to Four Four Two. You will receive a verification email shortly.
There was a problem. Please refresh the page and try again.