FourFourTwo's 100 Greatest Footballers EVER: No.14, George Best
Northern Ireland and Manchester United's troubled genius was a dazzling, courageous spectacle in his prime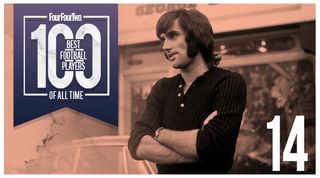 George Best's extraordinary natural talent not only made him one of the most iconic and entertaining players there has been, but the finest from the British Isles. He also once earned the description of "the greatest footballer in the world"... from Pele.
Best may also be the greatest footballer to have played for Manchester United, even if he's not necessarily Manchester United's greatest ever player.
"If I'd been ugly," he once said, "you'd never have heard of Pele." Although that may be a stretch, it was an acknowledgement that, for all of his ability, his vices - in this context his carousing and womanising - contributed to him not having the career he could have had.
Peak Best
It was in 1968 that, aged 22 – his pace, belief, technical ability, balance and creativity in perfect symmetry – Best deservedly followed the other two of United's 'Holy Trinity' (Denis Law and Bobby Charlton) in winning the Ballon d'Or. After this, his decline gradually began.
Best had made his debut for United in April 1963. By 1968, he'd twice won the English league title, while his 32 goals in 53 games in '67/68 coincided with them winning the European Cup.
Yet at the end of the first week of 1972, with United declining and Best's gambling and drinking increasing, they fined him for missing the week's training. He also twice announced his retirement, gained weight through his inactivity, only to change his mind without rediscovering his previous level.
His last appearance for Manchester United, against QPR, came on January 1 1974, before the period in which he appeared for 11 teams including Fulham, Stockport, Hibernian, and Los Angeles Aztecs. In 1984 he retired permanently.
By the point of his death in 2005, at the age of 59 following illnesses related to his alcoholism, Best had twice married and twice divorced, struggled financially, and even spent 12 weeks in prison in 1984. "I was the one who took football off the back pages and put it on to page one," was, appropriately, another of his beter-known quotes.
Yet Best had enough magic on the pitch and enough star quality off it to dominate both.
Career highlight
He may have preferred his dalliance with the 1973 Miss World, but his performance in the 1968 European Cup Final against Benfica inspired the 4-1 victory that made United the first English winners of the competition.
The list
100 to 91 • 90 to 81 • 80 to 71 • 70 to 61 • 60 to 51 • 50 to 41 • 40 to 31 • 30 to 21
20 • 19 • 18 • 17 • 16 • 15 • 14 • 13 • 12 • 11 • 10 • 9 • 8 • 7 • 6 • 5 • 4 • 3 • 2 • 1
Thank you for reading 5 articles this month* Join now for unlimited access
Enjoy your first month for just £1 / $1 / €1
*Read 5 free articles per month without a subscription
Join now for unlimited access
Try first month for just £1 / $1 / €1