FourFourTwo's 50 Best Football Managers in the World 2017: No.1, Antonio Conte
He's proved he can manage in different countries, at various levels, gain promotions, claim league titles and pull off major wins at international level. Antonio Conte is in his absolute prime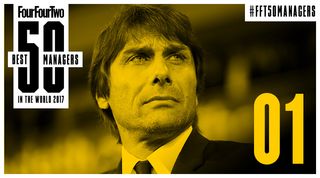 "Will you go to church on Easter Sunday?"
"Do you pray?"
"If you win the title, will you buy yourself a treat?"
Antonio Conte cut a fairly bewildered figure in some of his pre-match press conferences towards the end of last season. Each week, the Italian would be ushered into the media room at Chelsea's Cobham training ground through a side door, still in his training gear, for 20 minutes or so of bombardment from the English press corps, who loaded their cannons with increasingly bizarre questions in an attempt to wring out some back-page news.
You can't blame the journalists for running out of queries. By the time the 2016/17 season drew to a close, Conte had answered all of the football ones perfectly.
The 47-year-old had been hugely successful with Juventus, of course, and done an impressive job with a relatively talent-starved Italy at Euro 2016. But, when a big-name foreign manager comes to these shores, there's always the issue of whether they can 'cut it' in the unique atmosphere of the Premier League.
Remarkable transformation
In an era of drastic swings, Chelsea's transformation under Conte is still remarkable. On their way to winning the Premier League, they finished 10 places and 43 points higher than in the previous campaign.
There are the usual caveats about not having to play European football every week, and you could probably quite fairly make the point that this was a squad with a lot of unfulfilled potential. They had, after all, won the league just 12 months previously, before Jose Mourinho's second reign imploded.
But it's testament to Conte's powers of man management that he was able to reform them so quickly, and convince the likes of Eden Hazard and Diego Costa to pick up their downed tools again. The case of Victor Moses is a good example; shipped out on loan by Mourinho, the Nigerian got an arm around the shoulder from Conte, and a new role at wing-back. He proved to be one of the Blues' best players during their title charge.
In press conferences Conte is softly spoken, almost shy, in stark contrast to the furious, animated figure we see screaming on the touchline during games. By all accounts, he's a demanding character to work for. Players talk of intense training sessions, and an extreme focus on the smallest details. At Chelsea, he's brought the use of video analysis to new levels, scrutinising matches and training sessions to an extent that had rarely been seen at the club before.
The hammer
That is perhaps one of the reasons his tactical changes worked so well. After defeat to Arsenal in September, Conte famously switched formation to a 3-4-3, prompting a long unbeaten run that effectively won Chelsea the title. A lesser manager might not have been able to get a veteran group of players - stuck in their ways - to go along with it, but Conte has a unique way of getting his ideas across. Some of his former charges call him 'The Hammer'.
"When Conte speaks, his words assault you," wrote Andrea Pirlo - who played under Conte at Juventus - in his autobiography I Think Therefore I Play. "They crash through the doors of your mind, often quite violently and settle deep within you. I've lost track of the number of times I've found myself saying, 'Hell, Conte said something really spot-on again today'. I was expecting him to be good, but not this good. I've worked with a lot of coaches and he's the one who surprised me the most."
He had fine instruction, working under legendary coaches like Arrigo Sacchi, Carlo Ancelotti, Marcello Lippi and Giovanni Trapattoni (pre-Republic of Ireland). From them, he developed an uncompromising playing style as a box-to-box midfielder with Lecce and Juventus, and he's carried that attitude into management. His reported recent treatment of Costa is a case in point.
Family man
Yet perhaps Conte's greatest strength is that even while being ruthless and demanding, he's managed to create a familial atmosphere at each club he's been to. He did it at Juventus, who he led to three consecutive Serie A titles. He did it again with Italy.
"In the 50 days we spent together, we created something unique and extraordinary; a family," he said after the Azzurri were knocked out of Euro 2016. "When we lost to Germany, we cried because we knew we wouldn't see each other the following day."
Conte is a hybrid; a fusion of the furious, screaming manager - kicking bottles and swearing in the dressing room - and the father figure, with an arm round the shoulder and a detailed knowledge of each his players' emotional states.
As he embarks on a second season in English football, with Champions League football added to the mix, there's only one remaining question worth asking. Can he do it all again?
The list
50 to 46 • 45 to 41 • 40 to 36 • 35 to 31 • 30 to 26 • 25 to 21 • 20 • 19 • 18 • 17 • 16 • 15 • 14 • 13 • 12 • 11 • 10 • 9 • 8 • 7 • 6 • 5 • 4 • 3 • 2 • 1
See also...
Thank you for reading 5 articles this month* Join now for unlimited access
Enjoy your first month for just £1 / $1 / €1
*Read 5 free articles per month without a subscription
Join now for unlimited access
Try first month for just £1 / $1 / €1
Get FourFourTwo Newsletter
The best features, fun and footballing quizzes, straight to your inbox every week.