FourFourTwo's 50 Best Football Managers in the World 2017: No.5, Jose Mourinho
In three years, he's won the Premier League, League Cup and a European trophy – and this is his 'rocky spell'. Jose Mourinho finds a way to win even as he's written off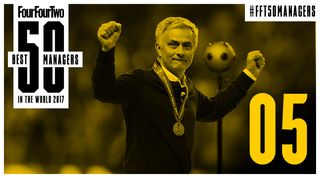 There's a story about Daniel Radcliffe screwing with the paparazzi while doing a run of theatre shows, by wearing exactly the same outfit every day as he left the building. It meant that for the photographers, one day's pictures were indistinguishable from the next, and therefore they were all worthless.
Manchester United manager Jose Mourinho demonstrated a similar level of PR mastery after he led United to Europa League triumph last season. The Portuguese manager held up three fingers for the trophy presentation, exhorting his players to do the same as the cameras flashed.
In an instant, arguably the three least prestigious trophies available to his club – Europa League, League Cup, Community Shield – became a "treble". It was a piece of transformative wizardry of which Radcliffe's most famous character would have been proud.
Strange times
Mourinho occupies a strange position in the managerial hierarchy. What he has won - eight league titles in four different countries, eight domestic cups, four European trophies - already mark him out as an all-time great in his profession. But his was a reputation in need of rehabilitation after the wheels came off his second ride at Chelsea.
The Portuguese manager has always had a keen eye for how things will play in the media. Even that famous charge down the Old Trafford touchline en route to taking Porto to the Champions League title in 2004 seemed like it was designed to send a message.
Some might criticise him for paying too much attention to that side of management, and not enough to how things look on the pitch. He remains a master of the dark arts. He took Porto to shock European success with a style of play build on defensive solidity and waiting for the opponents to make a mistake.
He's generally carried that with him throughout his career, even as the resources and expectations have risen. At United this season, that has translated into stodgy, lacklustre performances with his side struggling to break down smaller teams, and more draws than a duelling convention. When it comes to the crunch matches against title rivals, Mourinho reverts to type.
Loyalty above all
Mourinho demands loyalty from his players, and usually returns the favour. "He is the Special One because he wins," said Paul Pogba at the end of the season. "He's a manager who is really close with the players. Personally, he welcomed me, we had a talk and I had a good feeling from the first moment on. He trusted and defended me. That's all a player needs."
But it doesn't seem to extend to all the members of his squad, and his dealings with players have perhaps demonstrated a certain inflexibility as well. Plenty of managers are ruthless, but few have been as callous as Mourinho was when dealing with Luke Shaw.
Even Alex Ferguson, famed for his hairdryer treatment in team talks, realised that he had to moderate his approach as a new breed of younger footballers came through the ranks at Old Trafford. Mourinho undoubtedly realises this, but change hasn't been easy.
"I have had to adapt to a new world and what young players are like now,' he told France Football in a recent interview. "I had to understand the difference between working with a boy like Frank Lampard who, at the age of 23, was already a man – who thought football, work, professionalism – and the new boys today, who at the age of 23 are kids.
"Today I call them 'boys' and not 'men'. Because I think that they are brats and that everything that surrounds them doesn't help them in their life nor in my work. I had to adjust to all of that. Ten years ago, no player had a mobile phone in the dressing room. That is no longer the case. But you have to go with it, because if you fight that you are bringing about conflict and you risk putting yourself in the stone age."
The grouchy one
One thing that has changed in the last decade is Mourinho's demeanour. When he burst onto the scene, 'The Special One' was youthful and precocious, often charming. But now, at 54, a lot of the time he just seems jaded, grouchy and outright rude. If this - as we've been led to believe - is the job he's always wanted, why does he looks so miserable?
It might be a legacy of the baggage he's picked up in a wandering career. After Porto and Chelsea, he achieved Champions League success with Inter, but failure to win the same competition with Real Madrid still stings. So too, does the way things ended at Chelsea - you could tell as much from Mourinho's return to Stamford Bridge in the FA Cup this season.
The great Hungarian coach Bela Guttmann used to say that the third year at a club was "fatal", because the players tend to become complacent, or their relationship with the manager breaks down. Mourinho has embodied that rule during his career, but if things keep going well at Manchester United, he could soon find himself in uncharted territory.
A new breed of young managers are coming through and the game is changing. This managerial master of the dark arts might need to learn some new tricks - but there were signs in 2016/17 that Jose Mourinho may yet still have one or two up his sleeve.
The list
50 to 46 • 45 to 41 • 40 to 36 • 35 to 31 • 30 to 26 • 25 to 21 • 20 • 19 • 18 • 17 • 16 • 15 • 14 • 13 • 12 • 11 • 10 • 9 • 8 • 7 • 6 • 5 • 4 • 3 • 2 • 1
See also...
Thank you for reading 5 articles this month* Join now for unlimited access
Enjoy your first month for just £1 / $1 / €1
*Read 5 free articles per month without a subscription
Join now for unlimited access
Try first month for just £1 / $1 / €1
Get FourFourTwo Newsletter
The best features, fun and footballing quizzes, straight to your inbox every week.