FourFourTwo's 50 Best Football Managers in the World 2017: No.10, Peter Bosz
His young and dazzling Ajax side thrilled in Europe, leading to the Dutch Cruyff disciple getting the top job at Borussia Dortmund this summer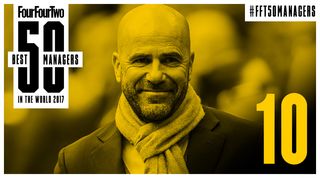 When the now-53-year-old former Vitesse coach Peter Bosz was first appointed to the hot seat at Ajax, it was met with some cynicism, scepticism, even profound opposition. Many of the more fanatical groups in Amsterdam, and even one of the official supporters groups, publicly voiced their displeasure at having a man in charge of their club whose past was inextricably linked to arch rivals Feyenoord.
A year on, it's funny how this former Feyenoord man has been able to deliver a style of football much closer to the Ajax glory days than his predecessor, the through-and-through Ajacied Frank de Boer, could in four-and-a-half years. It has left fans mesmerised, enthralled and able to identify with their legendary club once again.
Forged his own path
Bosz has always been an atypical personality. As a fiery defensive midfielder in his playing career, in the pre-Bosman ruling days, he took charge and negotiated his own contract deals so that no club could tie him down without his willingness.
When Vitesse rejected this, he chose to move to amateur club AGOVV and work his way to the top. Which he eventually did, playing for six seasons with Feyenoord and being part of the Dutch squad at Euro 92.
A maligned spell as technical director at Feyenoord split two successful tenures as Heracles manager, in which he won them promotion first and then even took them into the European qualifying spots.
In 2013, Bosz moved to Vitesse and spent two-and-a-half years in Arnhem before a whirlwind 18 months sent him from Vitesse to Maccabi, to Ajax, and now to the manager's job at Borussia Dortmund.
The Cruyff influence
Bosz, despite his Feyenoord past, has been a fervent admirer of Johan Cruyff since his youth, and as a player at Vitesse he even had an Ajax season ticket. When he was part of the Dutch squad at Euro 92, coached by the legendary Rinus Michels, it was said that he would rush back to his room after team meetings to fill out a little notebook about what his manager had covered, and focused upon in his game preparation.
From a young age, Bosz knew he wanted to be a coach. "I have never made it a secret that I want to train a top club. I used to play in a top team at Feyenoord. I even reached the Dutch team," he noted. "But I never saw myself as a true top player, I just wasn't good enough for that. But as a trainer, I hope to get to the absolute top."
Guardiola's 2009-11 all-conquering Barcelona side remain one of Bosz's ideal teams, as do the 1974 Dutch World Cup side, particularly with their ridiculous energy and extreme effort in pressing.
In adapting this to his own philosophy, Bosz insists on a game that is centred around moving the ball quickly, and having the players make only short sprints. He also instilled a 'five-second rule' in pressing (not eating food that's been on the floor). Since that's approximately the time it takes for a team to transition between an attacking shape and a defensive one after they lose the ball, it's ideal to strike them in that transition period, when they are most vulnerable and disjointed. Hence his players must press high and hard as soon as they lose the ball, and aim to win it back within five seconds.
A premature end
Bosz draws upon age-old, fundamental Total Football principles, and drills the importance of space into his players. When you have the ball, you make the field as big as possible and stretch the opponent. When you lose the ball, you don't retreat, but shrink in to form a compact shape and prevent opponents from advancing.
It's precisely this high-tempo, high-pressing, high-octane football that restored an aura to Ajax that's been missing for many years. It did take time for the cogs to finally fit together and start spinning, but once they did, Ajax were transcendent.
There's no doubt that a lot of fans - even those who opposed his appointment - lamented the fact that after only one season, the 'Bosz project' at Ajax had to come to a premature end.
From a distance, it seems perfectly logical for an Ajax coach to step up to a club with better resources, and in a tougher league such as Borussia Dortmund. However, the internal rift with assistant coaches Dennis Bergkamp and Hennie Spijkerman that seemed to precipitate his departure, gave the manner of his departure a slightly dramatic and bitter twist.
Bosz has been criticised for being stubbornly idealistic with his football - something that has been thrown at the likes of Guardiola and Cruyff as well. Yet, the glaring blemish on his record is that fact that despite the terrific entertainment his sides provide, Bosz is still yet to pick up a major trophy as a coach.
With Dortmund, Bosz now has a squad with the same ingredients that his Ajax team needed to play at their optimum: young talent, willing to play with and without the ball, and capable of quick thinking. Whether he can mount a significant challenge to Bayern Munich in the season to come and progress to the later stages in Europe will form an integral thread of this narrative - the story of a coach who bade his time and now seems to be bursting through the stratosphere.
The list
50 to 46 • 45 to 41 • 40 to 36 • 35 to 31 • 30 to 26 • 25 to 21 • 20 • 19 • 18 • 17 • 16 • 15 • 14 • 13 • 12 • 11 • 10 • 9 • 8 • 7 • 6 • 5 • 4 • 3 • 2 • 1
See also...
Thank you for reading 5 articles this month* Join now for unlimited access
Enjoy your first month for just £1 / $1 / €1
*Read 5 free articles per month without a subscription
Join now for unlimited access
Try first month for just £1 / $1 / €1
Get FourFourTwo Newsletter
The best features, fun and footballing quizzes, straight to your inbox every week.