FourFourTwo's 50 Best Football Managers in the World 2017: No.4, Diego Simeone
He's raised expectations to the point that anything less than ultimate triumph seems like failure. But make no mistake: the brilliant Simeone still has Atleti punching above their weight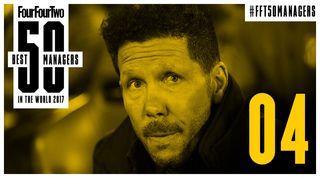 The dangerous thing about assessing Diego Simeone is that, because he has set the bar so high, the less successful times can be mistaken for periods of underachievement and even failure.
Certainly, such words could in some ways be used to describe Atletico Madrid's latest season. They came well behind Real Madrid and Barcelona in La Liga, collecting 10 points fewer than the year before. They got hammered 3-0 by Madrid in the Champions League. They conceded more goals. They won nothing.
And yet this is only a disappointment in the context of the golden age Simeone has created at the Vicente Calderon; a kind of dreamworld in which the laws that connect finance and results have been defied, and the Spanish duopoly challenged and momentarily shattered. Resources have been maximised in the extreme. The extraordinary has long become ordinary.
In reality, Atletico's regression towards the mean was almost inevitable on the back of a season in which they fought for the title and lost the Champions League final on penalties. To almost all other coaches, this campaign would still have been a success. The question for Simeone now is what comes next.
Value for money
Looking back, Atleti's last four years have resembled a rollercoaster, even if the lows remain higher than the peaks they enjoyed before Simeone took the job in December 2011.
In six-and-a-half years, El Cholo has won La Liga, the Copa del Rey and the UEFA Cup, and led Atleti to five straight top-three finishes. In 2014, they became champions by notching 90 points and also reached the Champions League final. They then regressed in 2015, coming third with 78 points, before jumping back up to 88 points and playing another final. This season they have returned to 78 points.
Still, their basic goals have been met. They have become the 'best of the rest' behind Real Madrid and Barcelona, and gave the Catalans a thorough fight in the Copa del Rey semi-finals. In Europe, they bowed out at the same stage.
That isn't bad, considering their wage bill for 2015/16 was lower than those of Swansea, Stoke and Sunderland.
The glass ceiling
At the same time, those same financial constraints make it difficult for Atleti to challenge for the big titles next year. Even the 47-year-old Simeone cannot perform miracles all the time, and certain developments this season suggest the team will struggle to break the glass ceiling a third time.
Last summer was the first in four in which they did not lose a key player, having previously had to replace Falcao (2013), Diego Costa (2014) and Arda Turan (2015). They also added Kevin Gameiro, Nicolas Gaitan and Sime Vrsaljko. Yet results have declined and particularly concerning have been the two 3-0 defeats to Real Madrid, one at home in La Liga another in the Champions League semi-finals, in which they folded with uncharacteristic ease.
Tactically, Simone has again tried to make the team more attacking, with forwards occasionally played out wide. Atletico duly scored seven more league goals in 2016/17 than the year before, though most evidence suggests they should stick to what they do best, which is gritty defending and incisive counter-attacking.
They recovered some of those basic values after the 3-0 defeat at Villarreal in mid-December, losing only twice and conceding 13 times in their last 23 league games. That is the kind of form Simeone will target for the upcoming campaign.
Ageing heroes
Whether that will materialise remains to be seen. There will be major challenges, among them the stadium switch that will eliminate the home comforts of the intimidating but crumbling Vicente Calderon in favour of the new Estadio Metropolitano. There is also the transfer ban, which prohibits the club from making signings until January.
Several loyal soldiers are getting old. Defensive stalwarts such as Juanfran, Diego Godin and Filipe Luis are all above 30, while captain Gabi turns 34 in July. They have all symbolised the sense of sacrifice and courage that has permeated the club under Simeone, who has appeared to suggest that the only way to find adequate replacements would be to clone them.
Still, there are also signs of optimism. Antoine Griezmann is set to stay and, above all, Simeone has recommitted amid exit rumours.
"This club has a future and the future is all of us together," the coach said in his final press conference, thus giving renewed hope to a fanbase that know, as long as he sticks around, anything will still be possible.
The list
50 to 46 • 45 to 41 • 40 to 36 • 35 to 31 • 30 to 26 • 25 to 21 • 20 • 19 • 18 • 17 • 16 • 15 • 14 • 13 • 12 • 11 • 10 • 9 • 8 • 7 • 6 • 5 • 4 • 3 • 2 • 1
See also...
Thank you for reading 5 articles this month* Join now for unlimited access
Enjoy your first month for just £1 / $1 / €1
*Read 5 free articles per month without a subscription
Join now for unlimited access
Try first month for just £1 / $1 / €1
Get FourFourTwo Newsletter
The best features, fun and footballing quizzes, straight to your inbox every week.