FourFourTwo's 50 Best Football Managers in the World 2017: No.3, Massimiliano Allegri
Despite major player departures during his three years at Juventus, Max Allegri has taken the club forward and twice to the brink of treble success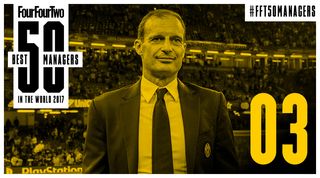 It was hard to imagine how Max Allegri would top his first season in charge of Juventus. Having been greeted at the club's training ground by jeers (and even a few thrown eggs) back in May 2014, the Livorno native quickly set about proving those doubters wrong.
Even allowing for the poor fashion in which his Milan tenure ended, the displeasure of Bianconeri supporters had more to do with the loss of Antonio Conte than the appointment of the new man, who instantly recognised that success was the only way to win them over.
In 2014/15, he delivered not only their first league and cup double in 20 years, but also a berth in the Champions League final. He did so with only minor additions to a squad Conte didn't believe could compete with Europe's truly elite clubs. Allegri may have seen his side swept aside by Barcelona, but as the 2014/15 campaign came to an end, perhaps his only real concern was over how he would rebuild the team.
Sweeping changes
Andrea Pirlo, Arturo Vidal and Carlos Tevez all moved on, followed 12 months later by the loss of Alvaro Morata and Paul Pogba. Instead of Juve collapsing, the coach arguably created an even stronger unit, a tactically versatile group that has allowed him to tailor his approach to any given opponent, and one that has continued to deliver silverware at an incredible rate.
Two more seasons at the helm have yielded two more triumphs in both Serie A and the Coppa Italia, while this term saw the Old Lady once again return to the final of the continent's most prestigious prize. She was beaten this time by Real Madrid, but a 3-0 demolition of Barcelona in the quarter-finals showed just what this incarnation of Juventus is capable of.
It was just reward for the man on the sidelines.
Already the club's longest-serving boss since Marcello Lippi's first tenure (1994 to 1999), Allegri was handed a new three-year contract this summer that made him the highest-paid manager in Serie A. That ended links with Arsenal and PSG, while giving the Bianconeri the stability they have lacked in the last seven years – only seven of the current squad were at the club before he was appointed.
A players' manager
Few could blame him for wanting to stick around, with young talents like Alex Sandro and Paulo Dybala emerging and improving under his guidance. They all speak highly of the man who has given them so much. "Allegri initially fielded me in a very cautious way; he knew exactly what he was doing," Dybala told Mediaset Premium recently. "He allowed me enough time to understand and get to know this club better."
But even wise old heads have been stunned by the coach's impact, with Patrice Evra – who has worked under some truly excellent managers including Alex Ferguson – perhaps offering the most insightful comments.
"Allegri is an easy coach to understand as he doesn't like to work with stupid people," the Frenchman told La Gazzetta dello Sport. "He shows you the path and I realised who I was dealing with before our return leg against Borussia Dortmund last season. He showed us some of their passing plays and I saw all those things unfold on the field. It was incredible, as I never had a coach who did that."
Reinvention and success
Allegri has, however, followed Ferguson's lead when it comes to reinventing a team while continuing to rack up victories.
That is no easy feat, and perhaps deserves much higher recognition. So too does the intense drive and passion he displays, something that is widely overlooked as Allegri is often portrayed as a polished professional who often offers diplomatic answers to difficult questions.
Yet watching him prowl the touchline and berate even the very best players for minor mistakes, it is clear there is a burning desire for perfection hidden under that glossy veneer.
Anyone who has sat close to the home side's bench at Juventus Stadium would testify to that – 90 minutes there is akin to a crash course in foul and abusive language, Tuscan style. Even on TV his cries of "Dai! Dai! Dai!" – "Come on!" – can often be heard over the roar of the crowd.
That – much like winning trophies – is something of an Allegri calling card. Juventus fans will be hoping that both continue for at least a few more years.
The list
50 to 46 • 45 to 41 • 40 to 36 • 35 to 31 • 30 to 26 • 25 to 21 • 20 • 19 • 18 • 17 • 16 • 15 • 14 • 13 • 12 • 11 • 10 • 9 • 8 • 7 • 6 • 5 • 4 • 3 • 2 • 1
See also...
Thank you for reading 5 articles this month* Join now for unlimited access
Enjoy your first month for just £1 / $1 / €1
*Read 5 free articles per month without a subscription
Join now for unlimited access
Try first month for just £1 / $1 / €1
Get FourFourTwo Newsletter
The best features, fun and footballing quizzes, straight to your inbox every week.