FourFourTwo's 50 Best Football Managers in the World 2017: No.2, Zinedine Zidane
He's been in his job for less than two years and has won as many Champions Leagues as Mourinho, Ferguson or Guardiola. Zinedine Zidane is an enigma – and a winner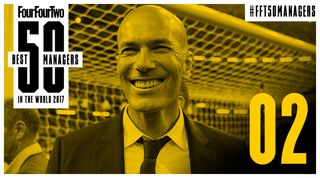 There's an uneasiness hanging over Zinedine Zidane, a slight feeling that it's somehow not down to him that Real Madrid won the Champions League and La Liga this year.
He is no innovator like Pep Guardiola. He does not impose the dictatorial authority of Alex Ferguson, nor the hard-line approach of Jose Mourinho. Some say he is lucky, blessed with top players. Surely anyone can win the Double with Real Madrid.
Except they can't. Before Zidane came along, Real had not pulled off a league and European Cup double since 1958. In 18 months at the top level, he has become the first man since Arrigo Sacchi to win successive European Cups – a feat nobody had managed in 27 years.
So Zidane must have done something right. Yet due to his subtlety, it can be tricky to appreciate exactly what that is, and how big a part it has played. He is clearly good. But how good?
Psychologist and diplomat
One part of that uncertainty centres on the high expectations at Madrid. Another is down to Zidane himself. Calm and humble, he personifies the values of señorío that Madrid want to convey, refusing to take credit or explain his tactics. Where others talk up their ability, he seems to talk it down.
That undersells his influence and, in addition, he did not arrive on the back of a success that foreshadowed a managerial giant. We sensed that Guardiola was decent when he got Barcelona B promoted; when he then galvanised the first team, it all kind of made sense.
But when Zidane got his current job in January 2016, he had nothing to show (as a manager, anyway) beyond stints as advisor, director and first-team assistant; a season assisting Carlo Ancelotti, plus a disastrous spell with the reserve team Castilla.
Yet Zidane works with better players now. Crucially, what they need is not a drill sergeant, but a deft operator who can keep things stable; a psychologist and diplomat who understands the complex dynamics of the club and its dressing room. Zidane has suited that role to a tee.
Extended honeymoon
The indications came early on. Zidane shone in front of the cameras, talking up the club traditions, committing to attacking football and vowing to win the big prizes. Like a politician, he said what people wanted to hear. Very much unlike a politician, he has also kept his promises.
Still, it is only in this last season that his true talents have emerged. In his first six months, the club got a lift just from ousting the unpopular Rafa Benitez. Part of why Zidane succeeded was by the mere virtue of being someone else. A slice of luck helped Madrid towards the Champions League title and, when they wobbled last September, the honeymoon looked to be over.
But Zidane has managed to stabilise the club and get results, often despite the organisation on the pitch. When Madrid have fallen behind, their individual magic and never-say-die attitude have rescued points. When storms have brewed, they have stayed united and calm.
This mental fortitude has partly been the byproduct of a happy dressing room, which has been Zidane's secret as much as anything. There has been unusually few leaks and grumbles. His chief mentor Ancelotti did say that the relationship with the players is the key and, certainly at Madrid, there's an argument that as long as the squad is settled, its sheer talent will take you a long way.
The new Del Bosque
Adding to this, Zidane has showed a knack for shrewd squad rotation. Making up to nine changes at once, he let his 'B-team' rip domestic teams to shreds, before watching the A-listers sink Atletico Madrid, Bayern Munich and Juventus in Europe. The symbol of this clever planning has been Cristiano Ronaldo, who has been given more rest, and responded finishing the 2016/17 season like an express train, scoring 16 goals in his last 10 games.
All along it has become clear that Zidane models his style on Ancelotti. Yet he is perhaps even more resemblant of Vicente del Bosque, whose understated management led Madrid to two league and Champions League titles from 1999 and 2003. Like Zidane, Del Bosque was a former Madrid midfielder turned Castilla coach. Like Zidane, he led a team of galacticos so well that he made it look easy.
When Del Bosque was released in 2003, Madrid won nothing for the next three years, and only then did everyone realise the job he had done. That same fate should not be necessary for Zidane to get the credit his efforts have deserved.
The list
50 to 46 • 45 to 41 • 40 to 36 • 35 to 31 • 30 to 26 • 25 to 21 • 20 • 19 • 18 • 17 • 16 • 15 • 14 • 13 • 12 • 11 • 10 • 9 • 8 • 7 • 6 • 5 • 4 • 3 • 2 • 1
See also...
Thank you for reading 5 articles this month* Join now for unlimited access
Enjoy your first month for just £1 / $1 / €1
*Read 5 free articles per month without a subscription
Join now for unlimited access
Try first month for just £1 / $1 / €1
Get FourFourTwo Newsletter
The best features, fun and footballing quizzes, straight to your inbox every week.