Guardiola, Enrique… Cocu? How PSV's chief caught up with the cream of Barça's crop
Having steered PSV to a phenomenal Eredivisie title, the Dutchman now faces the task of keeping them at the top. Arthur Renard charts the rise of another former Camp Nou hero...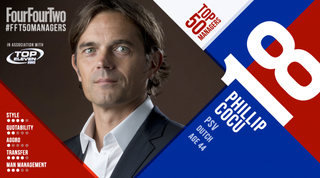 After a challenging first year as manager for more than just on-field reasons, Phillip Cocu proved his coaching credentials in his second campaign by delivering PSV their first championship in seven years. That he also did it by breaking two club records, masterminding 88 points and 29 victories (in 34 games), only added to the lustre.
It has always been apparent that Cocu would lead the Eindhoven side one day, having enjoyed two spells with the southern Holland club as a player.
Inevitable for Eindhoven
Straight after finishing his playing career with Al Jazira in 2008, Cocu started to obtain his coaching badges and gained experience in PSV's youth academy. In the following years he assisted the first team, a role he also fulfilled with the Netherlands under Bert van Marwijk.
Like Frank de Boer at Ajax, Cocu learned his trade in the background before committing himself to becoming a head coach. In 2012, he was shortly interim manager at PSV – winning them the Dutch cup – but afterwards went back to coach the under-19s. Many suspected it was only a matter of time before he'd return to the first team as permanent manager.
This eventually happened in summer 2013, and given his impressive background as a player – and thorough preparation as a coach – people were speculating about the kind of immediate impact he could have.
Former Arsenal player Dennis Bergkamp, who played with Cocu in the national team, told weekly Voetbal International that he could clearly notice certain coaching abilities with Cocu straight away. "As a player I already knew him very well; with the Dutch team he always played short to me," recalled the striker. "You could notice he had certain tactical qualities. And something like that is a good omen for a coaching career."
Bergkamp's feeling proved to be right, as he witnessed Cocu as a coach first hand. "We were in the same group for our coaching licences, and we shared a room at the KNVB (Dutch federation) headquarters when we had to stay overnight," said the Iceman. "So we've been around together quite a lot. With his ideas and remarks you could notice he saw the tactical elements of the game on a high level as a manager as well.
"In that way, you can compare him with Frank de Boer at Ajax. They have a good tactical overview, which they had as players as well. It doesn't surprise me at all that Cocu is doing well."
Scan scare
Cocu has been recognised for his achievements with PSV, winning the Rinus Michels Award for being the Eredivisie's best manager last season. It's a nice recognition for the project he's currently undertaking: upon taking over in Eindhoven, Cocu aimed to set out a new policy at the club, with a particular focus on the implementation of youth players.
But it took time before his methods bore fruit. His first year as manager wasn't easy at all, as PSV slipped to a 10th after 16 games of the 2013/14 season. The media criticised his tactics and wondered if he was capable of passing on his methods to the players. But the club kept faith in Cocu and he showed improvement in the second half of the season with a fourth-placed finish.
Nevertheless it was a difficult season, moreover because he had to deal with worrying personal circumstances.
After suffering from backache, Cocu was advised to have a routine scan in hospital. Doctors discovered a tumour. He was operated on soon after, however, when fortunately it was determined that the tumour was benign. His rehabilitation process took a few months, which meant he missed the remainder of the season.
Title tyranny
Once the new campaign began, Cocu was back to continue the project he'd started a year earlier.
At the beginning of last season, PSV's performances were somewhat precarious, but slowly they began to show signs of being a solid, hard-to-beat collective. The arrival of Mexican Andrés Guardado, who excelled as a defensive midfielder, proved to be key. Memphis Depay and Georginio Wijnaldum shone in more attacking positions, and striker Luuk de Jong scored 20 goals.
It all contributed to a terrific season in which they won the championship in hugely convincing fashion, a mighty 17 points clear of second-placed Ajax.
Cocu is praised for his knowledge of the game, although his side is sometimes criticised for a somewhat conservative playing style and being especially effective on the counter-attack. But the manager noticed his team playing in a more dominant way than before. In Voetbal International, he spoke about that transition throughout last season. "We've improved on the year before and we can put pressure higher up the field, which means the last defensive line can move up a bit," the Dutchman noted.
Learning on the job
Cocu is always looking for ways to improve the workings of his team and himself as a manager at the same time. When he faced a difficult period with PSV last season, he consulted the experienced Guus Hiddink, who he asked to support the technical staff in an advising role. It showed Cocu's openness for feedback from others and an admirable willingness to learn.
Sometimes he's said to be a bit stoic, not showing enough emotion in either prosperity or adversity. But it could be seen as a strength as well, as it gives a stable persona towards those around him.
Bergkamp thinks Cocu's personality suits his role as manager: "He exudes calmness, and that's important. It comes natural to him, he is down to earth. It means he can focus on his strengths. And he can touch players in the right way. He doesn't get confused quickly, regardless of the kind of pressure he has to deal."
Cocu seems to have the abilities to be a successful manager, but it will be interesting to see how he'll cope with new challenges in the coming season. It might just determine whether he's Barcelona material one day – just like former Blaugrana team-mates Pep Guardiola and Luis Enrique.
"I don't think about that now," he told Marca in January. "I'm young and the most important thing is to succeed at PSV. I have four years on contract and I have much to do here. I'm in no hurry."
#FFT50MANAGERS See our full list of the top 50 managers and features on them here
Thank you for reading 5 articles this month* Join now for unlimited access
Enjoy your first month for just £1 / $1 / €1
*Read 5 free articles per month without a subscription
Join now for unlimited access
Try first month for just £1 / $1 / €1