How Arsene Wenger could end Arsenal's civil war in an instant
Gooners are fiercely divided on the subject of whether the Frenchman should stay or go, writes Chas Newkey-Burden – but only the man himself can end the bickering once and for all...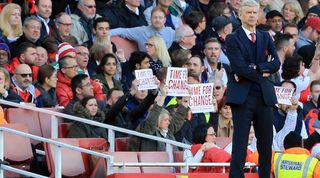 The American civil war lasted four years, the Spanish civil war dragged on for three, but Arsenal's rages on and on. Last weekend's Tottenham-trumping festivities caused a momentary ceasefire in hostility between pro- and anti-Wenger Gooners, but a few days on and they're back at one another's throats again.
It seems an intractable conflict, but there is one way it could be stopped in its tracks. Right now.
Let's look how it all kicked off in the first place. In January 2013, scuffles broke out between Gunners fans during an FA Cup tie at Brighton. In the 80th minute, a small group unveiled a banner which read: "Arsene, thanks for the memories but it's time to say goodbye."
Immediately, others in the away end took offence at the anti-Wenger message and demanded the banner be put away. As the rival camps of Gooners shouted at one another, tensions rose and a punch-up ensued.
Cracks appear
Discontent over Wenger's reign continued into 2014, as fans increasingly felt the club was stuck in a Groundhog Day of identikit campaigns. Even when the Frenchman led the Gunners to the FA Cup final, many dissenters openly wished for Arsenal to lose the big match, in the hope a defeat would lead to his immediate exit.
For the rival faction, that was a double serving of heresy: disrespecting the club's greatest ever manager and wishing for the team to lose their biggest game in eight years.
By the end of that year, the division had deepened. Two stars of Arsenal Fan TV, Claude and Ty, provided a comical document of it when they bickered during a post-match interview. Then a group of travelling Gooners hurled viscous abuse at Wenger at Stoke station, prompting retaliatory chants of 'One Arsene Wenger' at the following weekend's home clash with Newcastle.
Even as Arsenal enjoyed a rather successful 2015, winning a second successive FA Cup and proving the calendar year's greatest league side, Gunners fans continued to argue bitterly about their long-serving manager.
Nasty element
When, for a short while at the end of 2015, it looked like the Gunners might just mount a serious title challenge, many of the 'Wenger Out brigade' stated that even if he did lead the club to the championship, he would have to leave in the summer. Then the team's form collapsed dramatically, and the rows became genuinely unpleasant.
Archetypal figures began to emerge in this (less than) civil war, including YouTube personalities, shrieking away on the internet every weekend. In a handful of boorish cases, fans began to resemble Big Brother wannabes, desperate to make the issue all about them, issuing 'statements' and generally losing all self-awareness.
They say truth is the first casualty of war, but perspective long ago expired in this battle. Rival Arsenal factions fought after the FA Cup exit to Watford in March, and then again at Manchester City earlier this month. But the most shameful episode came when, as a gang of fans stood outside the Emirates singing anti-Wenger songs, at least one of their number stated he will be "happy" when Wenger "dies".

Even among dignified Gooners, the debate rumbles on and on, in an endless, circular manner that is so predictable it bores everyone to tears.
End to the fighting?
When the 'Time for Change' demonstration was held at the Emirates last month, only a smattering of fans held up their protest sheets during the allotted 12th minute. Other Gooners simply sang "One Arsene Wenger". A divided stadium, which must be little fun to play at for the home team.
Indeed, during the closing weeks of the season, thousands of fans became so fed up with things that they stayed away from home matches. The bitterness, division and despondency at the Emirates are such that even if Wenger goes uncharacteristically big in the transfer market this summer, it's hard to imagine the ambience being any more positive next season.
Perhaps the only way to heal the wounds is for Wenger to announce his plans up front. The 66-year-old has one more season left on his contract. Despite rumours of a new deal being on the table for the Frenchman, several informed sources suggest that he plans to see out his current contract and then step aside.
If that is the case, he could announce it now. Nothing would galvanise and unite the fan base more effectively. All but the most embittered anti-Wenger Gooners would surely lighten up if the end of his reign was in sight. If fans could see that he planned to give it just one more bash, the more toxic and exhausted of their number would be more inclined to stop bitching and fighting, and instead do what supporters are supposed to do: support.
Honesty up front
The benefits of this would go beyond the fanbase itself. After all, it's impossible to imagine any team mounting a successful challenge for the league in the sort of atmosphere that surrounded Arsenal for large parts of last season, least of all a team as emotionally delicate as the current Arsenal mob. It never takes much for Laurent Koscielny to start turning his back on shots, for the English core to have another middle-class crisis, or for dear old Olivier Giroud to almost buckle under the emotional turmoil of it all.
A happier club on and off the pitch would also make for a more attractive prospect for any potential successor to Wenger. What sort of boss would relish the chance of walking into the handbag-flinging arena that is the Emirates?
In the past, Wenger has preferred to leave it until the last moment before making any decision or announcement on his future. A more transparent approach now could have positive ramifications throughout Arsenal Football Club. It would be a move of real leadership. Arsene, it's over to you…
Quizzes, features and footballing fun
Get the best features, fun and footballing frolics straight to your inbox every week.
Thank you for signing up to Four Four Two. You will receive a verification email shortly.
There was a problem. Please refresh the page and try again.