How Zinedine Zidane reinvented Gareth Bale – but broke him
He may be the second-best goalscorer at the Bernabeu, but the Welshman's standing in Madrid is far from what it used to be. Kiyan Sobhani explores why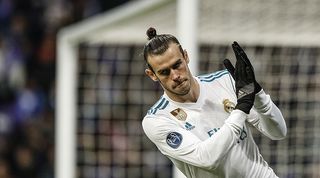 One season ago in Munich, Real Madrid made their (seemingly) seasonal trip to Bavaria for a high-stake Champions League tie. It was the first leg of the quarter-finals – a match Real Madrid went on to win 2-1.
It was also the last Champions League match of the season that Gareth Bale started.
The Welshman had helped the team press at an elite level, string together dangerous counter-attacks and come away as victors. And then he got injured. After that, Zinedine Zidane's diamond formation, with Isco as the roaming spearhead, was born. With such a line-up, Madrid blitzed their way beyond Bayern, Atletico Madrid and Juventus to win their 12th European title.
Madrid fans wondered what would happen to Isco once Bale returned. The two had coexisted before in certain situations, like when Real Madrid travelled to the Vicente Calderon in La Liga for a 2016 Madrid derby. Bale locked up the left flank while Isco gunned down the middle in a 4-4-1-1. The results: Cristiano Ronaldo feasted on Atleti with a hat-trick, taking full advantage of the space that Isco and Bale created that night. But Zidane never used that system again, and there was scepticism about whether Isco would survive the inevitable Bale return.
Unsuspecting victim
Fast-forward to the 2017/18 campaign, and Bale's injury track record has been just as discouraging as previous seasons. Just when Madrid thought he was ready to return towards the beginning of the term, the Welshman relapsed with a calf problem.
When Bale finally recovered fully, it was expected that he'd slide back into the line-up – after all, his performances when healthy had been strong (particularly against Real Sociedad and Borussia Dortmund, where his pace obliterated the high line of his opponents).
Real Madrid needed goals too: Ronaldo was misfiring at the start of the campaign, and no one was around to supplement the Portuguese icon's goals. Bale is the best scorer in Zidane's squad behind Ronaldo, averaging a goal every 140 minutes.
It's almost unthinkable to think that Zidane's belief in Bale has faded, given his unwavering confidence in the Welshman over the previous two seasons – but here we are. The 28-year-old has sunk down the pecking order, and despite being healthy, played just 81 minutes across five matches against PSG, Juventus and Bayern.
That's been hard to argue against too: Madrid have continually gotten results with Lucas Vazquez and Marco Asensio on the wings, and Bale's injury problems have allowed others in the team to prove their worth.
Turned tables
The healthy Bale of 2018 has mostly been used as a rotational player in La Liga – one who provides relief for other attackers so that they can stay fresh for the Champions League. It's a flipped script, for sure.
But one main issue has arisen during this whole saga – Zidane has consistently played Bale out of position, which isolates him on the pitch.
The Welsh wideman actually has 12 league goals (the second-most on the team) in just 1,461 minutes. That's 22 appearances – a goal every other game. In 11 of those matches, Bale has been deployed as a striker, either in a 4-4-2, or isolated by himself as the lone central forward. He has appeared on the wing (either left or right), in the rest of those appearances.
In the matches where he was isolated as a central forward, Bale scored just two goals – both against Celta Vigo. The remainder of his 10 goals have come in the 12 matches where he played on the wing.
Zidane has tried to shoehorn Bale into a line-up where he can have both his preferred midfield and the ex-Spurs man too. It hasn't worked. As a central forward, he can latch onto through-balls – but against so many teams in La Liga that set up in a low block, high lines to blitz beyond are hard to come by. At least from the flank he can do that if all else fails – against Las Palmas, as a left winger, Bale scored a brace by making runs in behind defenders when Paco Jemez played a suicidal high line.
Push back
Those poor performances as a striker may have twisted Zidane into giving up on Bale altogether. But the theme is clear – to get the best out of him, you need to play him deeper.
Bale's strengths aren't limited to scoring goals – he can affect games in so many ways. For one, his intelligence without the ball is high. He has the sense to cover for Real Madrid's bombing full-backs, while relieving Luka Modric of certain defensive duties that the Croatian often gets tied up with on the right of Zidane's diamond.
An example of this appeared came Deportivo earlier this season, when Zidane put Bale on the flank in a 4-3-3. It was a rare return of the late-BBC trio, and Bale worked in unison with Dani Carvajal on the wing, allowing Modric more freedom to bind the team together higher upfield.
Against Deportivo, Bale was involved. And that's the key – as a central forward, too often Bale is a passenger. As a winger, he demands the ball, creates and helps marshal opposing flanks.
It's hard to watch Bale – and in turn, Real Madrid – when he plays as a central forward. His isolation in February's 1-0 loss against Espanyol was shocking: he had 33 touches in 80 minutes (the fewest of any starter on the pitch, and eight fewer than goalkeeper Keylor Navas). Los Blancos limped through an underwhelming performance and fell further behind in La Liga.
Bale may yet fight for his place and work diligently to retain it – football tends to change quickly like that. But whether he stays at Real Madrid next season or regains top form this campaign, there will still be huge question marks about his position on the pitch.
Whether at the Bernabeu or elsewhere, we're all waiting for the elite version of Bale to return. Right now it's a waste of his talents.
Thank you for reading 5 articles this month* Join now for unlimited access
Enjoy your first month for just £1 / $1 / €1
*Read 5 free articles per month without a subscription
Join now for unlimited access
Try first month for just £1 / $1 / €1