Jean Michael Seri: Meet Nice's classy playmaker being linked with Liverpool
Michael Yokhin on Nice's nice guy in the middle whose dazzling displays in Ligue 1 have earned him widespread Premier League attention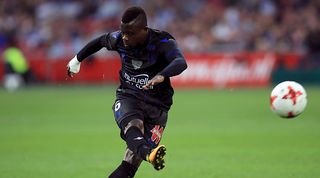 The 60-second story
Liverpool are reportedly interested in Nice's midfield star Jean Michael Seri – and they're far from alone. Arsenal and Tottenham are also rumoured to be in the chase, and it's easy to understand why. The 25-year-old Ivorian has been at the heart of an exciting team that made huge headlines in Ligue 1 on their way to the club's first ever Champions League qualification.
Nice play attacking football, and their magnificent results include a 4-0 thrashing of champions elect Monaco and a 3-1 triumph over the multimillionaires of PSG. The diminutive Seri, almost ever-present in the starting line-up, makes this team tick.
Only Marseille's Morgan Sanson has provided more than Seri's nine assists, while the Ivorian has netted six goals as well. Yet his overall contribution goes well beyond those stats. Serie is a true star, and could be ready for the big move.
Why you need to know him
Seri is a versatile midfielder who's dedicated, hard working, humble and always willing to learn. "I listen to criticism rather than praise, because that's the way to improve. You can't make progress if you only focus on the things you do right," he told Sportif 225 in his homeland.
His attitude is the reason behind the rise of this talented schemer. Seri wasn't even the first-choice option at his Ivorian club ASEC Mimosas initially, but won over the coach Sebastien Desabre who noted: "He is a very good listener." 'Mika', as the player is known, exploded in his second season at the club and caught the attention of Portuguese scouts.
Porto signed Seri in 2012, but used him solely in the reserve side without giving him a taste of first-team football. The Ivorian didn't complain. He just moved to the modest Portuguese club Pacos de Ferrera, and gradually proved himself. Seri was voted the team's best player in 2014/15, and Nice – who have a good scouting network that enables them to unearth prodigies – were quick enough to sign him for just €1m.
Spectical Eaglets' fans knew next to nothing about the new arrival, but Seri won over them within weeks. His remarkable stamina and precise passing enabled him to become key to Claude Puel's plans in the 2015/16 season, when Nice surprised France and fought for Champions League qualification. The whole country sat up and took notice when Seri ran the show as the chief playmaker in a 3-0 win over Lyon, and there have been no doubts about his abilities since.
Seri, who doesn't hide his ambitions to play for Barcelona, has always had Xavi as his idol and role model. "He is someone I looked at for a long time and analysed his game. Xavi has the ability to calm the game, not by voice but by what he does with the ball. He is thoughtful, makes simple but clever moves, and doesn't lose the ball."
In fact, the Ivorian sees keeping the ball as his main duty on the pitch. It's hardly surprising that he completed 90% of his passes last season, while only PSG stars Thiago Motta and Marco Verratti have attempted more passes than Seri on average. That doesn't mean that the Nice architect is unadventurous: the midfielder is always looking to play the ball forward and is rightfully considered one of the most inventive players in Ligue 1.
Puel (who claimed that Seri specialised in hidden passes) might have left for Southampton last summer, but the Ivorian has made additional improvement under the guidance of new boss Lucien Favre, becoming more consistent as an all-round midfielder. It's difficult to imagine how Nice would play without him right now.
Strengths
Seri is so versatile that nobody really knows what his best position is. He can be a deep-lying maestro in the style of Andrea Pirlo, is frequently used as a box-to-box midfielder, and excels when positioned as a classical playmaker behind the strikers.
His passing abilities are continuing to improve and he wins his fair share of balls in defence. Seri also brags a decent shot from distance, and his free-kicks cause plenty of problems for the opposition. His character has proven to be positive in overcoming the early setback of being ignored at Porto, and the tendency to be critical of himself should enable him to progress even further.
Weaknesses
Seri might be lacking leadership qualities at this stage of his career. His influence tends to diminish when Nice are dominated by opponents, and he is not exactly the player to take the game on himself and shift the momentum. The Ivorian is a quiet person, and requires players who show fighting spirit and make their voice heard alongside him.
They said...
"I played with a lot of quality performers in my career, and Mika is on par with them," said former Bayern Munich centre-back Dante, who now plays for Nice.
Did you know...
Seri suffers from chilblains – painful and itchy swellings on the skin when the weather is cold. That could be a minor problem if he were to live in an English climate, and the Premier League suitors should be aware of the issue, just as the player himself is.
What happens next?
It's logical to assume that Seri would be a welcome addition at Anfield, and he has the quality to succeed at the highest level in the Premier League. However, his style may be better suited to Spanish football – even without taking the chilblains into account.
Thank you for reading 5 articles this month* Join now for unlimited access
Enjoy your first month for just £1 / $1 / €1
*Read 5 free articles per month without a subscription
Join now for unlimited access
Try first month for just £1 / $1 / €1
Get FourFourTwo Newsletter
The best features, fun and footballing quizzes, straight to your inbox every week.