Lallana's big game, Arsenal vs themselves: Stats Zone's big battles of the weekend
Alex Keble picks apart the tastiest tussles in the Premier League this weekend using free analysis tool Stats Zone...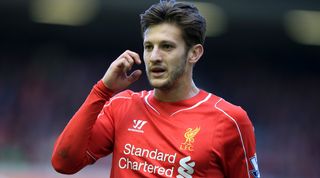 Adam Lallana vs Ryan Shawcross
Does Lallana have the quality to pick apart Stoke's well drilled defence?
Without Luis Suarez's tireless energy and jinking runs, Liverpool have struggled to create space in the final third, despite their increase in possession (57.4%, up from 55.8% last season) and assured distribution in midfield (Steven Gerrard and Jordan Henderson average 116.8 passes per game between them, similar to their 117.3 last season).
Taking corresponding fixtures from this season and last, we can see that Gerrard's influence – spreading the play and distributing to his attackers – has not changed.
Comparing the same two matches, we can see the difference in movement (not to mention accuracy of passing/shooting) between Luis Suarez and Mario Balotelli.
Unfortunately for under-pressure Brendan Rodgers, unlocking this weekend's opposition will be as difficult a task as any. When playing away from home, Stoke have consistently sat deep, absorbing pressure and narrowing the pitch.
This tactic has been ruthlessly deployed against stronger, possession-dominant opposition; in their hard-fought wins over Spurs and Manchester City, they enjoyed just 41.9% and 28% possession respectively.
Club captain Ryan Shawcross is the key man behind this success, averaging 7.8 clearances and 4.4 successful aerial duels per match, more than any other Stoke defender.
The superb Shawcross led his team to a phenomenal clean sheet at the Etihad in September. Note the deep position of Stoke's defending.
When Stoke shut off space by sitting deep with narrow banks of four (or five), it is considerably difficult for the quick, dribbling specialists to make an impact; in Stoke's two previous away wins, Spurs' Andros Townsend and Manchester City's Samir Nasri made very little impact (0 dribbles each).
Needing a craftier player to prise Stoke open, it is not Raheem Sterling – usually tasked with filling the creative void left by the crumbling of SAS – who will be the key man, but Adam Lallana.
Against Crystal Palace, it was Lallana's neat through-ball that led to the opening goal, in a rare glimpse of the ability we saw at Southampton last season.
Despite enduring a difficult start to his Liverpool career, earning a first assist of the season should give him a confidence boost. The Reds will be hoping he can pick the lock at Anfield on Saturday.
Against Palace, Lallana showed glimpses of what he's capable of but little compared with some of his performances for Southampton last season.
Liverpool vs Stoke LIVE ANALYSIS with Stats Zone
Arsenal's attack vs Arsenal's defence
Can Arsenal find the correct balance, or will they concede on the counter yet again?
After Arsenal squandered numerous chances in a game they dominated for long periods, Arsene Wenger must have been furious to see the positional naivety that led to Wayne Rooney's counter-attack goal.
If they repeat the offence, the Gunners can expect Saido Berahino to punish them in similar fashion.
Finding a balance between their attacking instincts and defensive duties has frequently eluded Arsenal in recent seasons, as their possessional dominance (59%, a league best) and high defensive line leave them vulnerable to incisive breakaways.
Arsenal have lost their last two matches after over-committing men forward and conceding on the counter.
Considering Alan Irvine's propensity for rigid structure and a deep defensive line, it's quite possible that Arsenal will, once again, leave themselves light at the back while searching for the breakthrough.
The excellent Chris Brunt (4 assists, 1.3 key passes per game) and Berahino, who has already scored twice this season from counter-attacks, will be ready to pounce on any mistakes.
The longer West Brom keep the score at 0-0, the more vulnerable to the counter Arsenal will become.
Playing on the shoulder of the last defender, Berahino is the perfect counter-attacking striker, collecting the ball in dangerous positions and finishing ruthlessly.
West Brom vs Arsenal LIVE ANALYSIS with Stats Zone

Read on for a big 'un at St Mary's, and an Englishman vs an Argentine...
Dusan Tadic vs Gael Clichy
Can Tadic take advantage of Clichy's defensive errors?
A near-perfect home record and a five-match winning streak at St Mary's make Southampton unlikely favourites this weekend, despite Manchester City's recent resurgence. The key to this game lies in Manuel Pellegrini's ability to curb his defenders' attacking instincts against such dangerous opposition. But contrary to the widely-held belief that confidence-stricken Eliaquim Mangala is the weak link, it's Clichy's form that has contributed to City's sloppy defensive record. Of the last seven goals conceded, five have come from his side.
Against QPR, Clichy's propensity to join in attacks often left his side exposed to the pace of Eduardo Vargas.
Coupled With Mangala's shaky start to the season, these mistakes have allowed teams with technically gifted wingers on the counter to strike at will. Southampton's Tadic, playing primarily down Clichy's side, will be looking forward to Sunday's game.
Averaging 3.2 key passes per game (the joint-highest figure in the division), 2.5 crosses per game, and with 6 assists already to his name, Tadic is one of the most exciting and dangerous talents in the league this season. If Pellegrini allows his full-backs to get forward too much, their hosts can expect joy in the final third.
Tadic made the opposition left-back work in the last two games in which he started from the right. Note how high up the pitch his touches are, in a position where Clichy is frequently absent.
Southampton vs Man City LIVE ANALYSIS with Stats Zone
Erik Lamela vs Leighton Baines
Which player can peg back the other?
Missing Gareth Barry's assured passing in midfield, Everton will most likely be depending on a more direct, smash-and-grab style victory against one of the division's most controlling sides (54.7% average possession). His replacement, Leon Osman – averaging 39.9 passes per game compared to Barry's 70.9 – is a more attack-minded player than the former Aston Villa skipper.
Barry's intelligent passing is integral to Roberto Martinez's short passing philosophy. But Osman stepped in admirably against West Ham, and offers a bigger creative threat.
With this in mind, Leighton Baines – with 6 assists already this season and an average of 2.5 key passes per game – will be even as integral to Everton's success as ever. His set-pieces and bursts of energy down the left are the most likely area of concern for Mauricio Pochettino's men, particularly given Spurs' record in the air (12.2 aerial duels won per game, the lowest in division).
With Romelu Lukaku up front, Baines's set-pieces and frequent crossing could cause Spurs serious problems.
However, the England man's freedom to roam forward will be significantly hampered by Erik Lamela, fresh from a superb performance against Hull.
It's set to be a tantalising battle on the wing, as two of the league's most in-form players go head-to-head for positional dominance. It may well be the deciding factor in this game.
If Baines gets forward as much as he did in his last match, Lamela will likely hug the touchline more often than usual. With 7/12 take-ons completed against Hull, he's not afraid to carry the ball forward himself.
Tottenham vs Everton LIVE ANALYSIS with Stats Zone
Thank you for reading 5 articles this month* Join now for unlimited access
Enjoy your first month for just £1 / $1 / €1
*Read 5 free articles per month without a subscription
Join now for unlimited access
Try first month for just £1 / $1 / €1