Liverpool vs Man United tactical preview: Set-pieces could settle it for Jose
Liverpool have regularly dazzled in open play so far this season, but Thore Haugstad explains why corners and free-kicks could prove their downfall on Monday night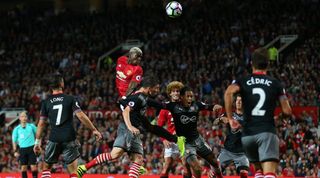 There'll be no need for Jose Mourinho to envisage the ultimate smash-and-grab before visiting Anfield on Monday night. The recipe has already been written. In his time in charge at Old Trafford, Sir Alex Ferguson found a template for resisting boisterous crowds and aggressive opponents: field two narrow banks of four, shut up shop and nick a goal from a set-piece.
Though both teams have evolved since Ferguson's departure, a similar approach may be used by Mourinho. If Fergie often curbed his adventurous instincts when going to Merseyside, Mourinho can merely revert to autopilot: he specialises in neutralising opponents through scrupulous analysis and preparation, and given the attacking capacity of his side's opponents, a cautious gameplan makes sense anyway.
What could give Manchester United the edge is the same weapon that brought Ferguson some of his sweetest victories: corners and free-kicks. In 2007, United won 1-0 twice at Anfield thanks to set-piece goals from Carlos Tevez and John O'Shea. The pattern was even repeated last year under Louis van Gaal, when Wayne Rooney hit the winner from a corner with the Red Devils' only attempt on target.
At that time Liverpool had conceded four goals from corners in their last four league games at Anfield. What may concern Jurgen Klopp is not only that United have become stronger in the air under Mourinho, but that his own defensive issues from set-pieces persist.
High and mighty
The statistical basis of this ominous match-up is found in aerial duels won and lost. Initially there seems to be nothing special going on. Liverpool have won the third-fewest in the league (12.9 per game), but that's only natural for a team who play short passing football and field several small playmakers. United, meanwhile, have the 12th-highest average (15.3 per game), which may just be down to Zlatan Ibrahimovic and Marouane Fellaini winning a few extra headers in midfield.
Yet the gap is bigger than it might appear. The crux of the matter is the percentage of duels won; here United have the highest rate in the league by far, their 58.6 average beating Tottenham (55.4 per cent), Crystal Palace (54.2 per cent) and Chelsea (53.6 per cent). At the other end, the second-lowest average belongs to Liverpool (43.9 per cent).
Pogba increases United's percentage of aerial duels won (and scores) against Leicester
There may be a temptation to dismiss this as irrelevant: it hardly matters whether Philippe Coutinho wins headers on the left wing as long as the centre-backs do their job. This is true in open play, but at set-plays, when most players go back to defend, the median duelling power comes into play.
The corner conundrum
This factor surely played on Mourinho's mind when he recruited Ibrahimovic, Paul Pogba and Eric Bailly in the summer. United probably have the most powerful spine in the league and, when Rooney's omission left set-piece duties to Daley Blind at home to Leicester, they immediately converted three corners, two coming via headers from Pogba and Chris Smalling.
No side in the league has scored more goals from set-pieces than United's four. Their aerial prowess was also on display at home to Manchester City, when Mourinho moved Fellaini up alongside Ibrahimovic to target Nicolas Otamendi. The hosts won 16 out of 23 attacking aerial duels, including all six inside the City box, as they ramped up the pressure in the second half.
This may well worry Liverpool, who have conceded the second-most goals from corners and free-kicks since Klopp arrived in October last year (16, only Swansea with 18 have more). Whatever corrections were made in the summer have evidently had a limited effect. On the opening day, Liverpool allowed Calum Chambers to flick in a free-kick at the Emirates; at Spurs, they dropped two points by failing to clear a cross. They then conceded from a corner at home to 10-man Hull.
A few days later, Klopp appeared live on TV alongside Jamie Carragher to discuss such failings. "We improve, but we don't have the physical quality for set-piece defending," he admitted. "We need to find more creative solutions, like [Georginio] Wijnaldum blocking – the same with [Jordan] Henderson and [Adam] Lallana."
Klopp was clearly working on it, but his men conceded from another corner the following weekend, this time at Swansea. Hull and the Swans had needed only five corners to score twice.
Dangerous Devils
One may envisage what trouble United will create from set-piece situations. Mourinho seems certain to play Ibrahimovic, Pogba and Bailly, and should the doubtful Luke Shaw make way for Blind at left-back, Smalling will step in at centre-back. Fellaini could also replace Ander Herrera to beef up midfield, which would boost the prospect of United fielding a line-up with an average height close to 6ft 1in.
The only Liverpool players who seem reasonably equipped to deal with United's best headers are Joel Matip and perhaps Ragnar Klavan (Dejan Lovren is a doubt). Full-backs Nathaniel Clyne and James Milner do not, and midfielders such as Henderson and potentially Lallana, Emre Can or Wijnaldum can hardly be labelled specialist headers. Beyond the centre-backs, Klopp is unlikely to field an outfield player above 6ft.
It hardly helps matters that the goalkeeper could also be troubled in the penalty area: Simon Mignolet is prone to mistiming crosses, while Loris Karius is new to the demands of the Premier League.
What can Klopp do about this? He can't make the players taller, as he joked in the studio, so the only solution is to organise block moves or an efficient mix between zonal and man marking. Yet even that hasn't fixed the issue so far, and Mourinho is too thorough to let United's aerial dominance go unexploited. Liverpool do look set to dictate proceedings in open play on Monday, but it would be no surprise if a set-piece became their downfall once more.
Thank you for reading 5 articles this month* Join now for unlimited access
Enjoy your first month for just £1 / $1 / €1
*Read 5 free articles per month without a subscription
Join now for unlimited access
Try first month for just £1 / $1 / €1
Get FourFourTwo Newsletter
The best features, fun and footballing quizzes, straight to your inbox every week.